KUANTAN – Social media is abuzz today with an incident involving a man allegedly behaving rudely by forcefully smacking the forehead of a female driver.
A 59-second video uploaded by Facebook user shows the act recorded by a passenger sitting next to the woman in a vehicle.
It is understood that the altercation took place when the muscular man became dissatisfied with the woman's driving. He stopped the vehicle and forcefully knocked on the victim's car window.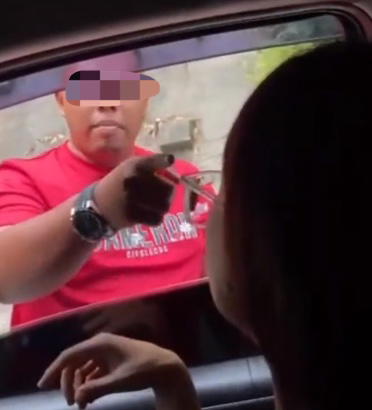 Unleashes verbal abuse and smacks her forehead
The woman, wearing glasses inside the vehicle, then rolled down her car window and was met with a barrage of vulgar words from the man.
The man's actions escalated when he threatened to harm the victim and her passenger.
"Drive properly, you want to play? You're playing with people's lives, you b@bi!"
"Kalau aku sepak kau kat sini dengan orang sebelah kau aku sepak nanti," ( If I kick you and the person next to you right here), he yelled.
Not only that, the man in the red shirt also banged the victim's forehead when she tried to explain the situation.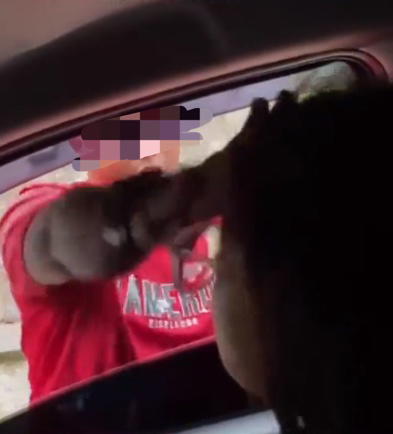 Nevertheless, the man continued berating the victim, saying, "Don't you dare answer back, you're playing with people's lives, and you want to raise your voice even more? Your father's head, can't you see the corner?"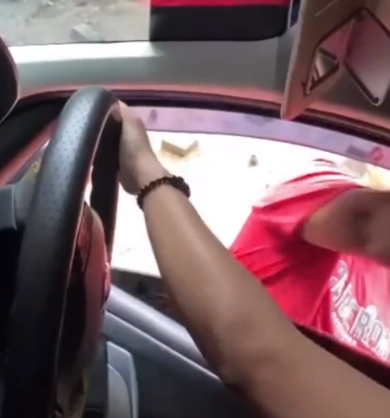 It is believed the incident occurred on the Cameron Highlands route heading towards Tapah.
However, the woman appeared shocked, holding her forehead and apologizing to the man.
"I'm sorry, sir. It's not that I raised my voice. I said I cut off at the dashed lines," she explained again.
According to MalaysiaGazette, the owner of the Facebook account who confirmed the incident involving his younger sister and brother in the vehicle yesterday evening.
Mohd Amir Aizacd Shahrizan, 27, said that his sister is still traumatized and experienced fever after her head was forcefully banged.
According to him, a police report has been filed regarding the incident.
He and his family hope that the police can identify the road bully and take appropriate action.
The man in red shirt's side of story
Following the incident, the Perak Royal Malaysia Police (PDRM) apprehended the man on June 6. According to a police statement, the incident occurred when the woman attempted to overtake the man's car but was unsuccessful.
The man claimed that the woman's reckless driving endangered his life, as he had his two-year-old child and eight-month pregnant wife in the car.
He decided to file a police report to clarify the situation after the video garnered attention. The police investigation is ongoing, and the man is being investigated under relevant sections of the Penal Code.
---
---