A couple holding phones with their graduating daughter and digital ads writing "In search of a son-in-law candidate" during a convocation ceremony caught the public's attention.
TikTok user @nurulmohdshah_, the daughter-in-law of the married couple, uploaded a video showing their cheerful act.
Her caption and the clip show that they were at the convocation ceremony of the Training institute of the Ministry of Health Malaysia last Sunday (30 Oct).
The viral video has garnered 675k views, 73.8k likes and 886 comments as of writing.
Watch it here.
Another funny part of the video is a dozing-off uncle awakened by the laughter of people around him.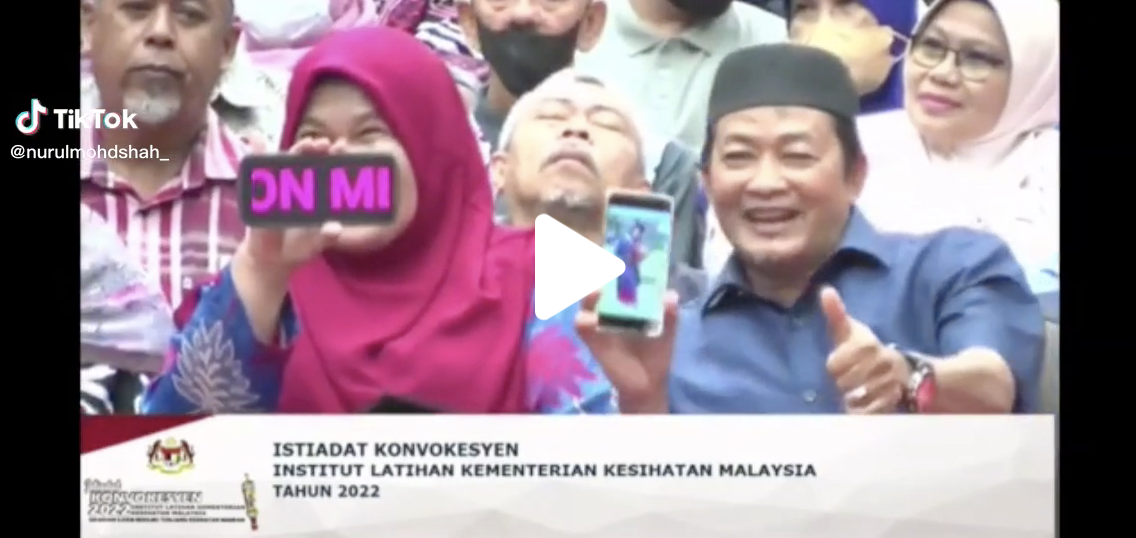 Sporting to use Digital ads
Netizens were tickled by the couple's adorable way of finding their daughter a partner using digital ads.
"Hahahaha, So cute, really sporting!"

"Oh dear Pak Cik Mak Cik, it's easy to find a son-in-law during convocation."

"Their child doesn't dare to get out of the wardrobe after this."

"Hahahahaha, parents like this are really rare. Find a son-in-law just like this. I wasn't as lucky. They went on the knees straight away."

Some netizens were offering to be the couple's son-in-law.


One mistaken the uncle dozing off behind as former Prime Minister Muhyiddin Yassin and agreed by many, while one replied saying he looked like our King.

Do your parents help you find a partner too? Comment below and let us know!
Read also:
---
---
Cover image via TikTok/ @nurulmohdshah_