KUALA LUMPUR – A Sarawakian Chinese Muslim found himself on the wrong side of the Internet after a food delivery rider 'exposed' him for featuring non-Islamic elements at his restaurant at OUG Parklane.
The rider named Muhammad Hisyam claimed that the restaurant was owned by a man named Aadham Fareed, had non-Muslim staff who wore shorts, and featured a signboard with the Tiger Beer logo on it, reported The Rakyat Post.
He also took photos of an altar dedicated to Tu Di Gong (土地公) and Guan Gong (关公), also known as the Chinese God of War.
So many names, which one is real?
Hisyam further alleged that the restaurant operated under several names, such as Chef Aadham Fareed, Dapur Ayam Penyet, The Little Kitchen, and Xiao Chu Niang.
Multiple riders also seem to back Hisyam's claims, where they said the cook was a Burmese and that the restaurant had no halal certification.
The owner was also accused of putting up misleading job advertisements which left a false impression on others.
Read the Twitter thread here:
'Shut it down!'
The issue has since triggered anger among netizens, where some called for the restaurant's shuttering until the allegations were addressed and resolved.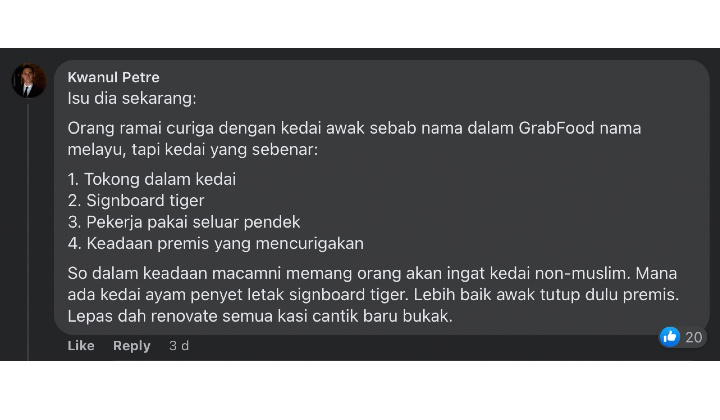 Many also placed the blame on Grab, accusing the company of failing to do its due diligence in reinforcing the halal status of restaurants registered in its app.
Owner steps forward to explain
In an attempt to defuse the situation, the owner Aadham went to explain his side of the story on Facebook.
I am the owner of this shop. My name is Aadham Fareed, and I am originally from Sarawak. Now I am Chinese but Muslim. I'm sorry for changing the brand name. It's because I want to rebrand and it had been approved by Grab.
"As for the altar, I can't discard it as it's the religion of my family members. While it hasn't been easy for me in being a Chinese Muslim, I gladly accept it as I see it as a test from God."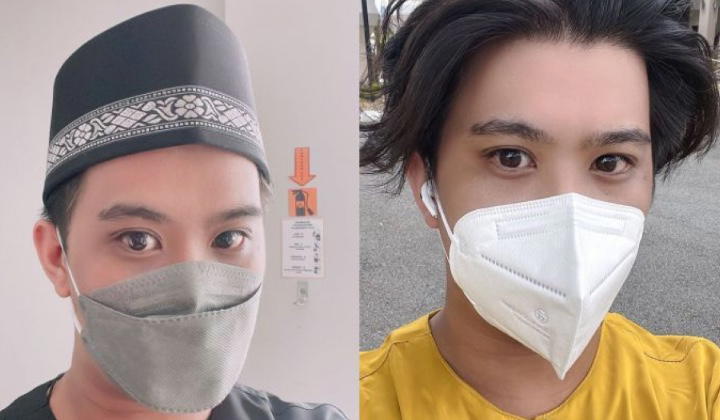 Aadham also showed proof of his conversion to Islam in a separate posting, which came in the form of a card from the Selangor Islamic Religious Council.
'Let's all be more understanding'
The issue has also caught the attention of several Islamic NGOs, such as Malaysian Consultative Council of Islamic Organisations (Mapim) and The Allied Coordinating Council of Islamic NGOs Malaysia (ACCIN).
Mapim president Azmi Abdul Hamid called for calm and understanding towards the matter, saying that education is more important than criticism.
It is most appropriate that he [Aadham] be given guidance rather than just attacking and criticizing. Muslims are often offended by things that are seen to be insulting Islam. As such, all parties need to consult a knowledgeable party to avoid provoking public anger.
ACCIN CEO Mohd Jamaluddin Shamsudin termed the issue as one of "public concern and must not have any misconceptions".
"Food delivery companies should cooperate with the Halal Division of Islamic Development Department Malaysia (Jakim) to ensure vendors' halal status.
"Halal food is an important and sensitive area for Muslims so appropriate actions in line with existing laws must be taken."
---

---
Read also:
Cover image: Twitter