A 19-year-old Chinese live-streamer known as "Water Ghost Brother" (水鬼哥哥) admitted to engaging in an incestuous relationship with his younger sister, who is one year younger than him, and also a live-streamer known as "Xi Xi Er" (希希儿).
The sister is currently pregnant, and he justified the relationship by saying,
We are siblings by blood, but husband and wife because of the child."
This revelation has left many Chinese internet users shocked and questioning their moral values.
Trio with good relationship
The 19-year-old recently posted several selfies with his sister "Xi Xi Er" on Douyin (the Chinese version of TikTok).
The pictures included kissing shots, pregnancy test results showing two lines, indicating a positive result, and intimate photos of the sister showing her pregnant belly.
In reality, he has an official girlfriend, but he was still frequently posting videos of him kissing and being affectionate with his sister.
He claimed that the three of them had a good relationship and used to sleep together often.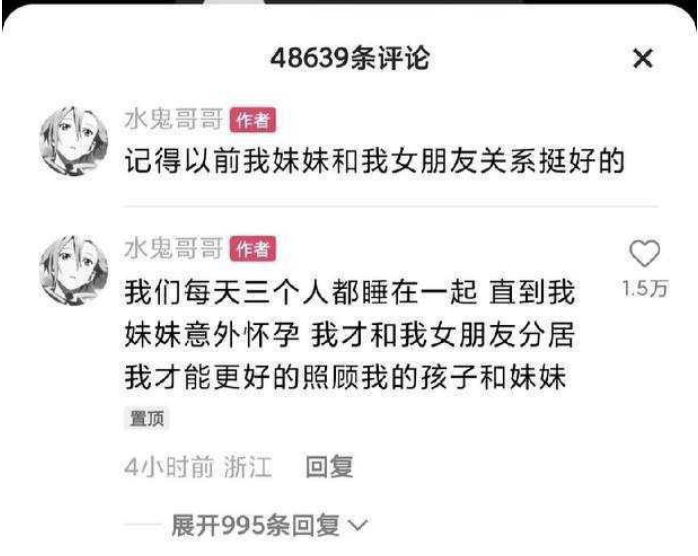 However, he temporarily separated from his girlfriend after his sister became pregnant so he could focus on taking care of her and the baby.
He expressed his happiness, saying, "The person who grew up with me from childhood is now going to become my wife."
He later criticized his girlfriend for not being willing to have children with him and said, "My own sister is better; my girlfriend is not willing to give me a child. It's ridiculous, my sister can give me one."
Since legal marriage between biological siblings is not allowed, he mentioned in his livestream that he plans to marry his girlfriend after his sister gives birth.
He intends to register the child born to him and his sister as if it were his girlfriend's child.
Morality questioned
After this news came to light, internet users were outraged. They searched for the sibling couple on Douyin and commented that their moral values were shattered.
Some expressed disbelief and called the situation a "distorted blind box" and questioned how the child could be okay with this, stating that people would not usually react like that to their own family members in a normal context.
Others appealed for them to learn basic biology and raised concerns about potential issues with children born from a blood relation.
Surprisingly, he responded defiantly to the backlash saying,
Stop asking. She's my own sister. What's wrong with her giving birth to my child?
He also defended their actions saying, "What's wrong with kissing my sister and sleeping together? What's the big deal if she's pregnant? I don't have a problem with it, and my sister doesn't either. Only you have a problem."
But on the other hand, some netizens questioned the authenticity of the news, wondering if it was fake news deliberately created by Internet celebrities to gain traction, and maybe the two are not biological brothers and sisters.
However, the Douyin accounts of "Water Ghost Brother" and "Xi Xi Er" have been blocked for now.
Read more:
---
---