An influencer in China was taught an expensive lesson after he damaged a LaFerrari worth around RM1.5 million after just three seconds of driving it.
Drove LaFerrari into wooden platform
In a Bilibili video posted on Oct 30, the influencer named Hua Zi (transliteration) was seen sitting at the curb with a look of distress as another person surveyed the damage inflicted on the car.
It later turned out that Hua Zi had allegedly stepped on the accelerator by mistake and crashed it into a wooden platform.
As a result, the right back wheel of the LaFerrari was wedged into a corner of the platform and a section of the trim was torn off.
Rented car from fellow influencer
Hua Zi, who often features luxury cars in his videos, had rented the LaFerrari from another influencer named President Ji Meng (transliteration), reported SETN.
The car was a limited edition hybrid sports car built by Italian automotive manufacturer Ferrari and came with a hefty RM1.5 million price tag.
A female talent was also hired to be part of the shooting and was inside the car when the accident happened.
However, the filming was forced to be cut short due to Hua Zi's carelessness. Still, the female talent was paid RMB5000 (RM3,200) for turning up.
Watch the video here:
Lost RM150,000 in value
Left with no choice, Hua Zi contacted President Ji Meng and told him what had happened.
Due to the damages sustained, the LaFerrari depreciated by approximately RM150,000 overnight.
On top of that, the maintenance bill shot up to more than RMB30,000 (RM20,000).
Fortunately for Hua Zi, he was only made to pay for the damages.
Damaged for the second time
However, the LaFerrari's troubles were far from over following Hua Zi's disastrous mishap.
SETN reported that President Ji Meng himself took the luxury car for a ride after it was repaired, only to damage it for the second time.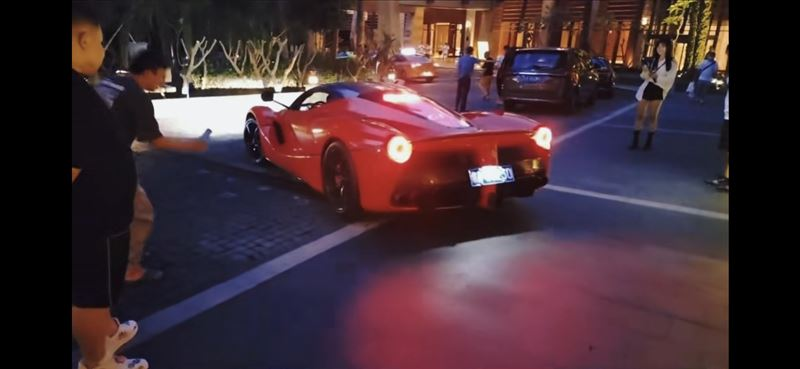 The influencer had apparently tried to drive the car onto the ledge but it got stuck. As he tried to move it forward, the LaFerrari got damaged as its frame was too low.
In the end, it had to be repaired for the second time.
Whew! That's quite an unfortunate adventure for the car. Let's hope its owner will learn to take better care of it next time!
READ ALSO:
---
---