Changi Airport recently caused a stir on social media after a photo of a job advertisement went viral online.
According to the flyer, the airport is reportedly looking for people to work in the sales and customer service department with a salary of up to RM10,000.
Along with the generous salary, the job also offers other perks such as a four-day work week on a shift basis, training and uniforms for employees.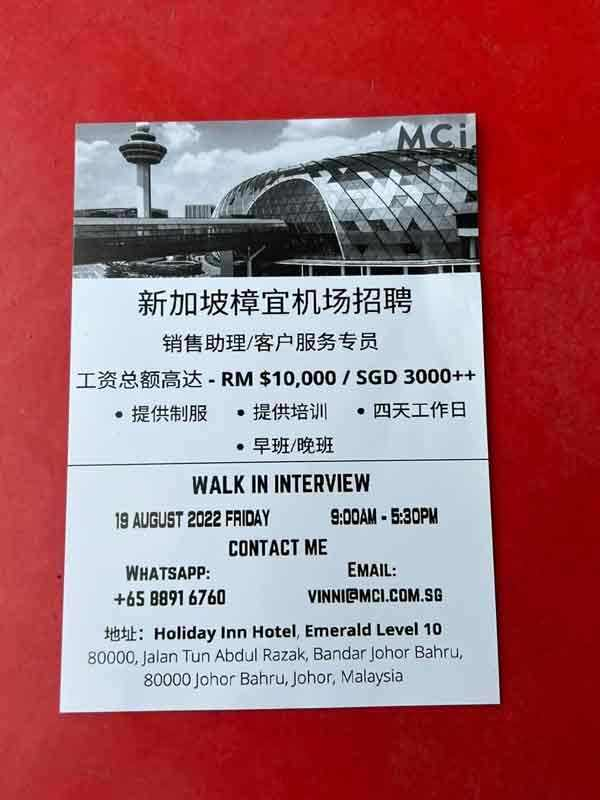 Interested candidates will be required to attend a walk-in interview at the Holiday Inn Hotel at Johor Bahru.
Sure or not?
Naturally, netizens expressed doubt over the authenticity of the job advertisement, with some saying that it could be human trafficking scheme.
"Interview at Singapore but the address is in Johor?"

"Best to be careful. Now scams are tricking people to Myanmar and Cambodia with these new tricks such as using big companies to have interviews at hotels."

"Is this real? Why isn't this advertisement seen in Singapore?"

'It's legit'
In response to Mothership's queries, a Changi Airport Group (CAG) spokesperson said that tenants and vendors located within the airport use recruitment agencies to hire staff.
It also said that the recruitment agency wasn't hired by CAG to put out the advertisement.
The spokesperson also declined to comment further as CAG wasn't the direct hiring party.
Recruitment agency responds
On Tuesday, MCI Group, a company that owns the recruitment agency MCI Career Services, posted a Facebook post confirming the job advertisement.
According to the post, MCI Career Services is headquartered in Singapore and provides recruitment services both locally and abroad.
It also holds recruitment drives overseas as well.
MCI wrote that they were aware of news about human trafficking scams and understood public fears surrounding it, thus compelling the company to make several clarifications.
The photo attached is an authentic job advertisement made by MCI. This is a paid job advertisement published on The China Press Berhad, a Malaysian newspaper for the purpose of our overseas recruitment drive in Johor Bahru, Malaysia, that will be held this coming Friday, on 19 August 2022.
"In regards to the job position advertised, the working location is at Changi Airport," it said.
MCI also confirmed that their client isn't CAG and refused to name who it was.
However, a quick check on China Press' coverage on the incident shows the job advertisement with the contact details and address blurred out, leaving many to wonder if it was a paid article.
Read MCI Group's post here:
Read about how it all started here:
---
---
Cover image via Pexels & ATV News Online
---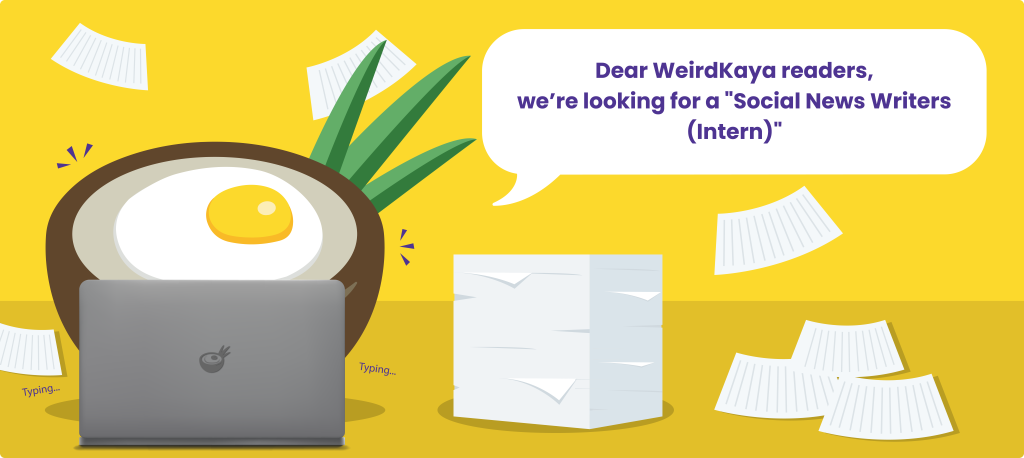 ---