While the word 'Karen' is usually associated negative connotations, one restaurant in Australia turned it into a brilliant marketing gimmick where staff are given full rein to act like absolute b*****s to customers and not get punished for it.
This restaurant named Karen's Diner is located at major cities in Australia and the UK and features a signboard with an angry emoji along with the iconic 'Karen' hairstyle on it.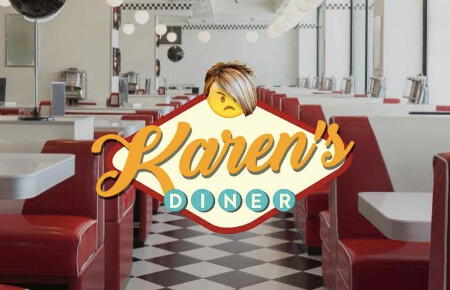 Karens, attack!
To give those residing outside of Australia and the UK a glimpse of how customers are served at the restaurant, a blogger named Xixiplease recently posted a TikTok video about her experience there which has garnered 18.4 million views so far.
At the start of the clip, Xixiplease and her boyfriend are greeted by a grumpy waitress wearing a red and white polka dot apron who asks them whether they've made a reservation.
When they said yes, the waitress tells them rudely to wait and saunters off, leaving the couple in amused disbelief.
After taking a seat at the restaurant and scouring through the menu, Xixiplease and her boyfriend tried getting a waiter to take down their orders.
Instead of heeding to their request, the waiter turns around and flips the middle finger while replying "How about f***ing wait. Bossy b****".
Aside from the uncouth responses, another quirky feature of Karen's Diner is that every staff's nametag is replaced with words that describe unpleasant individuals such as "douche" and "nog".
Watch the video here:
"I need this job!"
In the comment section, netizens were roaring with laughter over the "Karens" at the restaurant and joked about wanting to work there.


Others simply couldn't imagine the chaos that may ensue if a real 'Karen' were to visit the restaurant.

Would you visit this restaurant if you had the chance? Let us know in the comments!
Read also:
Cover image via Next Tribe & TikTok/xixiplease