Online celebrity Umance Chong, also known as 'Prawn King', is facing heavy criticism for allegedly cancelling travel packages that his company sold during livestream sessions with Malaysian model Amber Chia.
According to China Press, netizens who purchased the packages received text messages from Chong's company claiming that the travel group could not be formed due to logistical issues, resulting in dissatisfaction among those who had paid for it.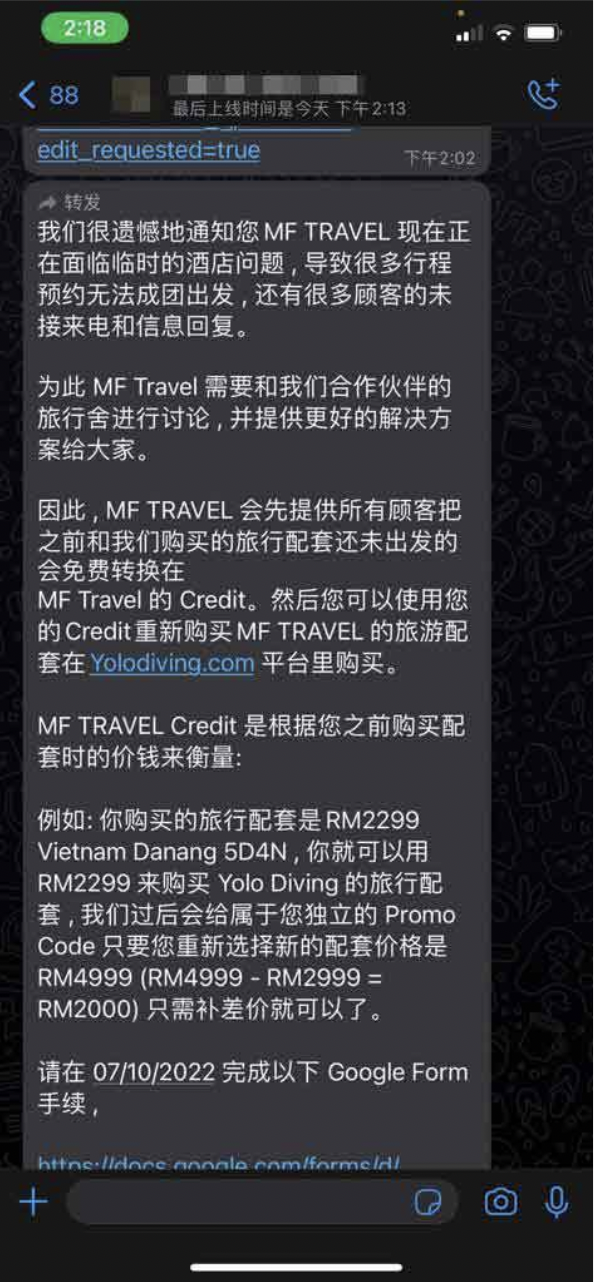 Many have also attempted to contact Chong for an explanation but to no avail.
Amber Chia endorses packages
It is understood that the travel packages were first promoted during a livestream session Chong had with Amber Chia.
Netizens also shared screenshots on social media alleging that she had endorsed it in a post on her Facebook profile.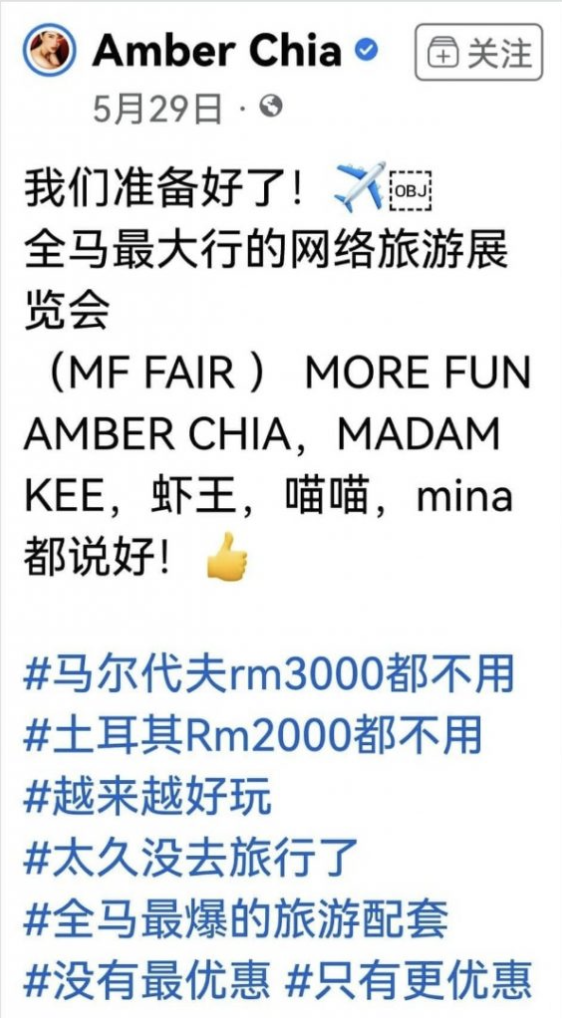 …only to apologise later
Not long after, Chia took to Instagram to apologise to the victims after receiving multiple enquiries over the matter.
In the post, she said that she was only invited to be a guest for the livestream and claimed that she was a victim too.
A lot of people have asked me about 'Prawn King' incident but I don't know (anything about it) because I'm also one of the victims.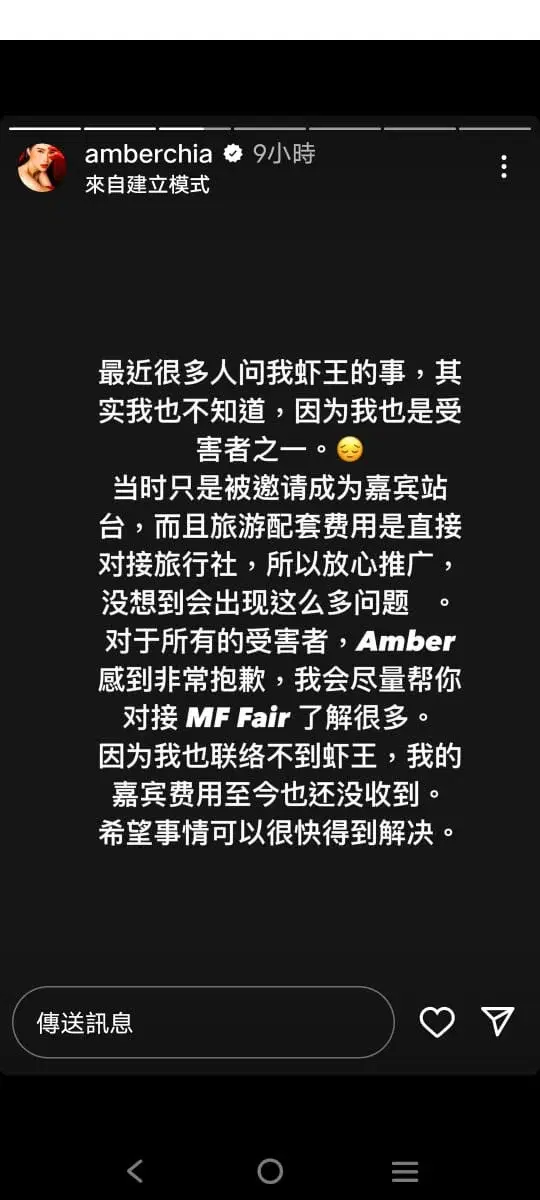 Chia also claimed that she didn't think too much about it as the packages were associated with two well established travel agencies.
Read also: Miss Universe M'sia Finalist Claims Influencer Lim Shang Jin Sexually Harassed Her In Viral IG Post
I didn't expect so many problems and to all the victims, I'm very sorry and I'll try to help you.
She added that she's unable to Chong and that he still owes her talent fees for appearing in the livestream and hoped that the matter can be resolved soon.
Lawyer letter issued
According to Chia's latest Instagram stories, she shared that she has appointed a lawyer to handle the case and will be lodging a police report.
A press conference will also be held to address the issue.
She also provided a hotline number for all the victims to come forward and share their stories.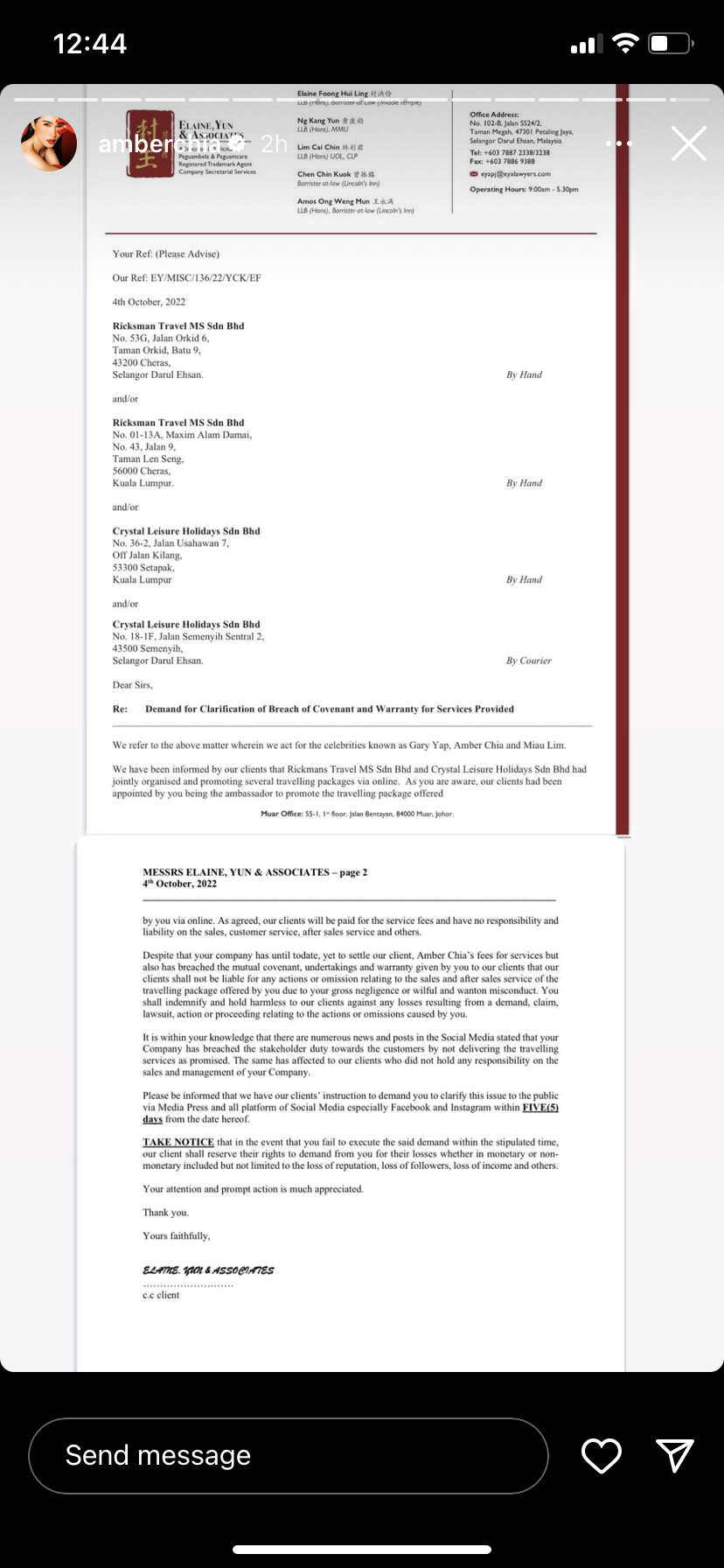 More celebrities come forward
Aside from Chia, several local celebrities such as Gary Yap and Lim Ching Miau have also came forward with similar allegations.
In a Facebook post, Yap said that although he paid extra caution when accepting Chong's invitation but still fell for the scam nonetheless.
He added that he will try his best to give everyone an update about the incident.
MORE TO FOLLOW.