Remember those mysterious LOOOOOOOOONG boards at several famous Ramadan Bazaars around the Klang Valley? Turns out it was Pizza Hut's cheeky guerrilla marketing campaign to introduce their Looooooooong Party Box and the Longest Family Portrait Contest!
With Raya just around the corner, we've got a winning family with an incredibly looooooooong family portrait who celebrated with a FREE Kenduri Raya worth RM35,000, all thanks to Pizza Hut!
It all began at the Ramadan Bazaar Taman Melawati when people spotted 20 crew members wearing huge A-board block letters that spelt out LOOOOOOOOONGEST. 
Wah, this creative marketing tactic made the bazaar-goers curious, and social media went gila with excitement. Mana tau, all this hype was for the Looooooooong Party Box and the #LongestPotretRaya Contest!
The contest inspired Malaysian families to capture their most memorable Raya moments in a fun and creative way. Families were encouraged to snap their longest and most enjoyable Raya family photo with a creative caption and share it on social media using the hashtag #LongestPotretRaya.
Families across Malaysia enthusiastically participated, showcasing their love and togetherness during Raya celebrations, in the hopes of winning a Raya Kenduri that would bring even more joy to their festivities.
After sifting through numerous heartwarming entries, Pizza Hut continued to strengthen family bonds and togetherness during Raya by rewarding the winning families. This contest aimed to emphasize the importance of unity and cherishing precious moments with loved ones, making Raya celebrations more special and memorable for everyone involved.
And the winners are…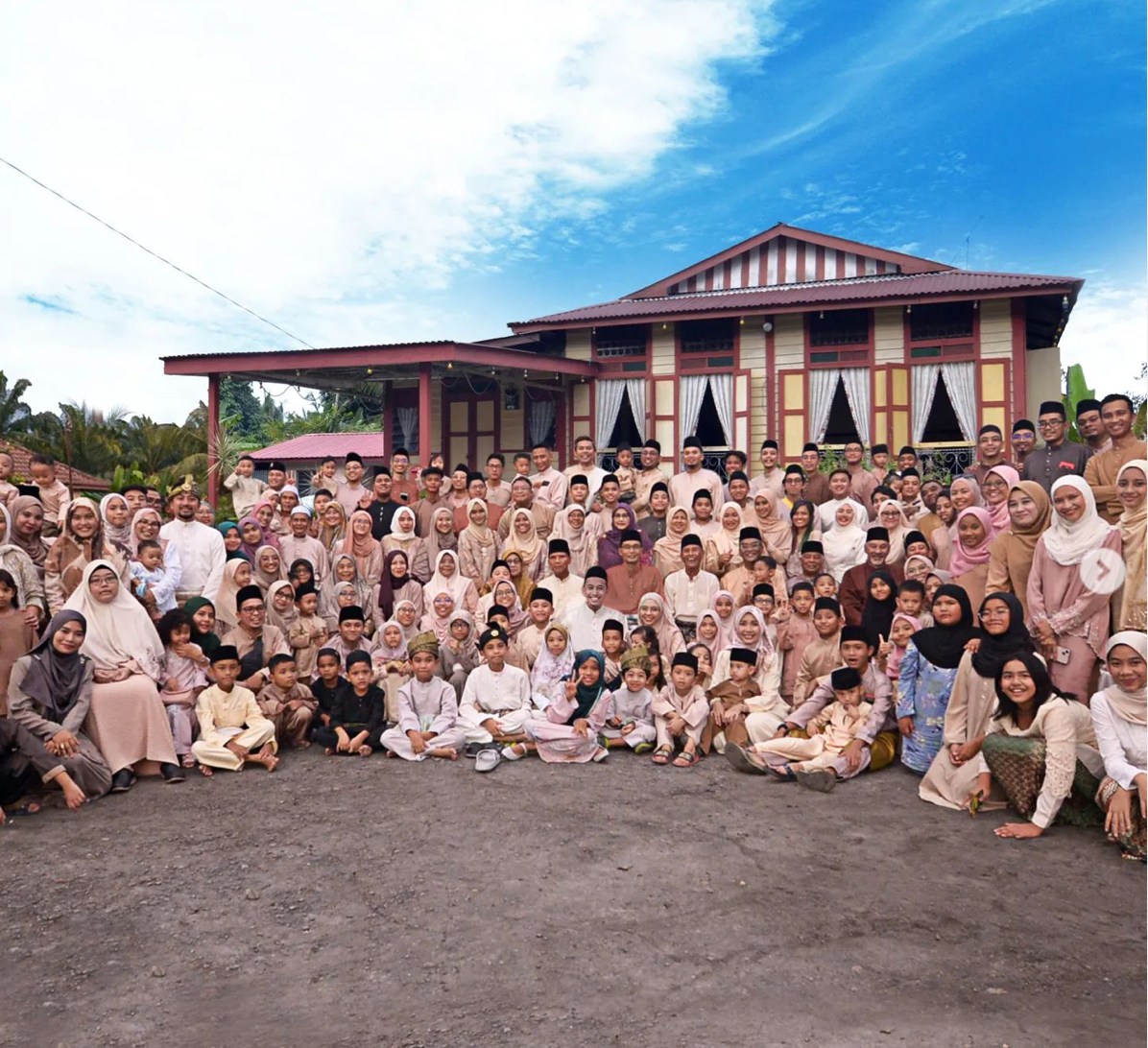 The lucky family of Faridz Alwi bin Mohd Bakri from Ayer Hitam, Johor, was treated to a delightful feast of Pizza Hut's mouth-watering offerings, including the 1-meter Long Party Box (from only RM9.90/pax), which is perfect for Raya celebrations with many family members, ketawa riang, and creating unforgettable memories without the burden of preparation or cleanup, ensuring a stress-free and delightful Raya experience.
In an interview, we delve into the story of the grand winner's family that cherishes the moments they spend together, fueled by their love for one another and their shared enjoyment of the Kenduri Raya with Pizza Hut Looooooooong Party Box.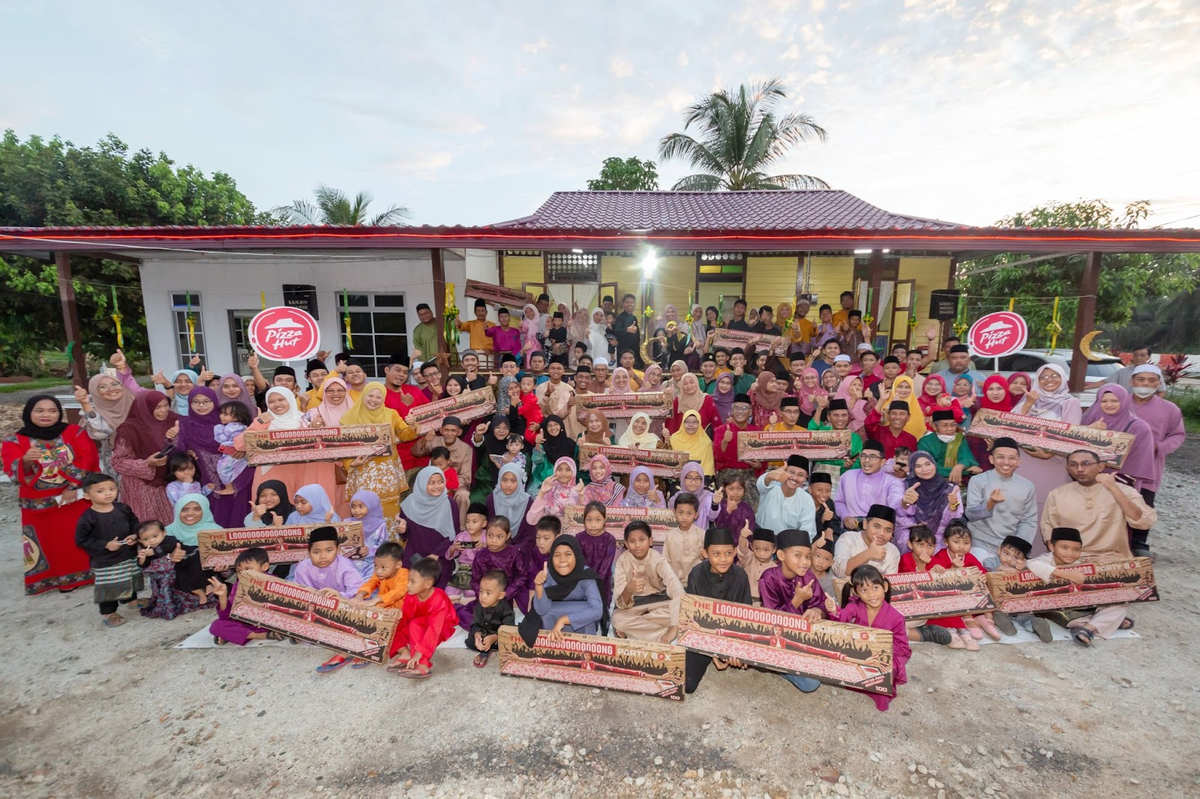 Faridz says "the original photo was taken two years ago during our biennial family gathering, a special occasion when all of us come together to celebrate our bond. We built a new house together to replace the old one, symbolizing our unity and determination to create a better future for our family."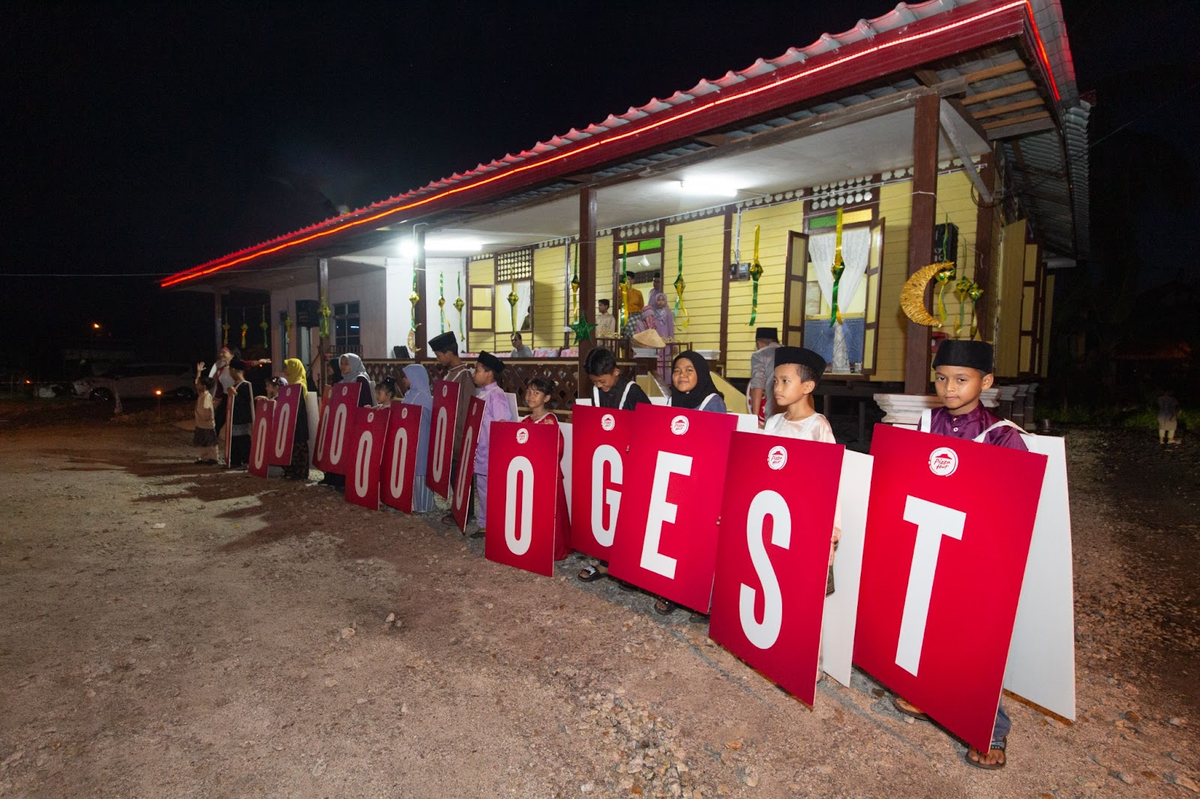 Faridz continues to explain that, the family is Pizza Hut's regular customer and the Looooooooong Party Box has definitely fulfilled the needs of the big family as it offers great variety, with options like thick, fluffy crusts and their favourite flavours: beef pepperoni, Hawaiian chicken, and tuna.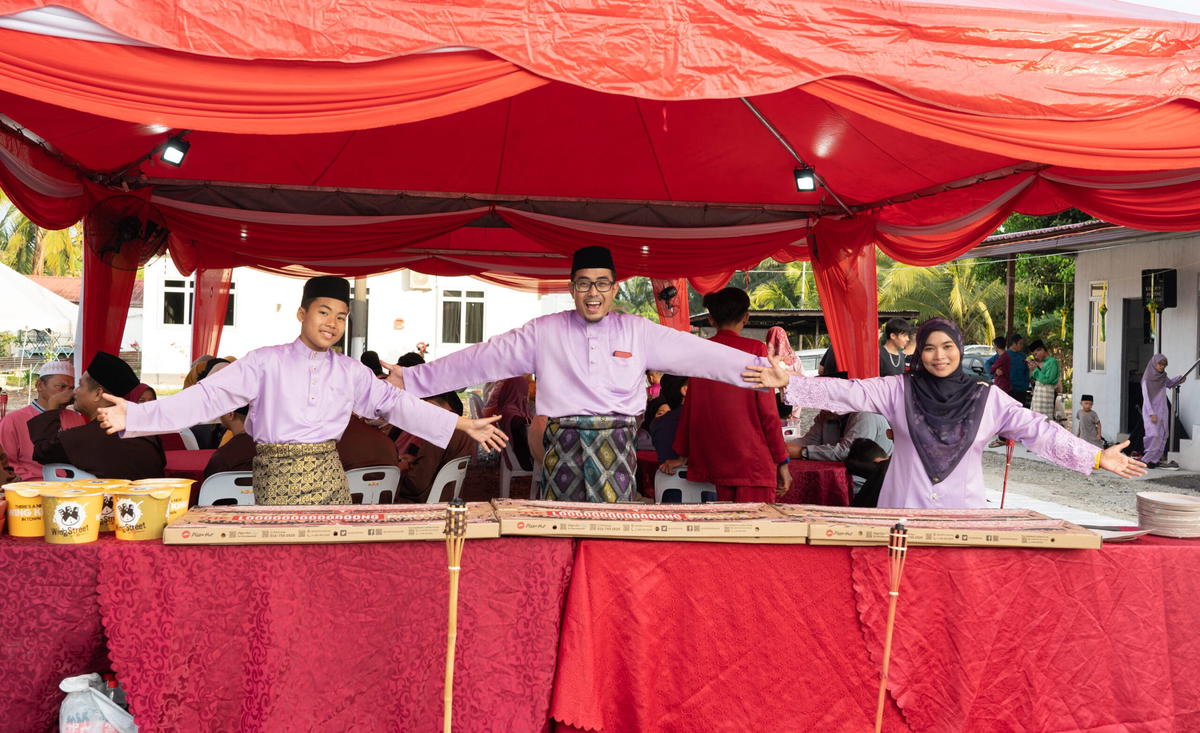 Besides good food, love and affection are the driving forces behind the family's unity. They wanted to capture their bond in a photograph that encapsulates the support and inspiration they provide for one another.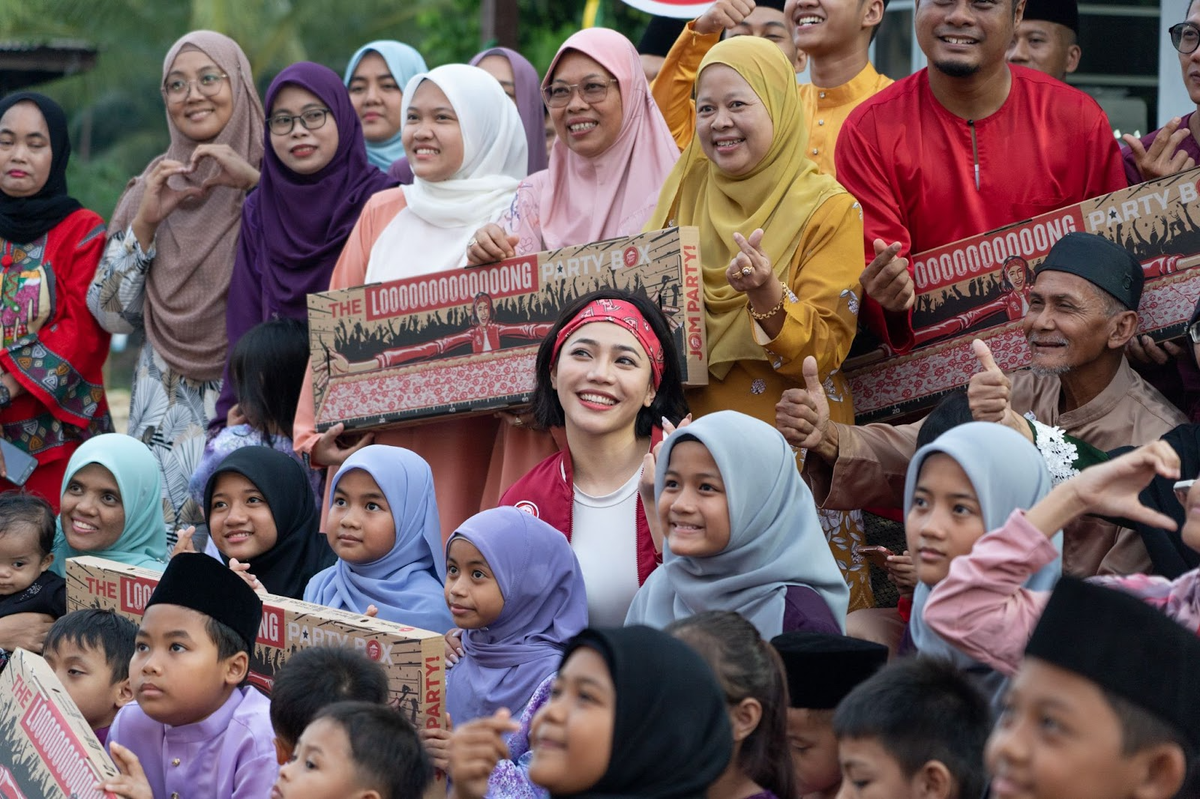 The family is tireless when it comes to organizing these gatherings. They choose a theme and go all out to ensure that everyone comes together to create unforgettable memories. The excitement of taking that perfect family photo strengthens their bond even more.
Other than the Grand Prize winner, here are the 10 consolation prize winners: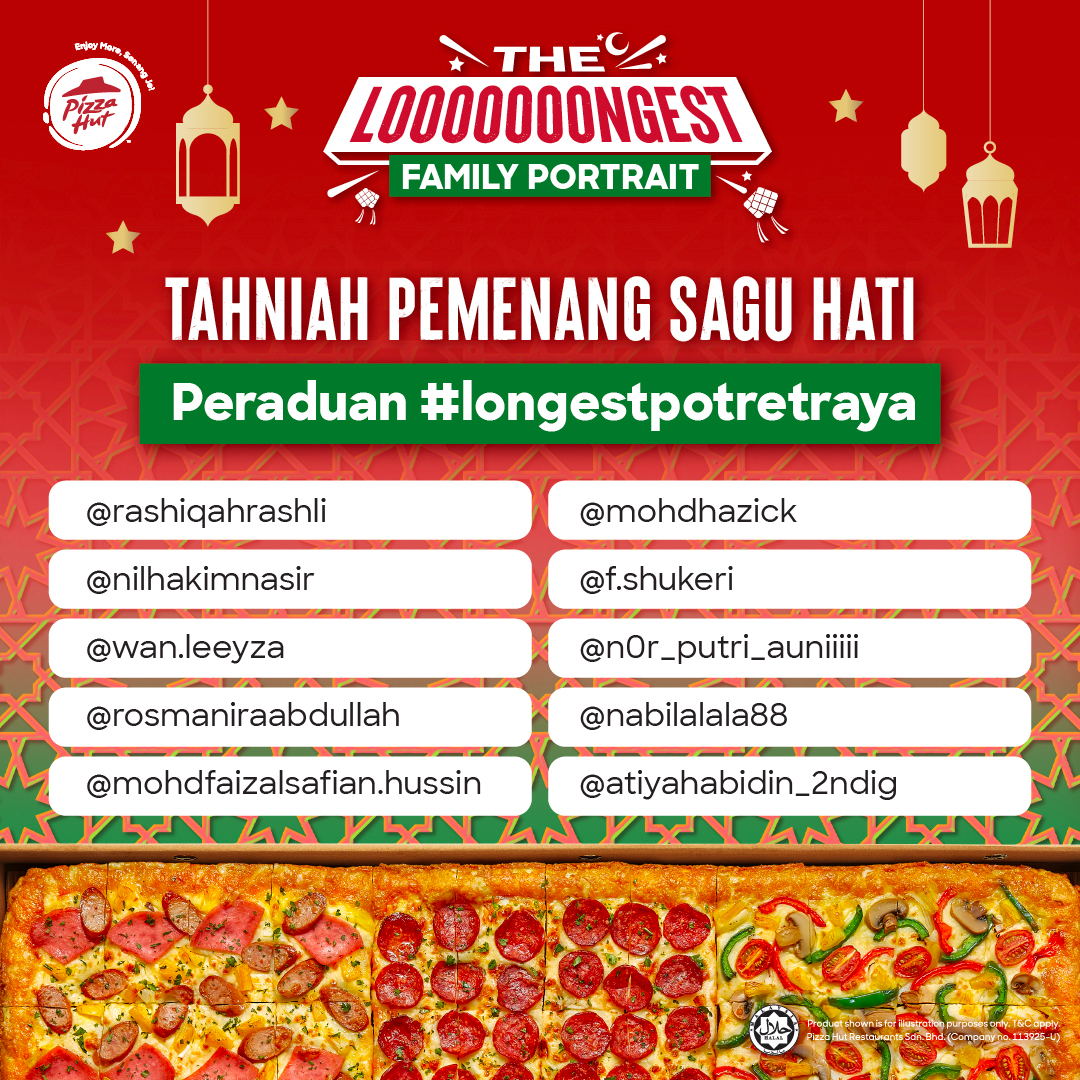 Pizza Hut went through a tedious process to select the winning families, taking into consideration various factors besides the creative captions and longest family photo.
So, let's celebrate the Raya spirit and raise a toast to the winning family and everyone who participated in the #LongestPotretRaya Contest. Here's to endless laughter, love, and delicious pizza with Pizza Hut Looooooooong Party Box! Syok lah!
Special Raya promotion starting from 22nd April, you can enjoy free-flow drinks when you dine in at any Pizza Hut restaurant with the Looooooooong Party Box, and for takeaway, you'll receive a free 1.5L bottle of Coke. So, come and experience the joy of Raya with Pizza Hut's delicious offerings and exciting promotions.
Read more:
Cover image via Instagram/ faridzridz_takaful
---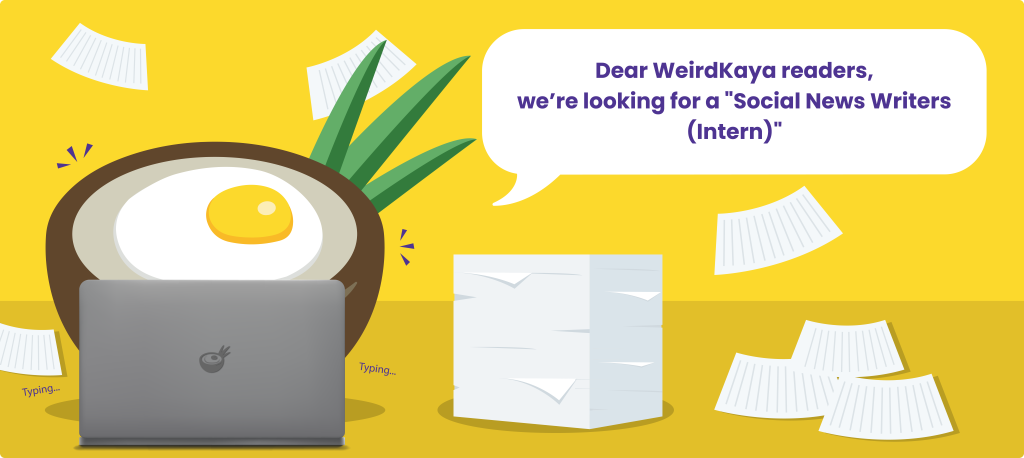 ---