On Apr 28, Airbnb formally announced their initiative to allow all employees a lifetime work-from-anywhere experience, where you can live and work in over 170 countries for up to 90 days a year in each location!

An article posted to the Airbnb official website included their CEO Brian Chesky's email to all employees, naming the reasons why this policy is taking place and its benefits.
He first began with asking everyone a simple question, "Where is the world going?"
The answer to this is simple, as we can already observe the changing working habits emerging under the pandemic's influence where employees are getting more accustomed to working from their homes.
He poses another question, "What are we solving for?"
Ultimately, Airbnb wants to hire and retain the best people in the world and recognizes that these people come from everywhere.
However, it is understandable to feel anxious when you can't actually see your employees working in action.
To that, he replies:
For me, it's simple: I trust you, and flexibility only works when you trust the people on your team. You've shown how much you can accomplish remotely."
Hence, this bold solution was proposed, aimed at combining the digital workplace and the physical world.
---

---
People are loving it!
In response to this announcement, the website traffic on Airbnb has reached more than 10,000,000.
A Facebook netizen made an observation that this new policy will attract many youngsters who now prioritize flexibility in work!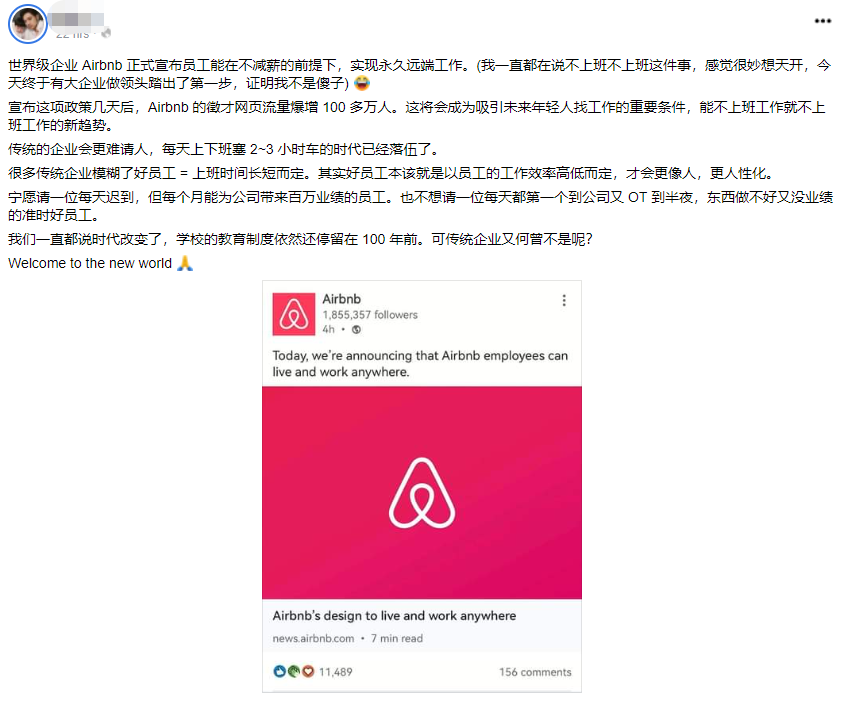 This netizen furthered his explanation of how traditional companies are getting it wrong thinking that the longer one's working hours are, the better you are as an employee.
"Actually, a good employee is judged based on his/her efficiency at work. This is more humane."
Better off a worker who comes in late for work everyday but is able to bring in hundreds and thousands in revenue, than one who reaches work on time yet OTs and doesn't produce any revenue for the company," added this netizen.
He then ends with a simple yet impactful phrase, "Welcome to the new world", implying that more changes are to come as long as humans strive to achieve greater heights.
What are your thoughts on this initiative? Tell us in the comment section below!
Read more:
Cover image via Dreamstime and iStock.