BEIJING -Renowned sports brand Adidas and luxury brand Gucci are now facing the heat after its umbrella was labelled as "non-waterproof" in the product description.
The umbrella is part of the upcoming Adidas x Gucci collection, where it offers a wide array of apparel aimed at bringing back an air of nostalgia to sports apparel and is slated to be released on June 7.
The collection will also feature Adidas' iconic three white stripes and trefoil along with Gucci's GG monogram.
Only for decorative purposes
As for the umbrella, it features the Interlocking G and Trefoil print in blue and red linen-cotton as its design and material.
The iconic G is also carved into its handle, which is made from birchwood.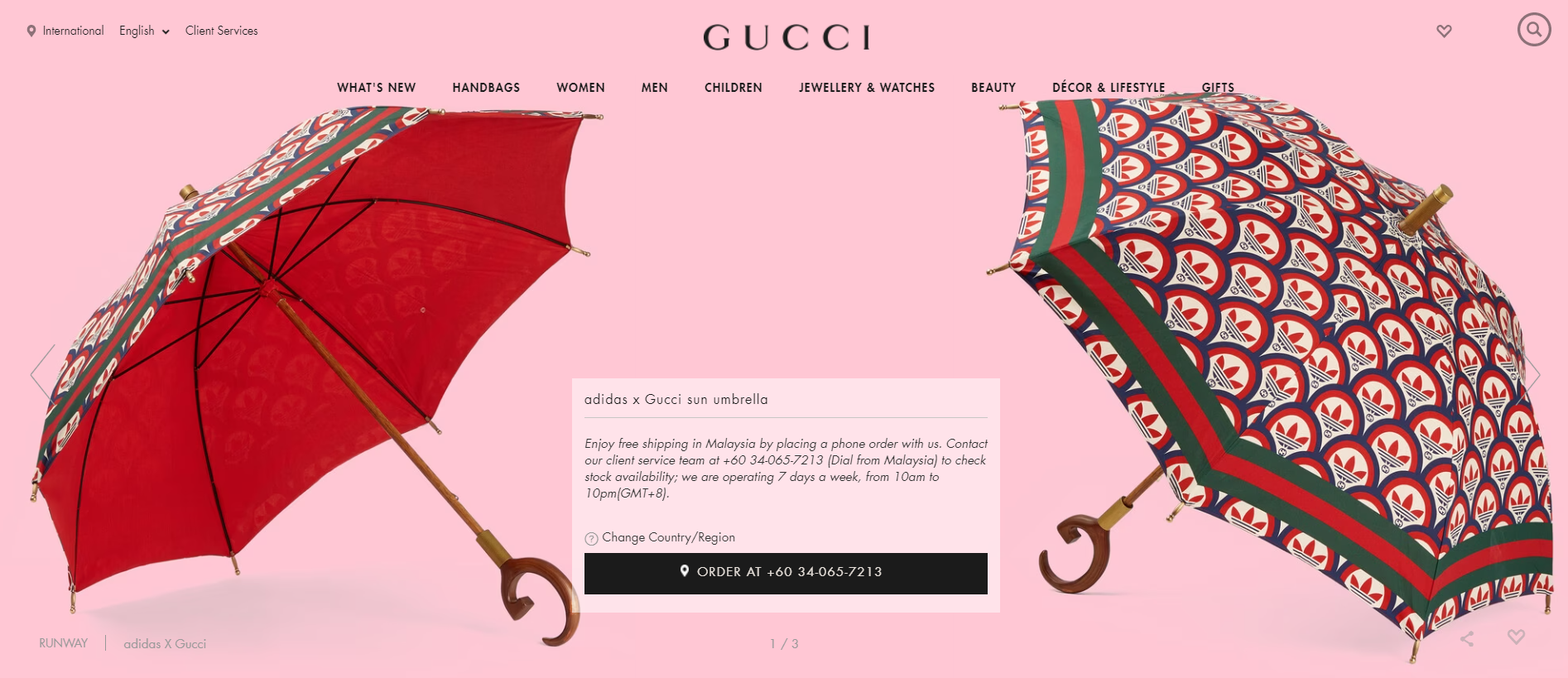 Although it's not yet available for purchase, many have already enlisted themselves in the waiting list for this 11,100 yuan (RM7,190) umbrella.
However, many have noticed something strange in the product description, where it labelled the umbrella as "non-waterproof" and is only designed to act as a decorative piece in blocking out sunlight.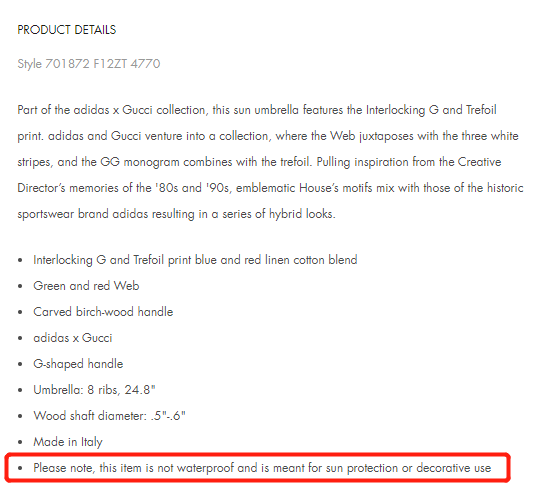 According to China Press, Gucci also pointed out that the umbrella is meant to be a collectible and fashion piece that helps the consumer "stand out from the crowd".
Whether in the city or on a vacation, this piece helps you stand out from the crowd. It is not advised to use it as protection from rain.
---
---
Ummm-brella?
This inevitably caused a ruckus among buyers, who felt that they had been scammed.
"They could've have simply taken your money, but they still gave you an umbrella as a gift," commented one disgruntled netizen.

The hashtag #notwaterproofcollabumbrellasoldat11000yuan is also circulating on Chinese social media, where it has gathered more than 130 million views and counting.
Following the backlash, Gucci changed the product's name on its China site from 雨伞 (rain umbrella) to 伞 (umbrella) to refer its product as a parasol.
The English version of the website also used the word "sun umbrella" to avoid further confusion.
Another umbrella under the Adidas x Gucci collection made from nylon is currently priced at 14,3000 yuan (RM9,300), meaning that consumers will have to fork out an extra RM2,200 for an umbrella that actually functions like one.
Well folks, you know what they always say…beauty, or in this case, fashion, is pain.
Read also:
Cover image via Gucci.