A netizen has recently taken to Twitter to express his horror over seeing a 7-Eleven staff cleaning a microwave with a mop.
7-Eleven staff cleans microwave with mop
In a tweet by @AshrafChak on Sunday (Jan 22), he uploaded several photographs of the staff donned in a 7-Eleven uniform using a mop to clean the floor.
To his shock, the staff then proceeded to stick the same mop right into the microwave to clean it. Eww!
Needless to say, Ashraf was sickened by the sight and called upon 7-Eleven to intervene and brief its staff on basic cleanliness.
Hello, @7elevenmalaysia, please brief your staff on how to clean the right way. Mop used for the floor is being used for the microwave as well. Disgusting!
Confronts staff
Speaking to WeirdKaya, Ashraf said that the stomach-churning incident took place at a 7-Eleven outlet at Jalan Sultan Sulaiman, KL.
He added that he proceeded to confront the staff over his unhygienic act, who apologised and admitted that it wasn't right for him to do so.
7-Eleven responds
Ashraf's tweet has since gone viral, where it racked up 1.9 million views and 13.8K likes at the time of writing.
Following the public outcry, 7-Eleven issued a statement over the matter and expressed regret over its staff's act.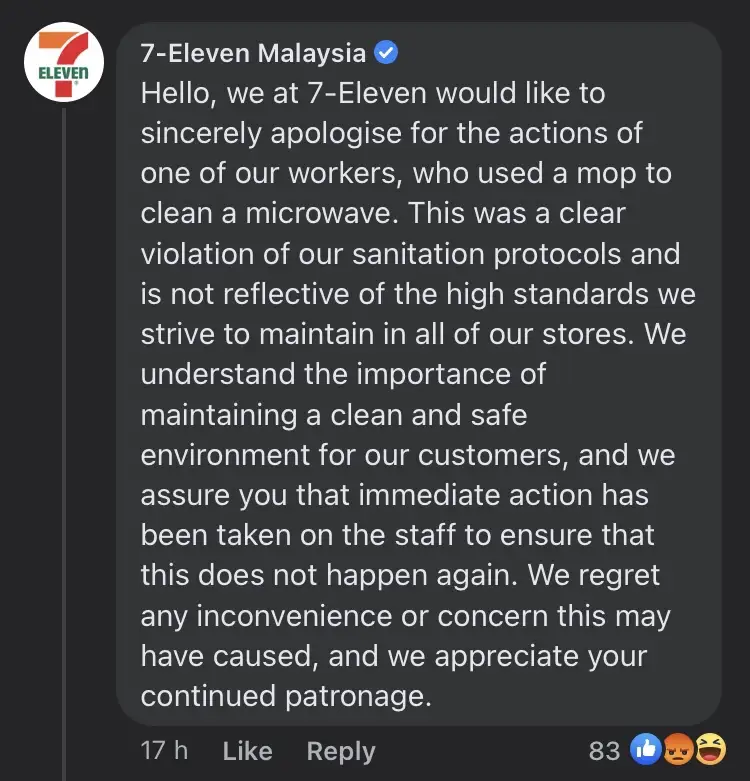 "We at 7-Eleven would like to apologise for the actions of one of our workers using a mop to clean a microwave. This was a clear violation of our sanitation protocols.
"Immediate action has been taken on the staff to ensure that this does not happen again," it wrote.
Last October, 7-Eleven was called out for "scamming" a customer with its double chicken sandwich: