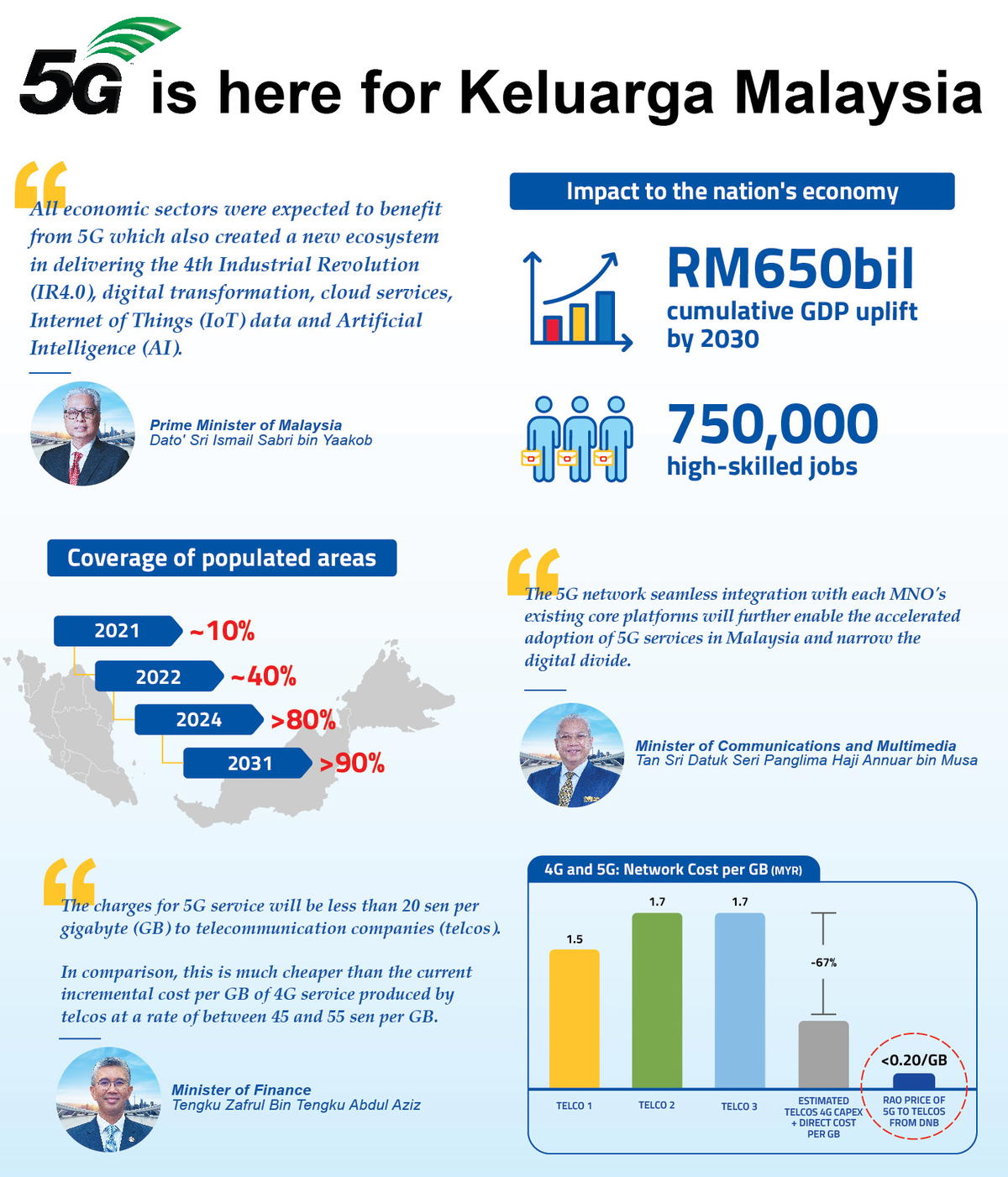 1. INTRODUCTION OF 5G BENEFITS AND WHY IT IS IMMEDIATELY IMPERATIVE
CONNECTING THE RAKYAT TO THE FUTURE
Unlimited potential in how you live, work and play
Connectivity is the core of future productivity, and Malaysians are ready to be a part of the move towards global digitisation. Today, we are at the cusp of a 5G revolution which will lead us to a future of digitally-powered efficiency and competitiveness with the nationwide availability of high-speed internet.
Designed for speeds up to 100 times faster than 4G, with greater capacity and near-zero latency, 5G will unlock innovation in the digital economy, as well as various solutions for social inclusivity.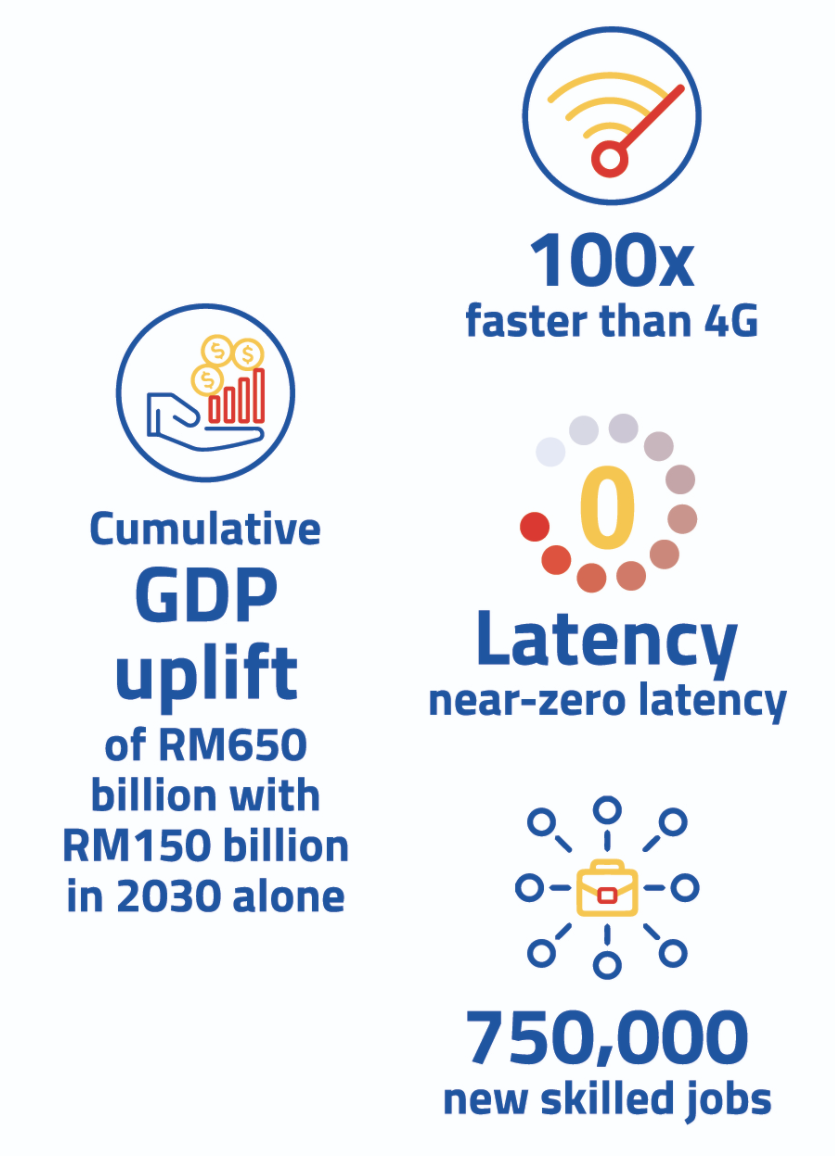 Covering a range of unlimited possibilities, we foresee seamless nationwide connectivity. Innovations such as Augmented Reality (AR), Artificial Intelligence (AI), Massive Machine Type Communication (mMTC), and Ultra-Reliable Low Latency Communications (URLLC) are set to raise the bar on newly optimised industry practices.
As such, there is an urgent need for Malaysia to develop and deploy 5G technology and services, sooner rather than later for what is fast defining each nation's competitiveness globally.
A FUTURE OF POSSIBILITIES: UPLIFTING MALAYSIA AS A GLOBAL CONTENDER
The earlier Malaysia achieves nationwide 5G coverage, the sooner it can reap substantial economic gains. Findings from a recent EY study on 5G's potential economic impact show a cumulative GDP uplift of RM650 billion over the next 10 years, with RM150 billion in 2031 alone. It is estimated that there would be some 750,000 new high-skilled jobs created by 2030, putting us at an advantage over neighbouring countries.
Meanwhile, the potential uses and benefits for consumers will encompass every facet of daily life, with technology and data set to enhance the quality of life indicators from improved traffic and shorter commute time, to optimised utility consumption and recycling waste, faster emergency response, and more. Even experiences such as shopping could present a different experience as retail environments are optimised with immersive AR features.
Truly, there is so much potential with the connectivity of 5G. 

Discover the potential of 5G, scan the QR Code NOW!

EVERY SECOND WITHOUT 5G IS AN OPPORTUNITY LOST
4G – A LOOK BACK AT PROMISES UNFULFILLED
How often have you felt frustrated with files downloading slower than you expect? It's times like these that we feel let down by promises of speed and efficiency that we pay for, that often leave us wanting when it comes down to actual delivery.
To make matters worse, the disruptions we face with inconsistent data speeds and coverage not only affect our circumstances here and now, but also snowball up to a point where our livelihoods and businesses can be negatively impacted.
And this problem is widespread when we look at the highlights and challenges Malaysia faces in its current state of 4G coverage.
As of last year alone, Malaysians' mobile data usage increased to the highest level in ASEAN at 35.2% year-on-year growth from 2020 to 2021.
Issue 1: Declining network quality
And yet, while usage last year peaked, complaints on cellular services surged by 433% compared to the previous year, with 90% of these complaints being related to Network Quality.
Issue 2: Higher cost relative to quality
Despite this, Malaysians are currently paying the highest average consumer prices for their mobile services compared to their neighbours in the region, at nearly 1.5% of GDP per capita or an average of RM50 per month.
Issue 3: Malaysia lags behind regionally and globally
Consequently, Malaysia's 4G reality is undercut by its low ranking in the region for 4G mobile data speeds. Globally, we fall behind even further, ranking 81st for quality of mobile connectivity, 6th among nine ASEAN countries, according to a recent study in Global Mobile Experience.
Issue 4: The urban-rural digital divide
Furthermore, in the hands of telcos, the 4G rollout has overlooked low-density residential areas and rural areas, creating a massive digital divide where those outside urban areas only have a success rate of 44% in their 4G connection compared to 83.7% for urban areas.
2. WHY THE GOVERNMENT IS TAKING STEPS TO ADDRESS THE SITUATION TO ENSURE PROGRESS AND PROSPERITY
GOVERNMENT PLEDGES TO ELEVATE MALAYSIA'S DIGITAL ECONOMY
High mobile service cost, disappointing mobile connectivity ranking regionally and globally, and declining network quality were drivers for the government to implement change in order to drive forward the vision for a new Malaysian digital economy.
Therefore, the government has decided to establish a single entity to accelerate nationwide 5G deployment and adoption, with the objective of supporting Malaysia's transformation to become a regional leader in the digital economy and to promote a more inclusive society.
GOVERNMENT-OWNED DNB AS MALAYSIA'S 5G ENABLER
On the 1st of March, the Ministry of Finance announced the establishment of DNB, as the Special Purpose Vehicle (SPV) for Malaysia's 5G rollout. DNB is wholly owned by the Minister of Finance (Incorporated) and is licensed under the Communications and Multimedia Act 1998 (The Act) to provide wholesale 5G coverage and capacity to other licensees under the act.
The 10-year cost of the DNB-led 5G rollout is estimated at RM16.5 billion, which will be fully funded by the domestic financial services sector based on the DNB business model.
5G is an economic imperative and essential to ensure Malaysia's digital competitiveness.

Dr Fadhlullah Suhaimi Abdul Malek, Chairman, Malaysian Communications and Multimedia Commission
SINGLE WHOLESALE NETWORK WILL RESULT IN LOWER PRICES OF 5G SERVICES TO THE RAKYAT
To achieve 5G coverage of 80% in populated areas in 2024, a feasible and comprehensive model is required to accelerate the deployment and adoption of 5G technology. This is where a supply-driven Single Wholesale Network (SWN) was selected and for good reason.
The SWN model of Digital Nasional Berhad (DNB) will allow for a more inclusive rollout with increased network coverage in rural areas. Contrasted with the demand-led and profit-driven focus of the 4G rollout by telcos, DNB concentrates the effort on efficiency by optimising existing infrastructure.
The pooling of 5G spectrum in a single neutral entity like DNB will allow for much greater spectral efficiency (as opposed to spectrum as a scarce resource being divided between multiple parties) and thereby allowing DNB the ability to provide 5G wholesale services at the lowest cost.
We will continue to support the government's aspiration to deliver 5G for the nation. We believe that we are well-positioned to support the 5G rollout for the country.

Imri Mokhtar, Group CEO, Telekom Malaysia Bhd
THE DIGITAL "SUPERHIGHWAY" TOWARDS A 5G SMART FUTURE
Imagine a wide digital highway that enables all online user data to travel freely and without any interruption, this is the technology of a Multi-Operator Core Network (MOCN). Built as a single, seamless digital "superhighway", this secure network will support all telcos equally on a wholesale basis – at potentially less than half the cost, it would take for telcos to deploy 5G themselves.
The MOCN model was successfully demonstrated on the 10th of November with the integration of 5 telcos, which was witnessed by Tan Sri Annuar Musa, the Minister of Communications and Multimedia of Malaysia, as well as several industry leaders.
The 5G price to telcos is expected to be at less than 20 cents per GB, which is less than half of what it would cost the telcos for capacity generated by their own 4G infrastructure. The cost savings will benefit the industry by increasing free cash flows, which could be utilised for cost-saving optimisations, or investments into new industry verticals and revenue growth opportunities. Consumers will benefit from the cost savings as well, as telcos would charge lower rates for 5G services than they currently charge for mobile services.
3. ENSURING THE RAKYAT'S BEST INTERESTS
It's normal to have a number of questions in your mind after reading so much about 5G. Here's a list of doubts our MPs and ADUNs voiced out for the people they serve.
So, are you ready to welcome the arrival of 5G in Malaysia?
Start playing a part in accelerating the progress by checking out 5G mobile plans from your telcos today! It is available for FREE to telcos in certain sites in Putrajaya, Cyberjaya and Kuala Lumpur until 31st March 2022.
Ask your telco or scan the QR Code for more information NOW!
Keluarga Malaysia hand in hand, for a more advanced tomorrow.
Read also:
---
It's unrelated to the article but here's our brand new podcast – Talk Je Lah!
---
Cover image via Malay Mail & Retalk Asia