We've all learnt about traditional games in textbooks in school, and might have even played them when we were young.
However, as technology advances in a fast pace, there might only be very few people who know how to play them nowadays, leading them to getting forgotten.
Fret not! As WeirdKaya is bringing you down a trail of learning, or maybe reminiscing 5 traditional games you SHOULD know in the list below:
1. Congkak
Known by almost every Malaysian, Congkak is one of the most famous traditional games in Malaysia, Singapore and Brunei and some parts of Sumatra and Borneo.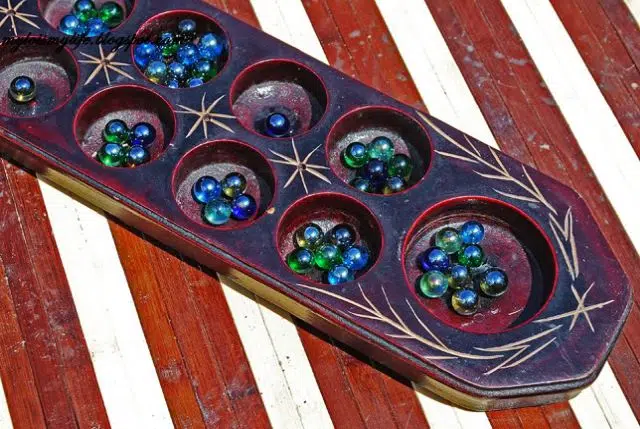 Originated from the Malay word "congak" (mental arithmetic), Congkak is played with two players sitting in front of one another, using wooden boards with 16 to 18 sides carved out in two rows.
In the 16-hole version which is more widely used, seven holes are designated as "houses" in the "kampong" (village) while the last two larger holes are "rumah" (storehouses) located on either end of the block. The number of seeds (counters) per hole is tied to the total number of houses per village.
Whoever collects the largest number of seeds in their respective storehouses wins. As its name suggests, the game requires mental calculation of one's next move in advance, in order to gain advantage to collect points.
2. Batu Seremban
Batu Seremban, a.k.a. Selambut (five stones) is a traditional game that involves at least 2 to 5 players usually played by young girls. It's called Selambut in the North and the East Coast of Malaysia, while being referred to as Seremban at the West Coast.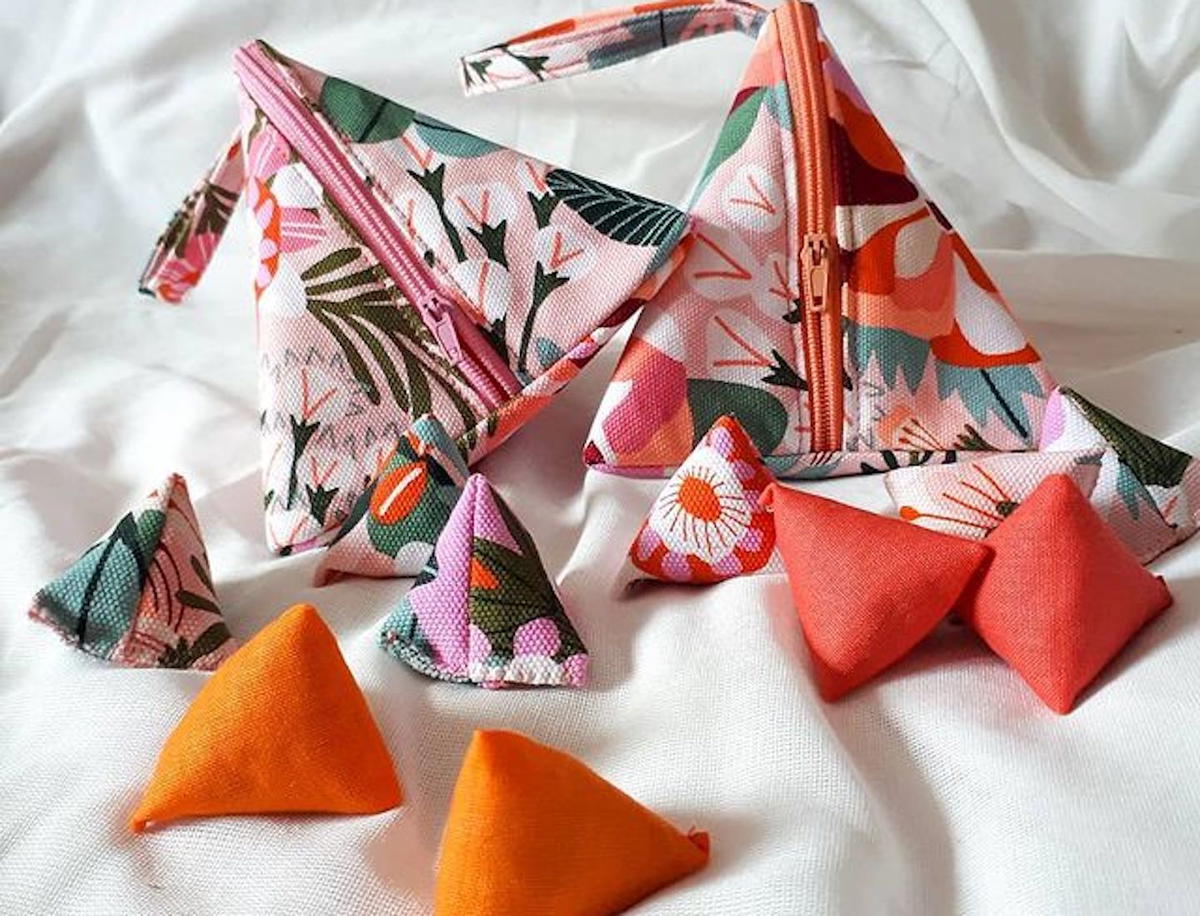 Normally having small round stones put into use, it could also be played with a small triangular or round shaped cloth bag filled with saga seeds at anywhere.
How this game works is to collect the stone on the ground after tossing one into the air, and to catch the tossed stone after. The player who does these five consecutive times in one turn until no stones are on the ground survive.
3. Gasing
Originated from Kelantan, gasing (spinning top) is a traditional game mainly played by young boys. Kelantanese villagers will meet up and challenge one another in a round of gasing to test their skills following the rice harvest season. It believed that good harvest will come by playing gasing.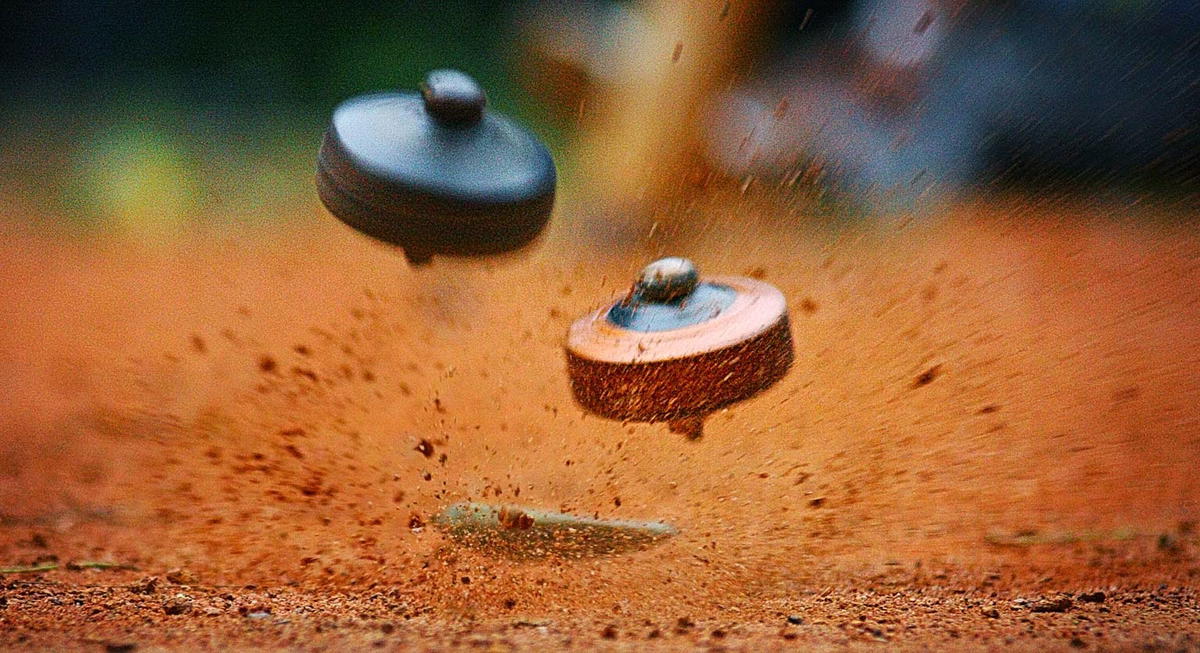 Made of wood and weighing approximately 0.5 to 1 kilogram, gasing is mainly played on a flat open area by children and adults.
The sizes vary, which include plate-shaped, heart-shaped, hat-top and berembang-shaped, where the berembang-shaped gasings are named is named after a type of fruit on the seafront, which is used to make the gasing.
The one who has their gasing spun for the longest time wins.
4. Guli
Similar to the one seen in Squid Game, guli (marble) is a game suitable for both girls and boys aged between seven to twelve years old where there's a maximum of five people to the number of players.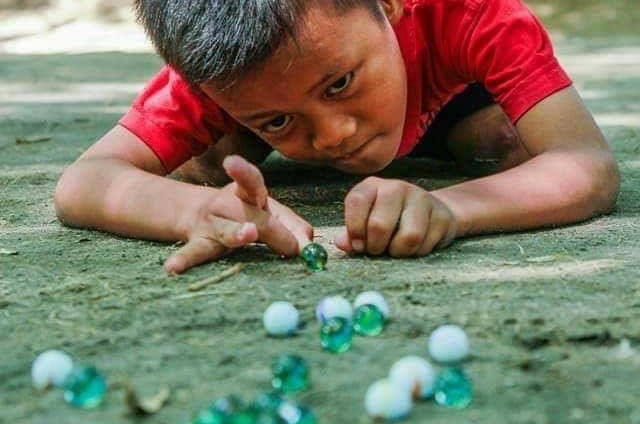 This game requires players to throw a guli on the target accurately on a flat open surface and a circle drawn with a diameter of 1 metre. Made of limestone, these gulis are round and small, making the game a difficult one to play.
5. Wau
Having a history of centuries of being played, Wau comprises authentic Malay motifs in the form of various patterns designs.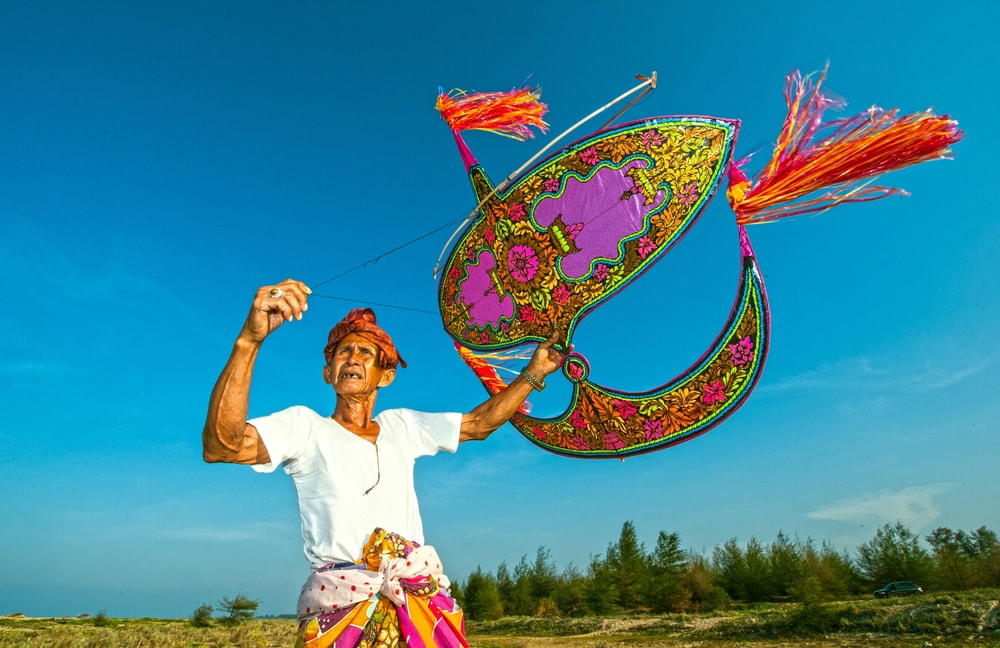 Much liked in rural areas especially in Kelantan, Terengganu, Perlis and Kedah, Wau are generally played in open areas when the harvest season is coming to an end as a form of de-stress.
The winning metrics differ, including choosing the highest-flying kite, the kite that makes the best melodious sound, the most skilful player in flying the kite, the kite with the most beautiful drawing, the most colourful kite and the kite that flies in the straightest manner.
There are three types of Wau, namely Wau Bulan, Wau Jala Budi and Wau Kucing. Wau Bulan is named so due to its crescent like tail shape, whereas Wau Jala Budi (woman's kite) takes the curves of a woman. Wau Kucing is named after a shape resembling a cat sitting from the rear corner.
Don't miss out on a cultural festival from 26 to 27 Nov!
Now, you can not only look at traditional games being played in textbooks or videos, as you can play them yourselves at My Malaysia, My Heritage Fest at Da Men Mall, USJ from 26 to 27 November 2022!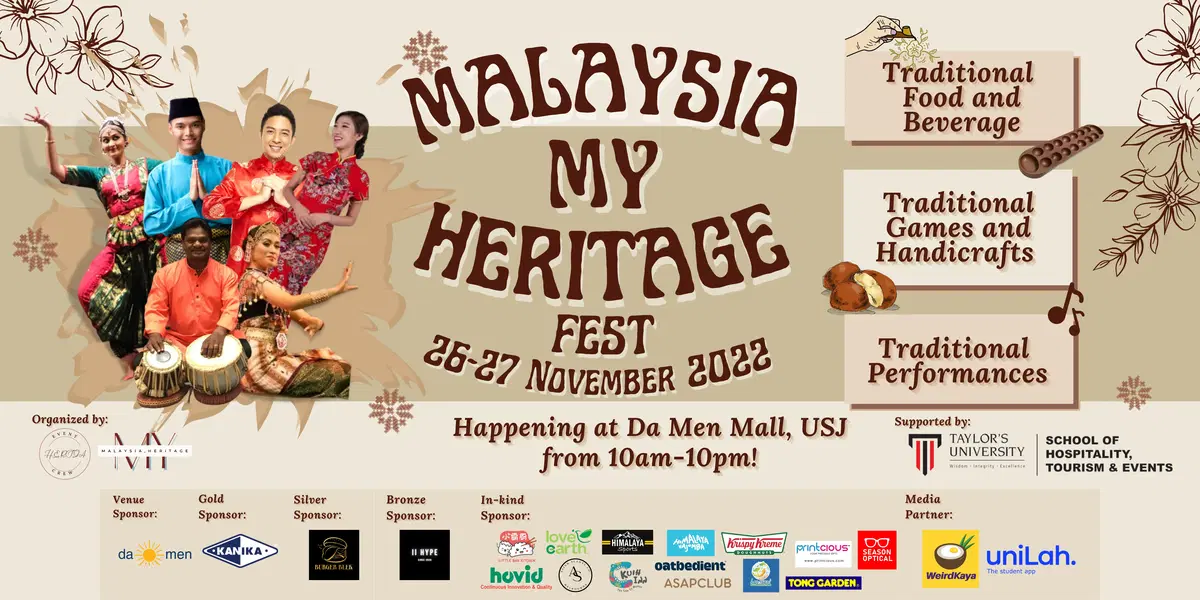 Organised by HERSIA, students from Taylor's University Lakeside Campus in the Bachelor of International Events Management, this 2-day cultural festival aims to promote Malaysia's national culture and heritage.
Having various vendors related to the local culture, food and beverage, traditional handicrafts and workshops showcasing Malaysia's heritage and cultures are available at the venue.
You might not want to miss out on playing traditional games which would enrich your knowledge about culture, as well as spectacular traditional performances such as gamelan, silat, and 24 Festive Drums.
Feel free to check out this post for the event details, and don't hesitate to visit their Facebook page or Instagram account for more information!
READ ALSO:
---