KUALA LUMPUR – Police crashed a pool party held at a posh private club in Bukit Kiara and nabbed 303 individuals during the 10.50 pm raid yesterday (Dec 5).
Brickfields police chief Asst Comm Amihizam Abdul Shukor said the raid was a joint effort between the Kuala Lumpur Criminal Investigation Department (CID) and Brickfields district police headquarters.
161 foreign men and 55 foreign women were detained along with 31 local men and 56 local women.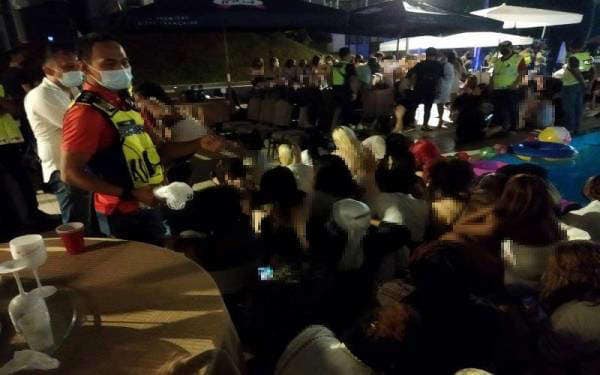 "The locals were found to have violated Covid-19 SOPs while the foreigners were sent to the Brickfields district police headquarters for further investigation.
"The Kuala Lumpur Narcotics Crime Investigation Department has also conducted urine tests to check whether the partygoers had used drugs during the party," he told The Star.
The partygoers were compounded a total of RM1.565mil, with the locals having to cough up RM435,000 and the foreigners RM1.08mil.
Amihizam added that the partygoers were invited to the party through social media and paid RM60 in entrance fees.
He also urged the public to continue to adhere to the SOPs and not participate in any activities that go against the rules.
Read also:
---

---
Cover Image via FB/ Inforoadblock
Editor: Sarah Yeoh