Scores of Malaysians have flocked over to Singapore in past decades in search of better pay to sustain themselves and their families.
Unfortunately for a 24-year-old Malaysian named Ryan Chong who came to Singapore to work as a catering management trainee, he is now in a medically induced coma after suffering from seizures and fainting several times.
Suffered health issues
According to Chong's girlfriend Vyvyan Lim, he had a fever on Feb 11 and went to the hospital to be tested for dengue on Feb 14, which turned out to be negative.
On Feb 17, Chong came to Lim's office to bring her out for lunch but fainted and had multiple seizures upon arriving at the National University Hospital (NUH), where he was admitted into the intensive care unit (ICU).
Chong was later put into a medically-induced coma in order to control his seizures.
Lim added that workplace stress had taken a toll on Chong's body, which she believes was the reason for his declining health.
There are days he came back home and unable to walk for 2 days due to too long hours of standing and also pain in the urine tract area, due to long hours of holding his bowel movement.
"Being a migrant worker in Singapore is really not easy. The fear of not able to complete his PR process, long unhealthy working hours and stress of changing job has probably stress his body out physically and mentally," she wrote.
Faced high stress at work
Speaking to 8World News, Lim said she first met Chong in 2021 and that he first started working as a security officer but became a restaurant worker as he wanted to obtain permanent resident (PR) status.
However, he was subjected to workplace bullying, causing him to switch to another restaurant.
"He faced tremendous stress from issues due to an unscrupulous employment agent who gave empty promises. He was also unable to sign an employment contract with his new employer because of problems with the said agent," she claimed.
Lim added that while she hasn't been fully informed about Chong's condition due to the fact that she wasn't a family member, she understands that it's caused by an auto-immune disorder.
"His immune system is attacking [his body] because he is under too much stress. The doctors said he can only be brought out of the coma once his brain waves stablises."
Public steps in to help
Lim posted a fundraising drive on the crowdfunding page Give.Asia, where she's looking to raise around RM313,000 to pay for Chong's medical fees.
Thankfully, members of the public were more than willing to chip in and help, where they successfully hit the fundraising target at the time of writing.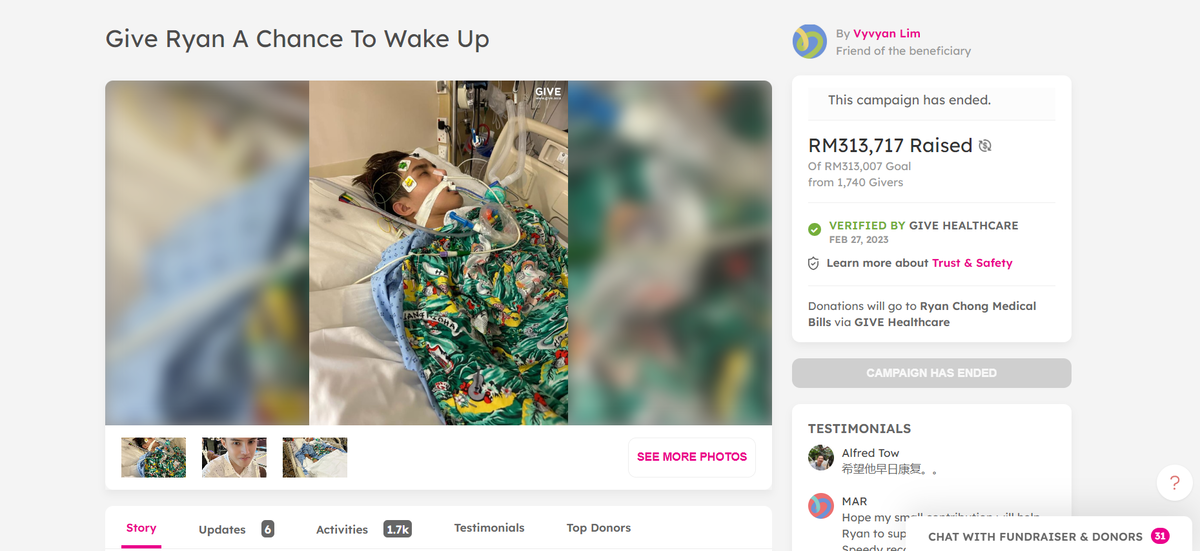 It was also reported that Chong has been transferred to the ICU of a hospital in Kuala Lumpur.
Kudos to all those to donated and we wish Chong a speedy recovery!
READ ALSO:
---
---