GERIK – Yesterday (2 Nov), a fatal accident involving two cars claimed the lives of 4 victims. The collision occurred along Kilometer 64, East-West Highway near Titiwangsa rest and service area (R&R) in Gerik.
A spokesperson from Perak's Fire and Rescue Team (JBPM) said they received an emergency call about the crash at 3.49 pm.
According to him, the accident involved a Perodua Axia and a Perodua Myvi, with a total of five passengers.
Initial investigation revealed that the Myvi travelling from Jeli to Gerik had lost control and skidded into the opposite lane.
This led to the Axia from the opposite lane to collide with left side of the Myvi, instantly taking the lives of three.
Their operation ended at 6.35 pm, and the case was passed to the police for further investigation.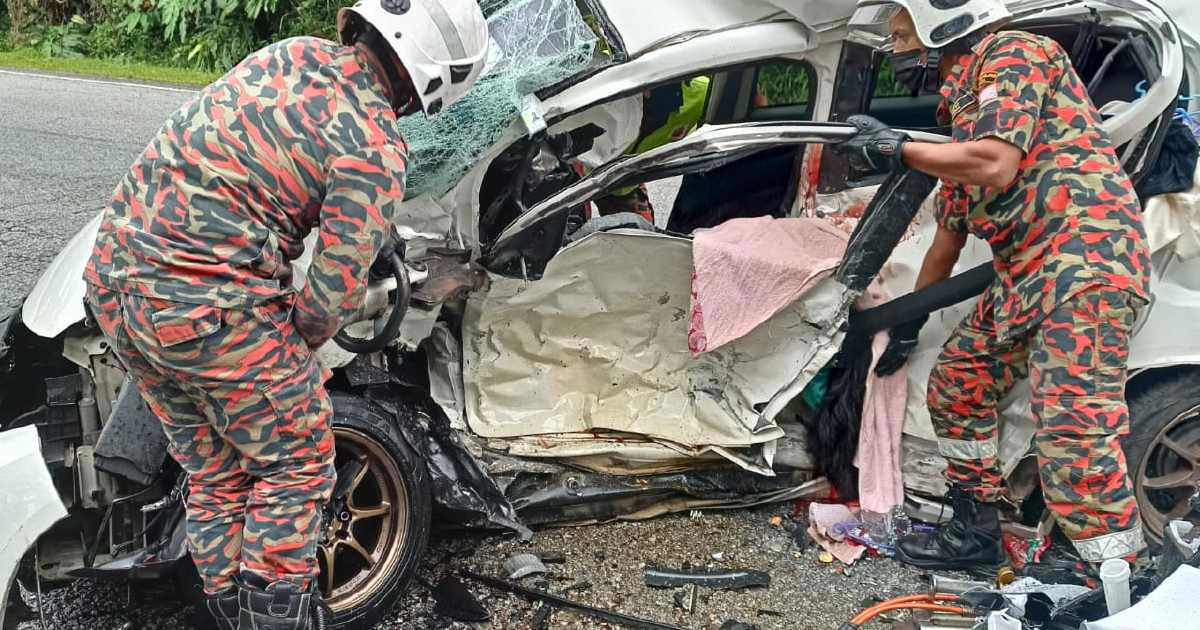 The only survivor 
Gerik's Police Chief, Superintendent Zulkifli Mahmood disclosed that three of the five victims died on the spot.
They have been identified as Mohd Sofiyudin Sazali, 29, the driver of the Myvi; and his front passenger, Syahira Ibrahim, 24. The other was Axia front passenger, Siti Najihah Shafiqah Ghazali, 27.
The fourth victim was the driver of the Axia, a 34 -year -old woman. She had died while being treated at Gerik Hospital at 8.38 last night.
The last and sole survivor of the crash was a one year old and four month baby boy who suffered minor injuries.
"He only had mild injuries and is currently under care in Hospital Taiping."
The case will be investigated under section 41(1) of the Road Transport Act 1987.
MORE TO FOLLOW.
Read also:
---

---
Cover Image via JBPM thru Harian Metro & Kosmo!
Editor: Grace Choong