Delivery service apps such as Grab, Shopee and Lalamove exist to give customers convenience, especially when it comes to moving heavy and bulky items.
However, sometimes things don't go as planned, where the item may be slightly damaged during the delivery process.
Accuses Lalamove rider of being careless
In a now-deleted (but preserved by netizens) series of tweets by user @izzatiraz, it showed her angry WhatsApp conversation with a Lalamove rider whom she accused of being careless with her order.
In the conversation, she took a photo of a slightly disfigured cake that was sent to her and told the rider that she had to pay RM113 for it.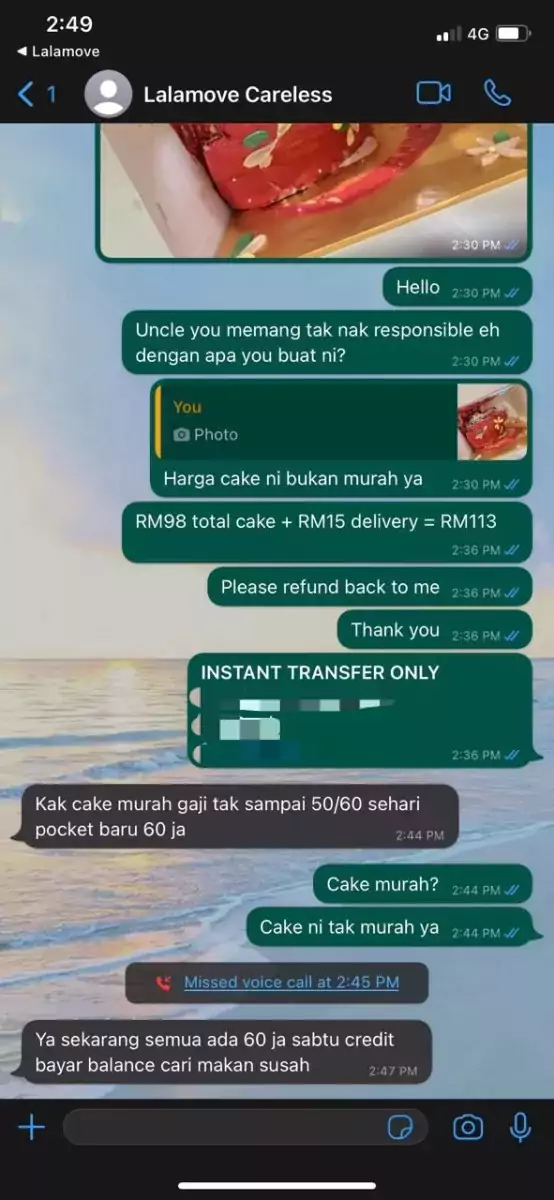 In addition, she also demanded that the rider refund her the full amount into her bank account.
The rider then tried to explain that he didn't have that amount of money, saying that he barely earns RM50-RM60 a day but @izzatiraz refused to have any of it.
Calls rider "Cina tua bodoh"
In another tweet, @izzatiraz posted an update of her conversation with the rider, where the latter finally agreed to transfer RM113 to her.
However, he was unable to bank in the remaining RM3 as the machine didn't accept RM1 notes.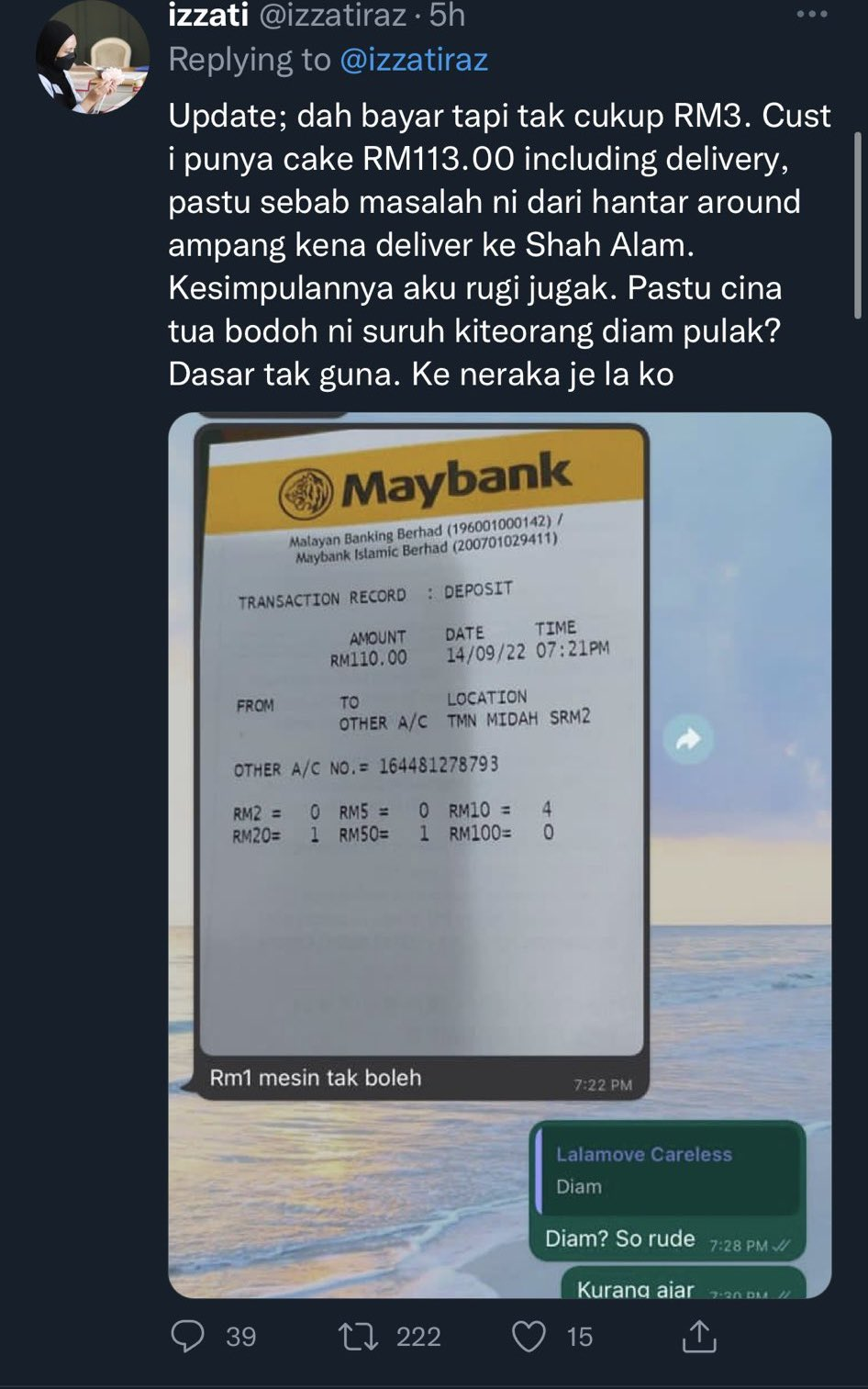 She also alleged that the rider told her to "shut up" during their conversation.
This 'Cina tua bodoh' (stupid Chinese old man) dares to tell me to shut up? Truly useless. Just go to hell.
Gets roasted by netizens
Unsurprisingly, this didn't sit well with netizens, who proceeded to condemn @izzatiraz for her behavior.
They also called for a boycott of her baking business.
Boikot je dia ni. Jenis kurang ajar dgn orang tua ni kita jangan support. Kau maki uncle tu, bayangkan bapak kita kena maki macam tu.

kau hantar kek pakai lalamove dah kenapa. yang bodoh tu kau lah. Bukan salah uncle tu pun. BIADAB ! Kau je ke neraka @izzatibakes @izzatiraz https://t.co/LtZEaR5HCZ pic.twitter.com/HOyRIN7KjA

— Anastasia (@_Mamiemelambong) September 14, 2022
One netizen even decided to troll her by posting a screenshot of him transferring the remaining RM3 into her bank account. Dayum son.
hi @izzatiraz ambil la RM3 ni#kitajagacinatuabodoh pic.twitter.com/0neOsZDoxR

— PT (@paultantk) September 14, 2022
Another netizen also managed to dig up past tweets from @izzatiraz that spewed xenophobic sentiments against the Chinese community.
Ada someone screenshot tadi & post. Aku syak budak ni ada problem dengan kaum cina lah🤣 pic.twitter.com/tGzrrB3tfo

— Anastasia (@_Mamiemelambong) September 15, 2022
Claims she was misunderstood
Following the massive backlash, @izzatiraz tried defending herself from the criticism with her latest tweet.
She first issued an apology for the incident, saying that she was "stressed and angry".
@izzatiraz then went on to claim that she had requested Lalamove to send the cake with a car and not a motorcycle.
She also said that she used a box to transport the cake safely and placed it on the passenger's seat as the rider's car had too many items inside.
However, her Twitter account has since been made private and the previous tweets have been deleted.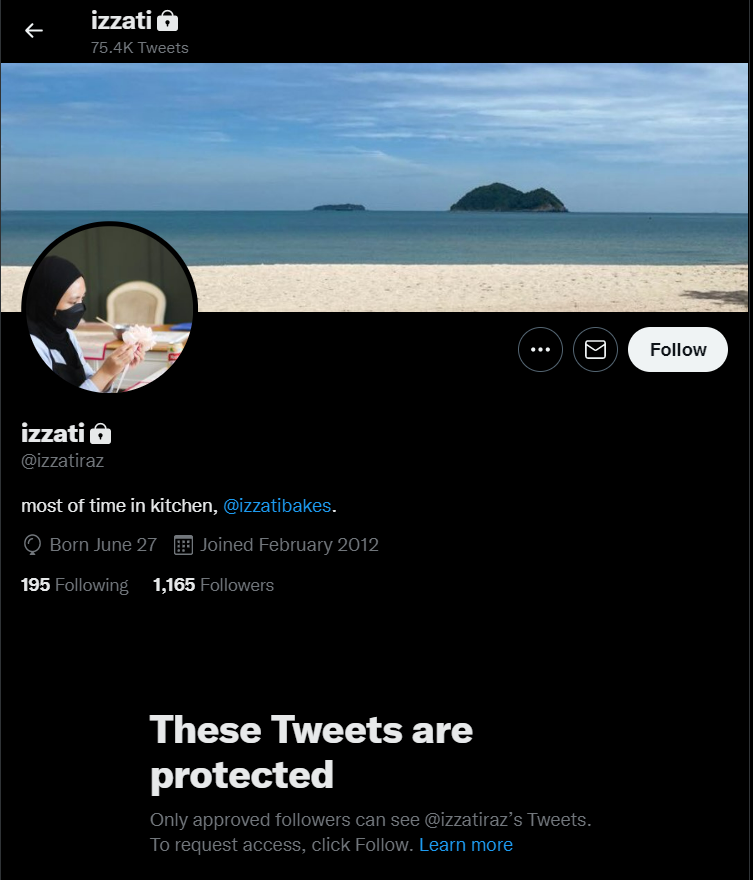 What a wild story! We hope both parties will come to an amicable agreement and put an end to this feud!
Read also:
---
---
---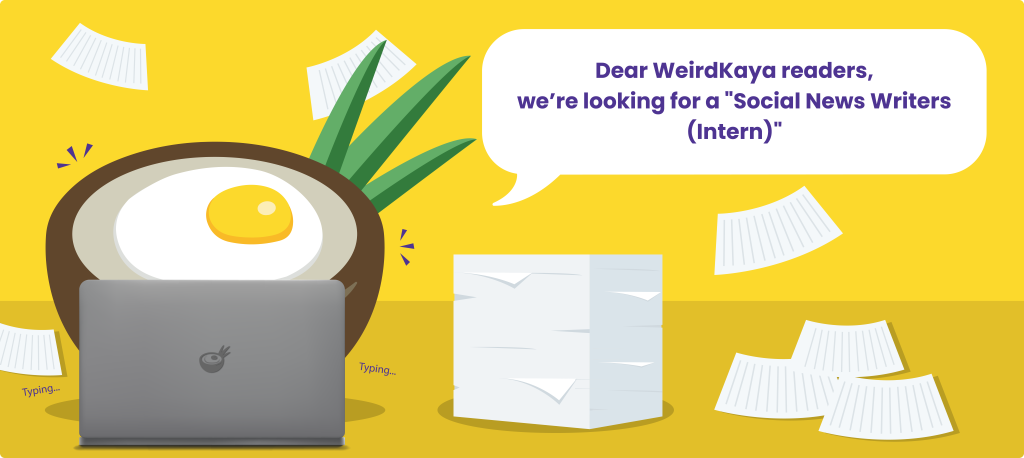 ---