One of the many troubles faced by drivers is the lack of parking spots, sometimes forcing them to double park as a last resort.
However, a netizen named Kenneth Chiew had the shock of his life after his car was damaged by a woman who was apparently enraged by his double parking.
In the now-viral Facebook post, Kenneth explained that he had to double park next to a white car belonging to his colleague after he was unable to find a parking spot and had to attend to a matter urgently.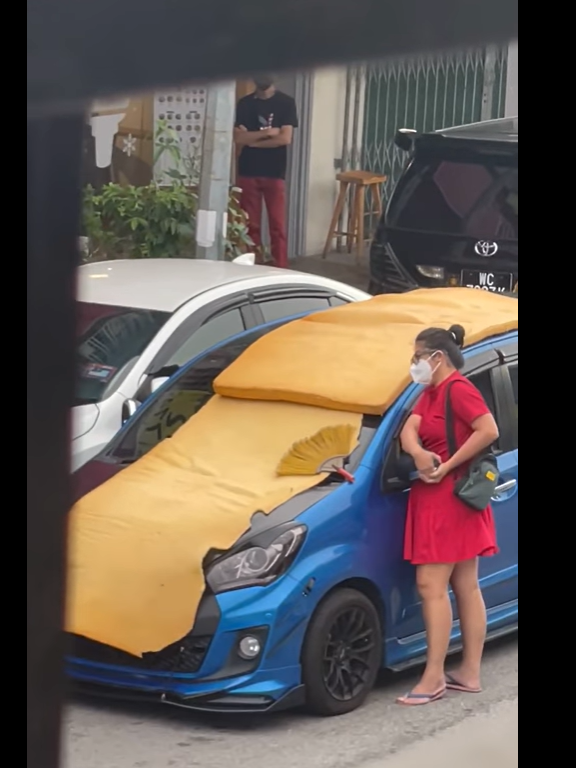 He also wrote that he had left his contact details on the dashboard before leaving the scene.
Not long after, he returned to his vehicle and saw that the side mirror was broken and the rear wiper torn right off – an act he claimed had never happened to him before.
It wasn't until he obtained a video from a nearby shop owner who had filmed the entire incident that he was able to see who the culprit was – a woman dressed in a red dress along with a pair of sunglasses and a face mask.
She was also seen throwing a broom head towards the car window before sauntering off.
According to Kenneth, the incident had taken place at Pandan Indah on Wednesday (Mar 23) between 4 pm to 6 pm.
I admit that double parking is wrong and I've admitted my mistake to the police who will be issuing me a summon. But I was shocked to see my car maliciously damaged by the woman.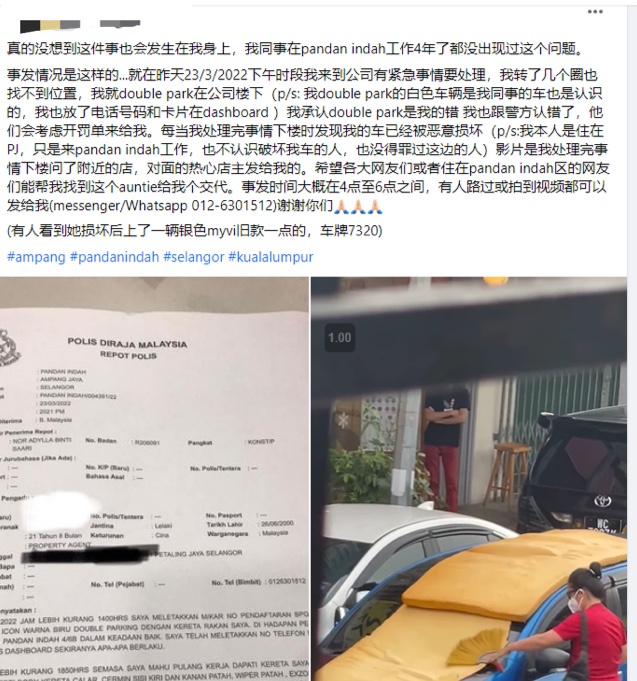 He also called upon eyewitnesses to aid him in tracking down the woman so that the matter could be put to rest amicably.
Who's at fault?
Kenneth's post has since received mixed reactions from netizens, who were divided over deciding who was in the wrong.
"Even if the car owner parked incorrectly, she shouldn't have destroyed his/her vehicle. If this went all the way to the authorities, they will say that damaging someone's else property is wrong."

"The white car that was double-parked belonged to his [Kenneth] colleague and he even left his contact number on the dashboard. If the road's really blocked, a call can be made to him instead of damaging his property."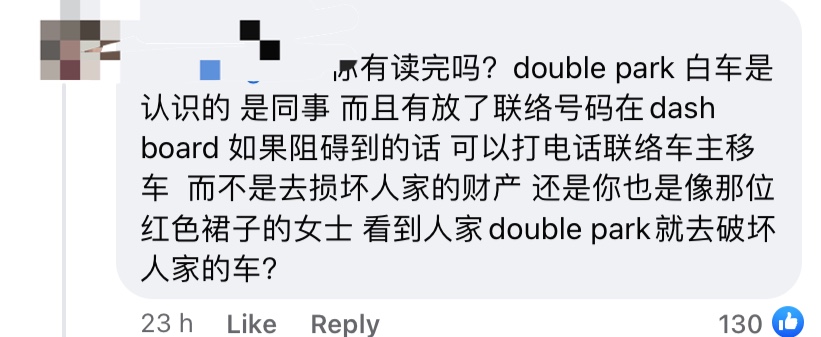 On the other hand, some were sympathetic towards the woman and insisted that double parking is wrong no matter the circumstance.
"It's already such a narrow road and you want to double park from 2 pm till 6.30 pm? Have you ever thought that because of your actions a two-lane road is reduced to a single lane? While I don't agree with the woman's actions, she merely did what many of us would do."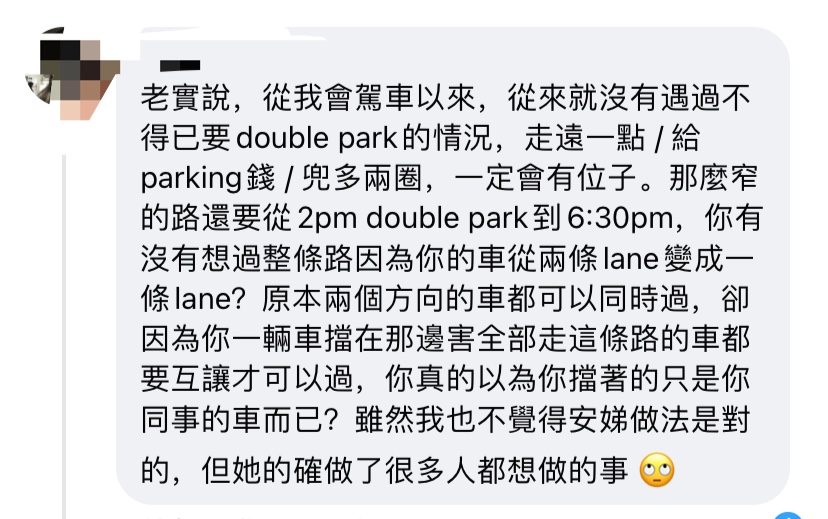 What do you think? Do you think Kenneth deserved to have his car damaged due to double parking? Let us know in the comments!
---
It's unrelated to the article but here's our brand-new podcast – Talk Je Lah!
---
Editor: Sarah Yeoh