KEMPAS – A 35-year-old woman was sent to a hospital in Kempas after experiencing excruciating pain in her stomach, due to an overload of enoki mushrooms.
A doctor from Kempas Medical Centre recently posted to Facebook, sharing his encounter with a woman who had stomach obstruction due to her over-consumption of enoki mushrooms.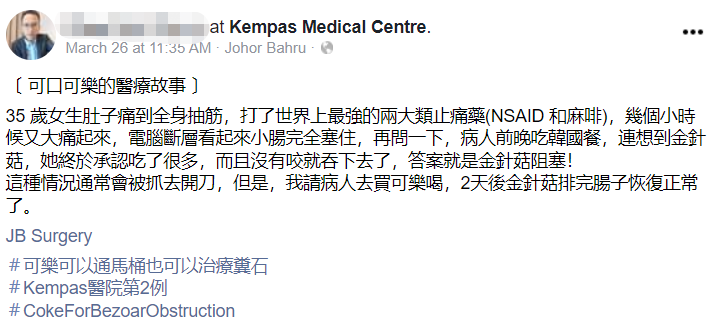 This 35-year-old woman was feeling pain and experiencing spasms in her gut.
The pain was so extreme that she was administered 2 of the world's most powerful pain-killers, NSAID and morphine.
Yet, the pain would come back in another few more hours.
Seeing how dire the siutation was, doctors brought her in for an x-ray and found that her small intestines were completely blocked.
It was later made known by the woman that she had a Korean barbeque meal the night before and ate a lot of enoki mushrooms without chewing well first.
---

---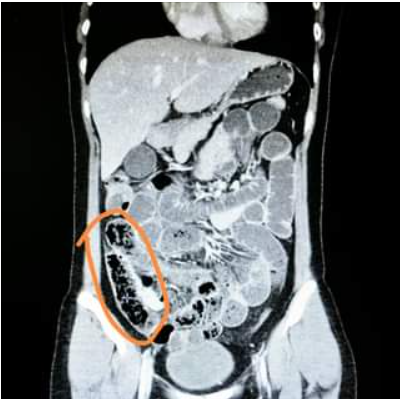 The x-ray above was also included in the doctor's post on Facebook, circling out what must be the enoki mushrooms that clotted her small intestines.
According to the doctor, she was not given any medicine, neither did she undergo any surgery to get better.
He claimed that all she needed, apparently, was to drink some Coke and she would be feeling much better after 2 days.
Under these circumstance, doctors will usually proceed in a surgery. However, I advised her to down some Coke," said the doctor.
The doctor made a few hashtags at the end of the post, referencing how Coke has been used to de-clog toilet bowls, and it can do the same for your body as well.
How reliable is this doctor's advice and to what extent did it actually help with ridding the patient of her stomach congestion? Let us know what you think in the comment section below!
Read also:
---
---
Cover image via Yummy Mummy Kitchen and Facebook.