eslite spectrum Kuala Lumpur, eslite's first store in Southeast Asia, was unveiled yesterday (15th December 2022) to local media. In addition to its renowned bookstore featuring a 60-metre statement wall of red brick arches and a vast book collection, the eslite writing boutique resembles an urban speakeasy bar offering unique stationery items from 36 countries.
It also features an impressive line-up choice at the gift-wrapping zone, with more than a thousand curated Taiwanese-designed goods, as well as world-class gourmet coffee brands and artists' exhibitions. Book lovers can look forward to a charming late-night bookstore-browsing experience as the store will operate until 1 am on its grand opening day on 17th December 2022.

At the preview today, eslite spectrum Kuala Lumpur unveiled six store-opening highlights, including 30 arts and cultural events to gourmet coffee offerings. True to the brand's commitment in creating the "spirit of a place" and in extending hospitality to customers, eslite spectrum Kuala Lumpur provides an unwrapped copy of most books for free browsing. This generous opportunity to freely discover titles from around the world and a reader-friendly layout make the bookstore a genuine haven for book lovers.
30 curated arts and cultural events in its first month
More than books, eslite is also a space for arts and cultural activities. Every year, the brand organises over 5,000 events and performances worldwide. During the opening month of eslite spectrum Kuala Lumpur, visitors can expect more than 30 arts and cultural experiences, with the most anticipated being the Sleepless Saturday when the bookstore will operate until 1am.
Among the well-known names making a special appearance at this event are famed Chinese singer Victor Wong, Singapore Literature Prize and Golden Point Award winner Chow Teck Seng, Taiwan-based Malaysian poet and scholar Sen Kim Soon, Taiwanese publisher Hung-Tze, Jan, writer Betty Wu, influencer-entrepreneur Wei Ye, and Malaysia's first astronaut Dato' Dr Sheikh Muszaphar Shukor, among others. The audience will be treated to a late-night music concert combined with a literary event, like no other.
Famed Asian artist Jimmy Liao's first-ever exhibition in Malaysia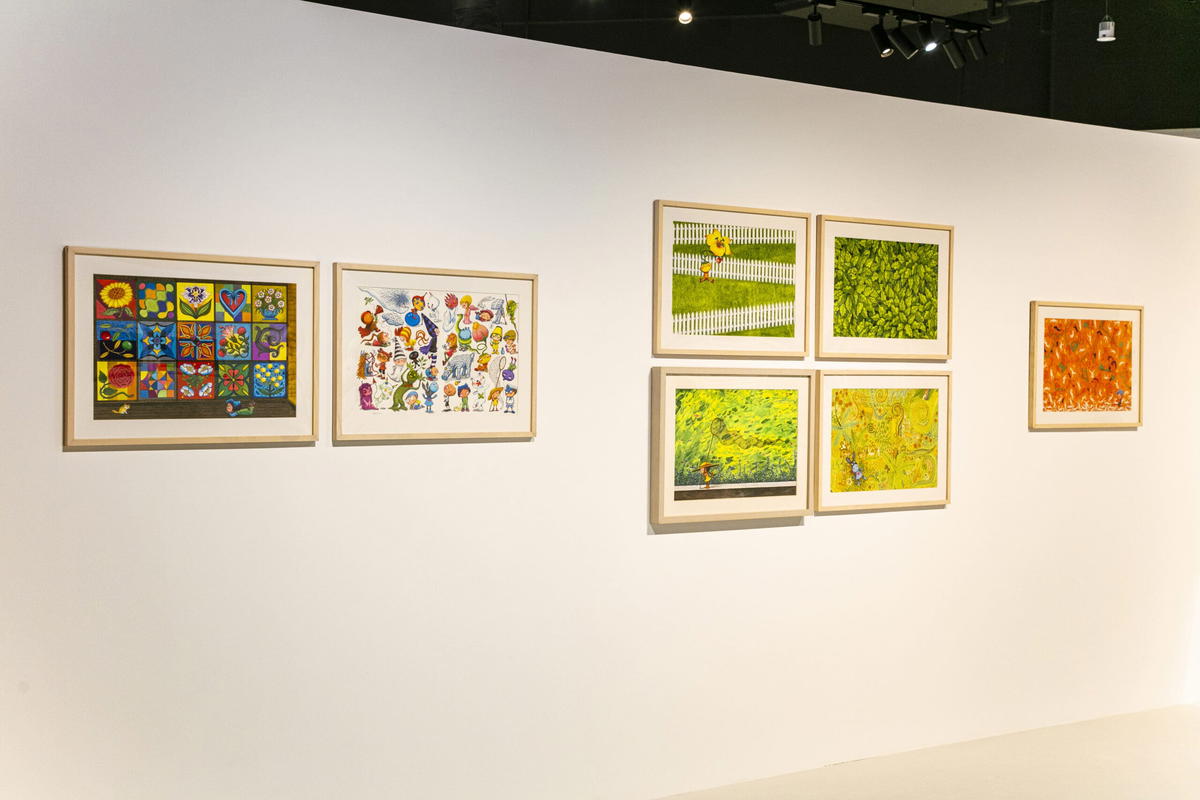 eslite spectrum Kuala Lumpur will also house 40 original paintings, 3 prints, and 2 massive sculptures by Jimmy Liao, who is fresh off his success from touring exhibitions in Taipei, Hong Kong, and Suzhou. Jimmy is continuing his association with eslite by teaming up with them to present his first-ever exhibition in Malaysia, which will be on display from the grand opening day until February 2023.
A celebrated illustrator and storyteller, Jimmy is known for his creative images, concise text and delicate drawing that stir the soul, much the way literature does. "Rabbits", "flight", and "hugs" are some of the subjects and themes he frequently uses to share comforting, positive energy, as seen in his works such as "All of my World is You" and "Singing Jimmy". Illustrated characters are also vividly presented as massive head-butting sculptures in distorted proportions, manifesting the artist's unique vision and unconstrained imagination.
Jimmy's works have garnered a passionate following the world over and he has been recognised as one of the "Fifty-Five Most Creative People in Asia" by the Japanese magazine "Studio Voice". He is also an award recipient of Belgium's Le Prix Bernard Versele, and a multiple-time finalist of the world-renowned Astrid Lindgren Memorial Award for literary achievement.
Taiwan's champion coffee brand and specialty espresso café to make its exclusive debut in Malaysia
eslite spectrum Kuala Lumpur will house Come True Coffee which was founded by three world-class champion baristas. Hailing from Taiwan, this celebrated coffee brand is the proud winner of the Belgian iTQi Superior Taste Award. In pursuit of sustainability, Come True Coffee commits 50% of its profits to fund African farmers' irrigation well projects, and train young people to become professional coffee roasters.
Here in Malaysia, the brand will be sourcing local ingredients and incorporating them into their menu to offer a delightful Nanyang twist. Meanwhile, popular Korean coffee brand Bean Brothers is opening its specialty café, the Espresso Bar, in eslite spectrum Kuala Lumpur, marking its debut in the capital city. The brand's signature decor and ambience will now be enjoyed with an amazing experience of Italian espresso and latte art. Malaysian home-grown brand THE MESSENGERS by JWC, known for its dedication in nurturing coffee professionals and bartenders, will also be offering champion-level latte art on a selection of beverages. With these options, coffee afficionados should be making a beeline to eslite spectrum Kuala Lumpur for brews with their books.
Thousands of curated goods showcase Taiwan's most creative products
Specially selected to showcase a uniquely indigenous look-and-feel, over thousands of quality made-in-Taiwan products will be made available at eslite spectrum Kuala Lumpur. Taiwanese jewellery artist Lin Shiao Tung, known for designing honour pins for the winners of the prestigious Golden Horse Awards, is introducing his creations to Malaysia for the first time. Lin's work is globally acclaimed, and he has been honoured at the Gold Virtuosi International Jewellery Design Awards in Italy. Noted for his East-meets-West aesthetic, Lin's jewellery pieces are subtle, everyday accessories. His classic range of jade pieces bear blessings of peace and happiness, infusing the jewellery with a sense of warmth and cultural bonds. Lin's creations have also been featured on Trendvision's "Trendbook 2022+ & 2024+", pioneering new heights for Chinese jewellery designers on the global stage.
For discerning makeup enthusiasts, eslite spectrum Kuala Lumpur brings you the LSY collection of professional make-up brushes, which originates from a brand founded in 1917. The century-old craftsmanship, with its roots in ink-brush making, has evolved into acclaimed skin-friendly products for professional, impeccable make-up.
You will also find a comprehensive range of lifestyle items, creative creations, handicrafts, and beauty products by over 150 Taiwanese emerging brands in eslite spectrum expo SELECT which is making its debut in Southeast Asia with offerings sourced from popular Taiwanese destinations such as Hualien, Tainan, and Kinmen.
Exclusive physical store debut of Internet sensation brands
In addition to bringing in Taiwanese brands, eslite spectrum Kuala Lumpur has extended an exclusive invitation to 20 Malaysian brands to open their first physical stores at eslite's new KL flagship outlet. One of the familiar names is JT Patisserie, a popular gourmet dessert brand in Penang, whose limited supply of sweet treats are freshly made every day. Also taking up the offer to be housed under eslite spectrum Kuala Lumpur's roof are Spirit Animal Co, a traditional batik fashion brand; accessory designer Gung Jewellery; customised gift packaging services by WithLove.Co; organic fragrances brand BAM & CO; Uncle Jeff Drinks' specialty kombucha; and healthy juices by J PIN, amongst others. eslite spectrum Kuala Lumpur is delighted to extend this invitation to support local businesses by enabling face-to-face customer experience.
A 60-meter arched wall of red bricks stretches the length of the bookstore and a journey through four themed cities
Upholding eslite's commitment in creating the "spirit of a place", the interior of eslite spectrum Kuala Lumpur was meticulously designed by Taiwanese architect Powen Hsiao, who masterminded the space planning of the 2022 Louis Vuitton Objets Nomades Furniture Fair. For eslite spectrum Kuala Lumpur, Hsiao drew inspiration from Italo Calvino's famous work, Invisible Cities, developing the concept of exploration with four themed cities, namely the City of Arches, The Floating City, City of Rippling Waves, and City of Eternal Day. The City of Arches houses a huge multilingual book collection complete with eslite's list of Recommended Reads curated by dedicated staff members.
The eslite Forum is a perfect space for lectures, concerts, movie viewing, bringing together eslite's values of culture, creativity, and lifestyle. There are also cosy and comfortable corners to make readers feel at home.

All in all, eslite spectrum Kuala Lumpur offers a total experience that covers books and everything in between.