KUALA LUMPUR – The COVID-19 Vaccination Programme has been going smoothly, with over 440,000 doses administrated yesterday.
With the allowance of recording, we have seen many videos in PPV centres emerge. We have seen heart-warming acts by volunteers such as a PPV volunteer picking up foreign languages to assist migrant workers.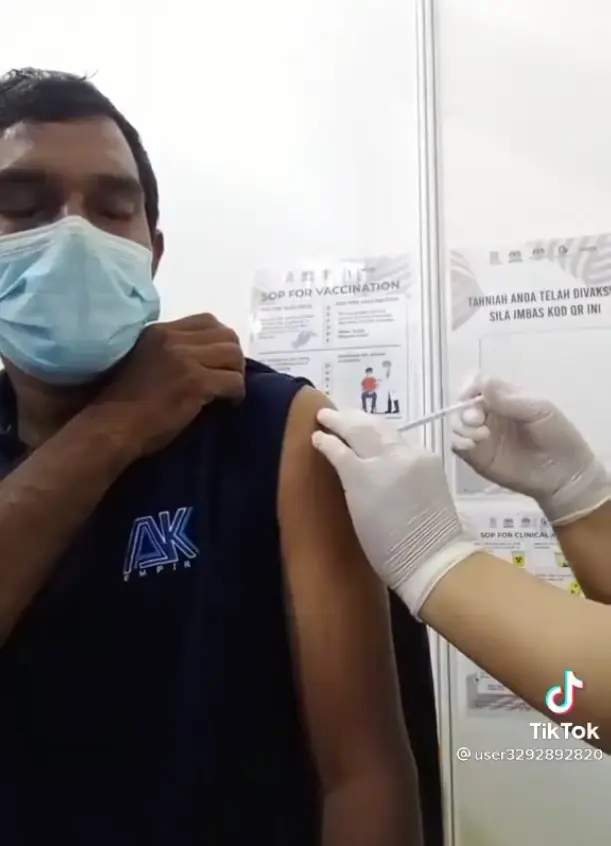 However, a recent video on TikTok showed how rudely a foreign worker was treated.
In the clip, the PPV staff impatiently asked the foreign worker to roll up his sleeves. Additionally, she even expressed her annoyance at him recording the process.
Sibuk nak buat video duh, semua tak ready (Everyone busy taking video, but all not ready)" the staff had said.
Sparks controversies online
The video has since been viewed 638k times on TikTok. Over on Twitter, the clip has been re-shared with over 7k retweets.
Many netizens expressed their displeasure at how the foreign worker was treated. They said that no one deserves to be treated like this, local citizens or not.
Kesiannya tengok dia. Tak kisahlah apa pun warganegara dia ???? pic.twitter.com/70gTNYfv5z

— x (@mawarkhayalan19) August 23, 2021
Tak suka tau tengok warga asing cam terpinga pinga bila kena macam tu terus rasa sedih nak nangis ???????????????? biar la dia nak ambik video pun eleh kalau org tu famous sibuk nak selfie sekali dasaerrrr

— saudagar inai ???? (@wanaaairish) August 23, 2021
Furthermore, one PPV staff shared that it was not ok to treat foreign workers like this:
i as vaccinator pun i rasa agak kasar. i pun berlambak je foreigner tak sengaja lambat kan proses nak cucuk sbb nk prepare video semua but its ok, ambil jela masa. i layan baik2 sbb i nak org layan parents i pun baik2 jugak.

— Tipito (@qssstna) August 23, 2021
Additionally, a Malaysian recounted her similar experience when she received her second dose of vaccine.
jangan kata dia, aku pon kena time second dose???? aku assume nurse tu period. aku nak pin tudung balik pon dia marah katanya lambat. nurse first dose aku elok siap suruh touch up leklok baju tudung apa semua sebelum keluar????

— el.???????? (@smookielya) August 23, 2021
What do you think? Comment below and let us know!
Cover Images via TikTok
Author: Raymond Chen
Proofreader: Grace Choong