SARAWAK – A professor at the Medicine and Health Sciences Faculty of University of Malaysia, Sarawak (UNIMAS) has earned the praise of netizens for letting a student pass the subject by allowing him to answer the questions verbally in Malay.

In a Twitter thread, Siti Raudzah Ghazali shared how one of her students had failed a subject as he was only three marks away from the passing grade and wrote unintelligible answers in English.
However, she decided to give the student a chance by calling him into her office and asked him to explain to her what he had learnt from the subject.
Saya pernah hampir gagalkan pljr saya. Dari pantai timur. Jawapan dia dlm BI mmg saya tk dapat fahami langsung. Beliau kekurangan 3 markah utk lulus. Saya panggil beliau, saya kata awak gagal dlm final exam. Cuba terangkan kpd saya apa yg awak telah pelajari dalam subjek ini?

— Siti Raudzah Ghazali (@sitiraudzah) March 31, 2022
'Teaching is not about scoring As only'
"He asked me in his thick local accent whether he could answer me in BM, which I permitted. To my surprise, he understood every single thing from Chapter 1 to 10!
"I gave him an additional three marks and did not fail him for the subject. As for his friends, I also gave them each three extra marks as well," she wrote.
Siti Raudzah concluded her tweet by writing that education was more than just seeing students score well for their exams.
The goal of education isn't to let your students achieve straight As. My goal is to impart knowledge to them, where they will be able to know the things that they never knew of in the past.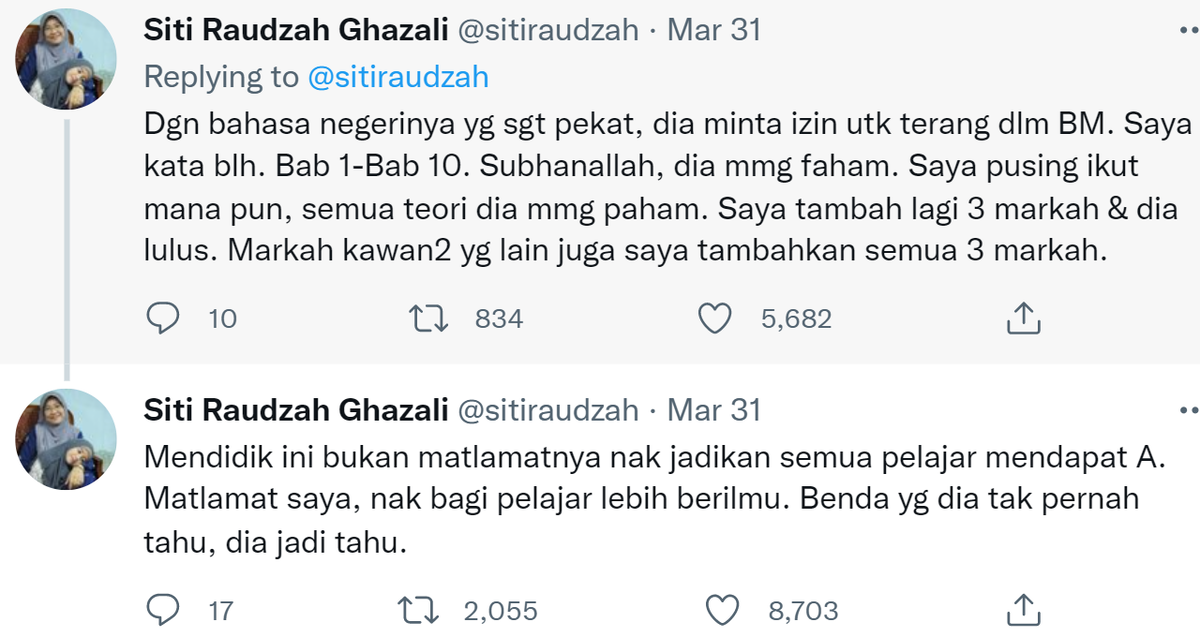 Her tweet has since garnered 20.1k likes and 8.7k retweets at the time of writing, with many lauding her for her holistic approach in equipping students for the future.