Subang Jaya Medical Centre (SJMC) has become the first private medical centre in the Asia Pacific to receive Certification from The Australian Council on Healthcare Standards (ACHS) International as a Centre of Excellence (CoE) in Malaysia for its Oncology services.
This recognition highlights SJMC's dedication to upholding regulatory standards, prioritising patient care and safety, and enhancing overall patient satisfaction.
The ACHSI evaluation process is conducted in accordance with the EQuIP7 Core and Ambulatory Standards using EQuIP7 Resource Guide for Cancer Care with Advanced Person-Centred Systems (PCS) Module Guide.
SJMC was assessed through a series of functions, standards, Criteria and Elements which include patient care, care services, performance improvement, corporate management systems, workforce systems, and creating a safe environment.
In a congratulatory video message to SJMC, Karen Luxford, Chief Executive Officer of the Australian Council on Healthcare Standards (ACHS) International said, "We know that you aim to deliver high-quality best practice care and that your strategic objective is to achieve this by undertaking and participating in a range of external accreditation programmes.
"SJMC was assessed recently against the ACHS International Centre of Excellence, starting with the oncology services which were chosen first to be formally assessed. You are the first ACHS International member to achieve Centre of Excellence certification for your oncology services. Well done and congratulations!"
"We are excited to announce that we have been certified by ACHS International as a Centre of Excellence for Oncology Services.
"Successfully attaining this international recognition ensures that patients can place their trust in a healthcare provider that meets stringent safety and quality standards for patient care and overall well-being.
"Our cancer care performance results consistently mirror the standards upheld by leading centres in developed countries.
"For example, we are proud of our remarkable internationally published five-year survival rate for patients with Stage 1 breast cancer and Stage 1 nasopharyngeal cancer at 100% respectively. This is evidence of the quality of care we provide.
"But more importantly, this CoE Certification recognised our person-centred care approach where the patient is at the heart of care. At SJMC, we empower our patients with dignity, empathy and integrity.
"We believe that cancer extends beyond treatment and should be a holistic approach. We journey with our patients with our end-to-end services, from diagnosis to treatment, to recovery or even end of life," said Bryan Lin, Chief Executive Officer of SJMC.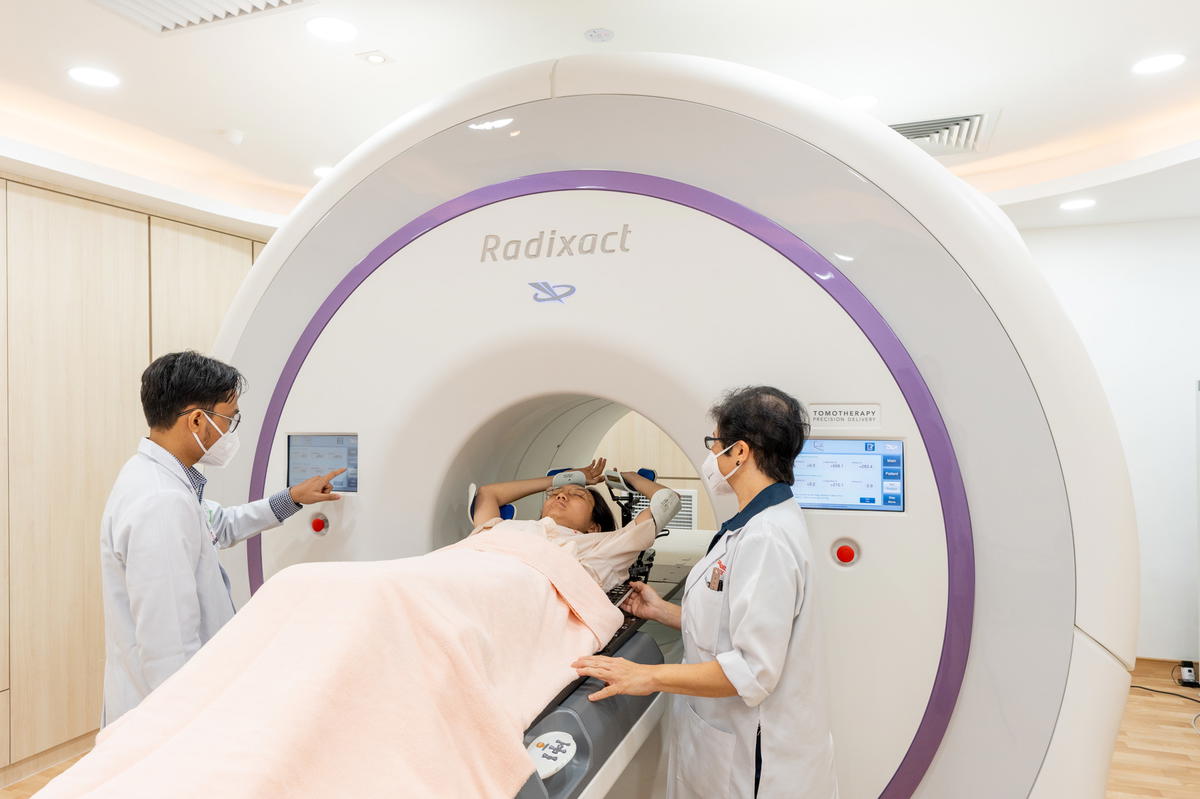 SJMC's Oncology team comprises experienced medical professionals who are seamlessly integrated with state-of-the-art technologies, enabling them to push boundaries in clinical care.
SJMC is equipped with the latest generation of the world's first digital PET/CT platform, Discovery MI Gen2 for optimal disease detection, comprehensive assessment and treatment planning.
Furthermore, the use of Radixact X9 with Synchrony empowers SJMC's stereotactic body radiation therapy (SBRT) by utilising advanced technology for predictive tracking and high-dose radiation to minimise damage to healthy tissues for prostate and lung cancer patients.
In the year 2000, SJMC pioneered bone marrow transplants (BMTs) in the private healthcare sector, enabling safe and effective treatment with high-dose chemotherapy to eradicate cancer cells. A record of approximately 900 cases of BMTs has been performed successfully to date.
"SJMC's Oncology services are at the forefront of regional cancer care. Our dedicated team of oncologists, haematologists, radiologists, surgeons, and other specialists work together to provide a multidisciplinary and integrated approach to cancer treatment.
"We use the latest cutting-edge technologies, such as proton therapy and immunotherapy, to offer our patients the best possible chance of survival. In cancer care, we recognise that we have an opportunity to make a real difference in people's lives.
"Delivering good outcomes means the ability to provide quality of life and years ahead for our patients with their loved ones," expressed Catherine Lee, Director of the Cancer & Radiosurgery Centre of SJMC.
ACHS International has been a leading, independent, not-for-profit organisation dedicated to enhancing healthcare quality through standards and accreditation since its inception in 1974.
ACHSI is committed to ensuring that its healthcare standards remain current, comprehensive, and aligned with best practices. These standards play a pivotal role in generating accurate information to improve the quality and safety of patient care.
For more information on SJMC and its services, visit the official website.
Read more:
---