SHAH ALAM: As Malaysia reached the grim milestone of logging in more than 11,000 cases in a single day, the Ministry of Health (MOH) conducted a press conference to announce some of its plans to control the situation.
You can refer to this post for a recap of what was announced:
Director of Health General Tan Sri Noor Hisham later published the list of Covid-19 Assessment Centres (CAC) throughout the country in a Facebook post following news of overcrowding at Stadium Melawati.
After the announcement, there was a sharp decrease in attendees at CAC Stadium Malawati and everything seemed to be under control.
A survey by Bernama also found the situation to be more orderly than before due to an increase in Covid-19 cases in Selangor, particularly among those undergoing screening tests in the Petaling district.
A spokesman for the Selangor State Health Department (JKNS) said several improvements had been made since Monday, including expanding the Emergency Division space equipped with oxygen tanks.
"We have also opened a new area within the stadium to screen industrial workers." he said.
More medical officers and ambulances were also dispatched to the area, and seating inside the stadium arena was filled to reduce the number of visitors lingering outside.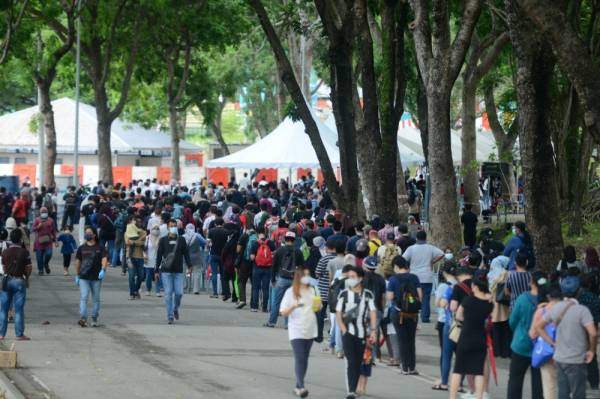 CAC Stadium Malawati also received a donation of ten tents from the Selangor state government, 14 tents from the Malaysian Islamic Medical Association (Imaret) Relief and Action Team, and food boxes from non -governmental organizations (NGOs).
Meanwhile, CAC Taman Sri Andalas in the Klang district was also reported to be more controlled after a chaotic start last Monday.
Although there were still long lines of people waiting to be screened, the situation remained largely under control.
Selangor State Health Director Datuk Dr Sha'ari Ngadiman said the management of CACs in the state would improve, especially concerning patient registration process, oxygen tank supply, and increasing the number of health workers.
A survey at the Ideal Convention Center (IDCC) Shah Alam Vaccination Center (PPV), which was closed yesterday due to 204 staff testing positive, found that vaccination activities had returned to normal.
Following the one-day closure of the PPV for sanitation purposes by the Malaysian Fire and Rescue Department, a total of 6,000 vaccination appointments were rescheduled.
Only vaccinated individuals were allowed to enter and board the elevator while supervised by PPV staff and the Malaysian Volunteer Department members.
Cover Image via Berita Harian & Harian Metro
---
---
Editor: Raymond Chen
Proofreader: Sarah Yeoh