Singapore Singer JJ Lin recently posted a picture of his father and himself at a badminton court on Instagram. The post received a funny reply from our former national badminton player Datuk Wira Lee Chong Wei.
JJ Lin's Instagram Post
In Lin's post, he wrote:
"Badminton bros! When I was 5 years old, I played badminton with my dad every Friday. Now that I have grown, I still play badminton with my dad on Friday! #badminton."
His post has since received over 100k likes and 900 comments, with many of his friends commenting on it.
One of them is singer Ang Junyang, where he commented with a pleading-face emoji. Under his comment, Singapore actor Shaun Chen Hong Yu added: "Bro, let's invite @jjlin and uncle to play next time."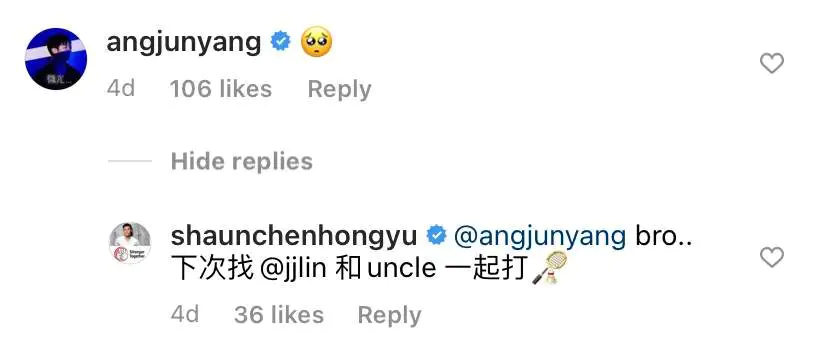 You beat me first before playing with @jjlin," he wrote.

In reply to Lee Chong Wei's comment, Shaun said that "it's impossible to beat you."
Following that, JJ Lin also chipped in and said:
You teach me to play badminton, and I teach you to sing?

Malaysians and Singaporeans, are we looking at a sports-arts collaboration of the decade?
---
It's unrelated to the article but here's our brand-new podcast – Talk Je Lah!
---
Cover Images via Instagram

Proofreader: Anna Wong