With thousands of cars travelling back and forth from Malaysia to Singapore and vice-versa, police officers are tasked to ensure that all drivers follow the law in order to maintain a smooth traffic.
For this driver of a Singaporean-registered car, he felt that he was above the law and repeatedly ignored a Royal Malaysian Police (PDRM) officer who told him to stop by the side of the road.
SG-registered car ignores M'sian police officer and drives on
In a 1-minute clip believed to be a re-upload of an old video but has since gone viral again on Twitter, it showed the driver of a silver Honda Civic bearing a Singaporean-registered number plate being confronted by the police officer.
Despite being told to stop the car, the driver completely ignored the officer and drove on, much to the officer's chagrin.
The officer then went over and stood in front of the car and tapped on the vehicle to get the driver's attention.
When the car finally stopped, the officer moved to the side of the vehicle and knocked on the window to speak to the driver.
However, the driver placed on his foot on the gas pedal and drove on, leaving the officer with no choice but to stand in front of the car to stop him from leaving.
Moments later, the car is eventually forced to stop at the side of the road as two other officers dressed in vests talk to the driver.
Watch the clip here:
Driver Singapore memang perangai lahanat eh?

Polis kita pun dia tak hormat pic.twitter.com/PPAxpW6ClF

— adlie (@adliehassan) August 2, 2023
'1st world country, 2nd hand attitude'
In the comment section, netizens wasted no time in criticising the driver for ignoring the police officer's instructions and said that it was a poor reflection of a '1st world country'.
'Hello @SingaporePolice your citizen not behaving like 1st world mentality again. Please take action.'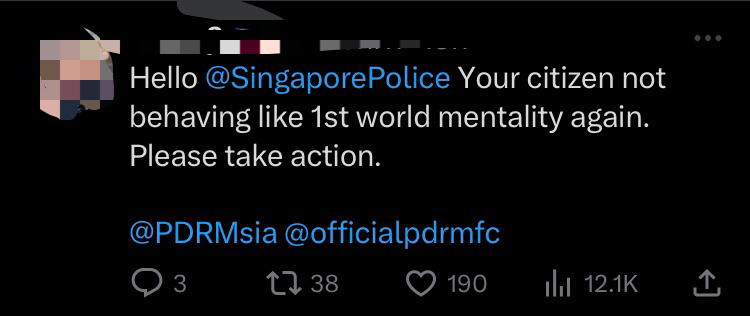 'Is it because they can 'escape' from our law once they return to their country?'

'It's frustrating to see foreigners coming to our country and do not respect our laws and enforcement officers.'

What do you think about this incident? Let us know in the comments!
READ ALSO:
---
---