The weather in Malaysia has been hitting the hotter end in recent weeks, where it has sent many absolutely melting in the sun and rushing for shadier spots.
However, a woman decided to make the best out of the temperature by cooking an egg without the help of gas but instead with a natural source — the sun.
Sabah woman cooks egg under the sun
In a Facebook post written by Fatasha Nadia on Friday (May 12), she shared a mini experiment she did at her hometown located in Kampung Bukau, near Beaufort in Sabah, where the temperature was a sweltering 36°C at 12.49pm.
As the first step, she poured some cooking oil into a metal pot at 1pm and let it simmer for about 10 minutes before cracking a raw egg into it.
When the clock struck 1.20pm, she went to check on the egg and found that the egg white and yolk had shown some signs of coagulation.
When it came to 2.45pm, the texture of the egg solidified even more, where the both the yolk and white had almost completely set.
Finally at 3.30pm, Fatasha showed the result of her mini experiment more than two hours after the egg was cracked, where it had turned into a sunny-side-up egg ready for consumption.
Netizens amazed by experiment
The post, which has since garnered more than 700 reactions and 2,200 shares at the time of writing, had netizens totally floored to see how the egg was successfully cooked by the sun.
"Looks like we don't have to worry about not having electricity anymore."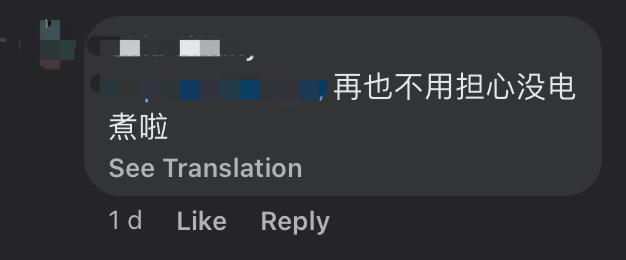 "Can try cooking maggi mee tomorrow and see how many times it takes for it to be fully cooked."
Following the overwhelming response over the post, Fatasha herself commented that it was simply an experiment to show her kids whether it was possible to cook an egg under the sun, adding that it was faster to cook it inside the kitchen.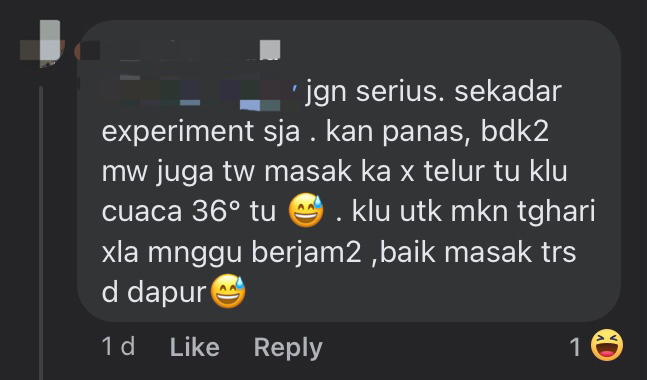 Read the post here:
Would you do the same experiment as well given the current hot spell? Let us know in the comment section!
READ ALSO:
---

---