GEORGETOWN – A Facebook post by DAP's Penang arm has irked Malaysians over its announcement of a "ridiculous" fine imposed on those planning to pay their respect to the dead throughout Qingming.
According to the post, Berapit assemblyperson Heng Lee Lee revealed that several people were slapped with a RM1,000 fine for failing to scan the MySejahtera code.
She then reminded Penangites to scan the QR code which will be placed at the main entrance, parking lot entrance and exits.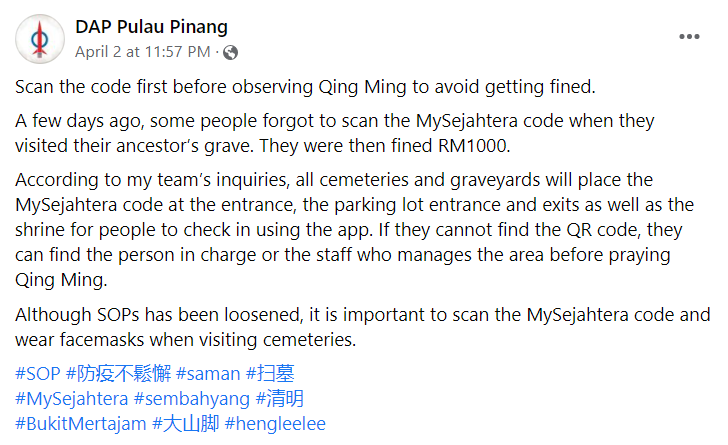 If they are unable to locate the QR code, they are to find the person in charge or staff responsible for monitoring the cemetery and graveyard.
Although SOPs have been loosened, it is important to scan the MySejahtera code and wear face masks when visiting cemeteries.
---
---
'What's the point?!'
The announcement for the fine has so far not sat well with netizens, who called questioned the rationale behind the need to scan MySejahtera at cemeteries.
One wrote, "It's all about 'cari makan'. Are we all really that naive?"

Another expressed her dissatisfaction towards the rule and said that it was an invasion of one's privacy.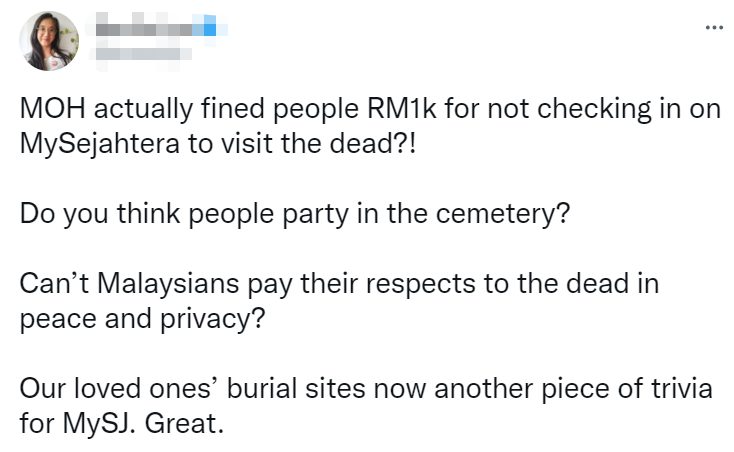 Another urged the Ministry of Health (MOH) to abolish contact tracing as it was no relevant in the endemic phase.

Do you agree that Malaysians still need to scan MySejahtera during Qingming? Let us know what you think!
Read also:
Cover image via The Sun Daily and The Star.