Parent's Day is just around the corner, and it's time to plan something out of the ordinary to celebrate our awesome parents. We're not talking about the usual jalan-jalan or makan-makan.
We're here to spew out some epic family traditions that will make your parents go, "Walao eh, syok lah!" So, get ready to laugh until your stomach pang, shed a tear or two, and create memories that will go down in family history this upcoming Parents' Day.
Things you can do to revive your family tradition this Parent's Day
Reviving Malay family traditions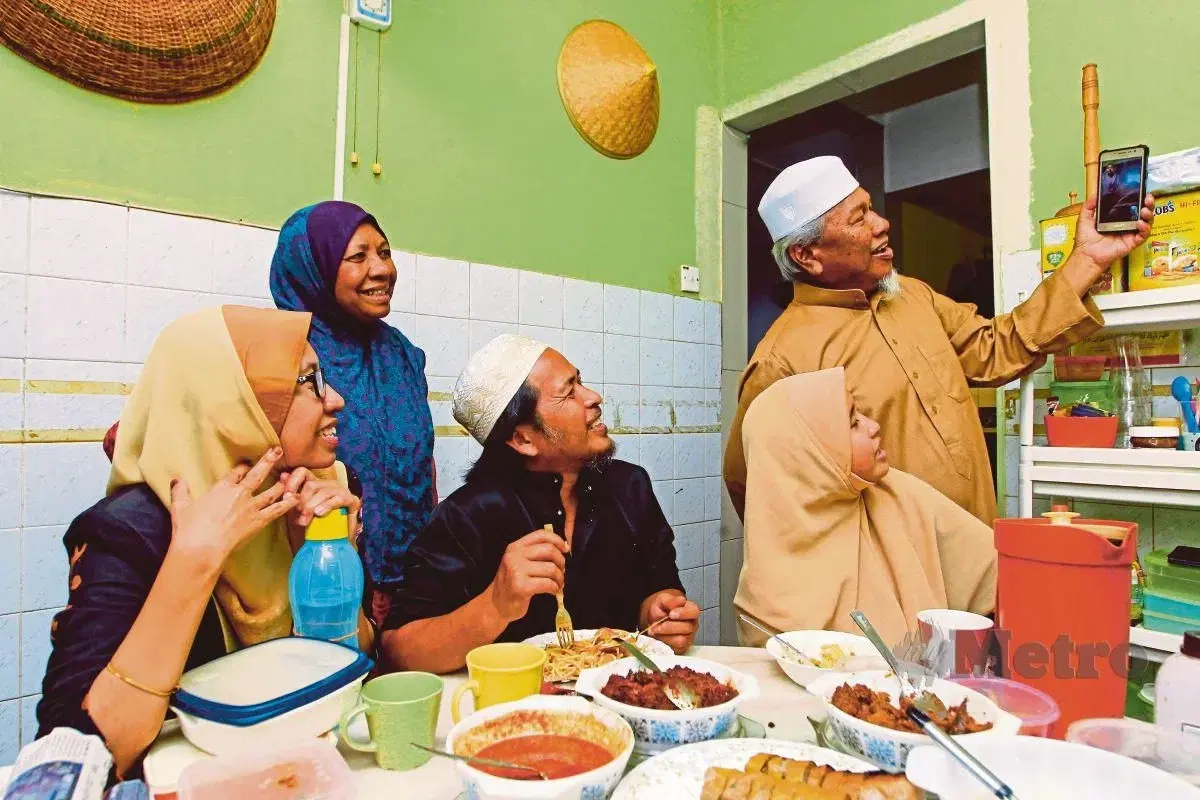 1. Roti Jala throwdown
Gather your siblings and challenge each other to a Roti Jala cooking competition! Who can create the most delicate and intricate lace-like pancakes?
The pancake skills will be put to the test as you try to impress your parents with your flipping and folding techniques. It's all about that perfect golden colour and the satisfaction of creating a delicious masterpiece.
And of course, don't forget the spicy sambal to dip your roti jala in. It's a tasty and fun way to bond with your family over a traditional Malay dish.
2. Karaoke showdown
Bring your whole family together and turn up the volume until the neighbours complain, and let's unleash the karaoke king or queen within you! It's time to show off your hidden singing talent and compete for the coveted title of "Karaoke Champion of the Family."
From golden oldies that make your parents reminisce about their dating days to the latest pop hits that make them go, "Alamak, all this time I've been singing the wrong lyrics ke?" Let the karaoke battle begin! And don't be shy to add some drama and dance moves to your performance. Just remember, no judge's bias allowed, unless your mom is the judge!
Reviving Chinese family traditions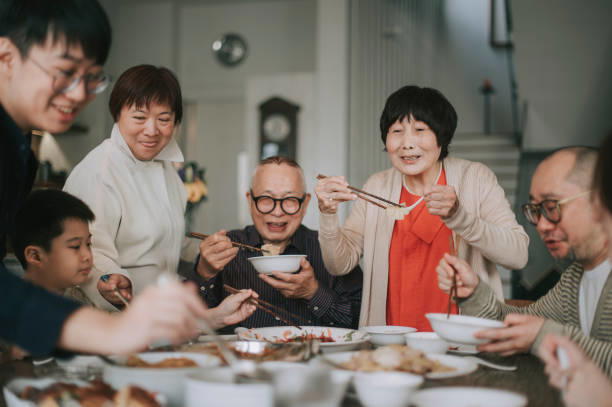 1. Dim Sum delight
Assemble the whole gang, folks, and get ready for a dim sum extravaganza that will make your taste buds jump for joy! Whether you head to your favourite dim sum spot or unleash your inner culinary genius at home, brace yourselves for a culinary adventure like no other.
With dumplings that boast juiciness rivalling gossip and buns as fluffy as a freshly washed towel, brace yourself for a dim sum extravaganza that will transport you to culinary heaven.
And hey, amidst the chaos of choosing which dish to devour first, it's a fantastic opportunity to revive the tradition of foodie bonding and create unforgettable memories that'll have everyone saying, 'Wah, so delicious, can tapau some more ah?'"
2. Mahjong madness
Round up the mahjong squad and prepare for a wild ride that's part strategy, part comedy show, and all-around good fun! Expect a showdown where luck meets laughter and winning hands are celebrated with triumphant victory dances.
But let's not forget the hilarious moments of misreading tiles and confusing calls that make everyone burst into fits of laughter. Oh, and the dramatic gasps and exaggerated sighs when someone gets a tile they've been praying for!
Mahjong is like a rollercoaster ride filled with suspense, laughter, and a healthy dose of friendly banter. Get ready to laugh until your stomach hurts and make memories that will have you saying, "Remember that time Uncle Ah Beng thought a six was a nine?" Classic!
3. Wok-tossing extravaganza
Calling all wannabe masterchefs and wok-flipping champions! It's time to gather your squad, put on your aprons, and transform your kitchen into a battlefield of flying ingredients.
You can also channel your inner wok-star and toss those veggies up high, praying they don't end up in your neighbour's kuali. It's like a culinary magic show with flames, laughter, and a bit of kiasu chaos!
Make sure your "wok-missile" technique is on point to avoid any accidental food fights. Let's see who can create the biggest stir-fry masterpiece that will make your parents shout, "Ho jiak lah!".
Reviving Indian family traditions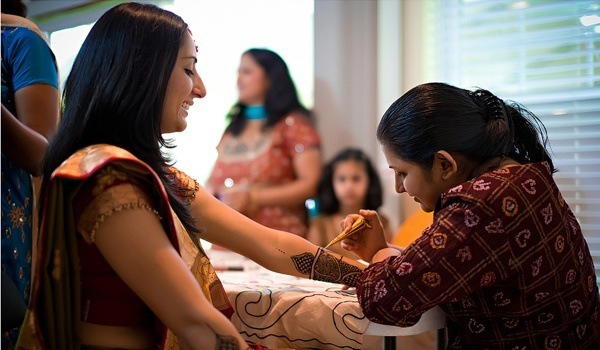 1. Bollywood bonanza
Get ready to unleash your inner Bollywood superstar and groove to the beats of your favourite Hindi songs! Gather your gang, clear the living room furniture, and turn it into your own dance floor.
It's time to break out those Bollywood moves, from the classic pelvic thrusts to the iconic "thumkas" that will make your parents go, "WAH, you really can dance!"
Don't worry if you're not the next Shah Rukh Khan or Deepika Padukone. The key is to have fun and let your inner Bollywood hero or heroine shine bright like a sequined saree!
2. Mehndi madness
Let's turn your home into a vibrant henna art studio! Rally the family and unleash your creativity with mesmerising henna designs.
From delicate floral motifs to personalised messages of love, adorn each other's hands with beautiful henna art. You can also take it up a notch by hosting a friendly competition for the most creative design.
Also, this is the time to let your hands do the talking and celebrate the art of henna in all its glory. Can you imagine the look on your parents' faces when they see their hands transformed into henna masterpieces? Though, just be prepared for a lot of laughter when your Uncle Rajesh's attempt at drawing a peacock turns into something that resembles a turkey.
Now that you know how to revive these family traditions for the upcoming Parent's Day, but do you know how to make the day even more memorable for your parents? By gifting them high-quality products that enhance their quality of life!
And here's the cool part: when you gift, you also reward yourself! Wait, what? How is that even possible?
Well, it is possible with SHARP Cherish Love with Love campaign because SHARP always emphasises cherishing love for your loved ones by offering top-notch products!
SHARP: Cherish Love with Love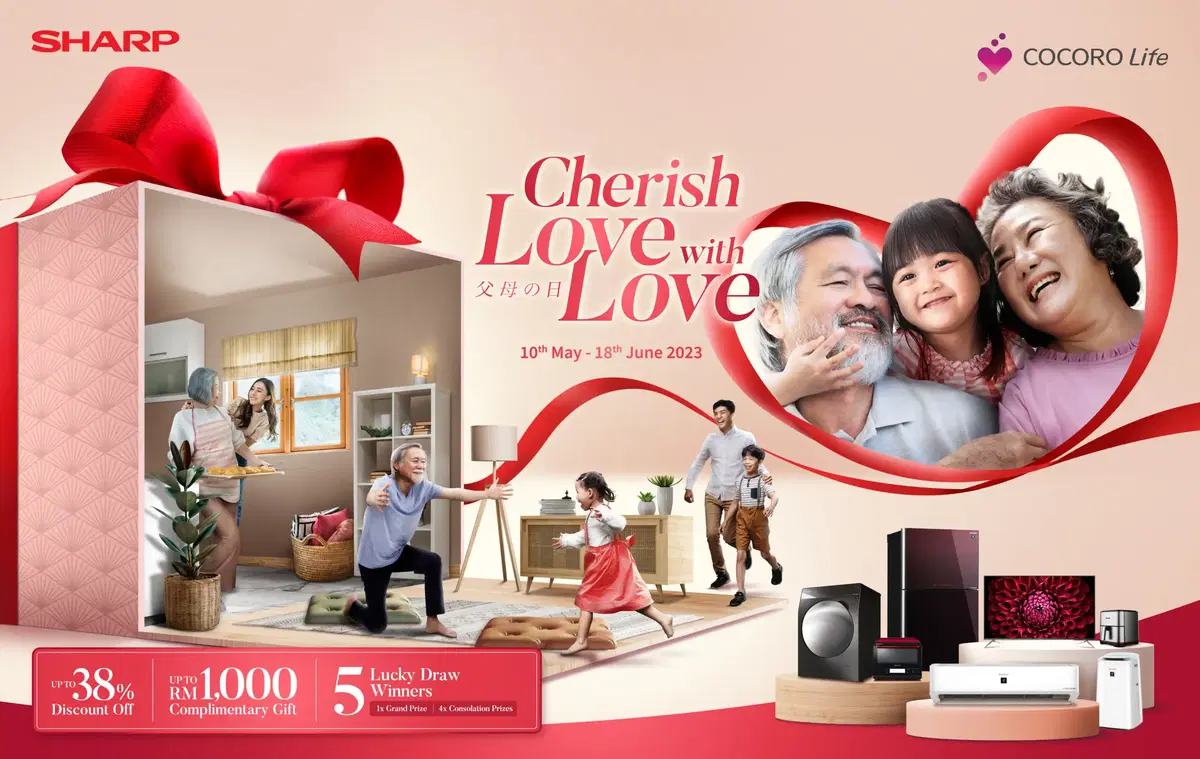 Here's how:
1. Purchase any selected SHARP products
First things first, go on a shopping spree and grab some cool SHARP products that your old folks will totally dig. Whether it's a fancy TV, a snazzy air purifier, or a kitchen gadget that'll make their cooking game strong, SHARP has got the goods and they're all discounted up to 38% off! That's not all, some of these goods also come with a free gift!
What do we recommend, you ask? These:
4TC70DL1X – AQUOS 70 Inch 4K UHD Android TV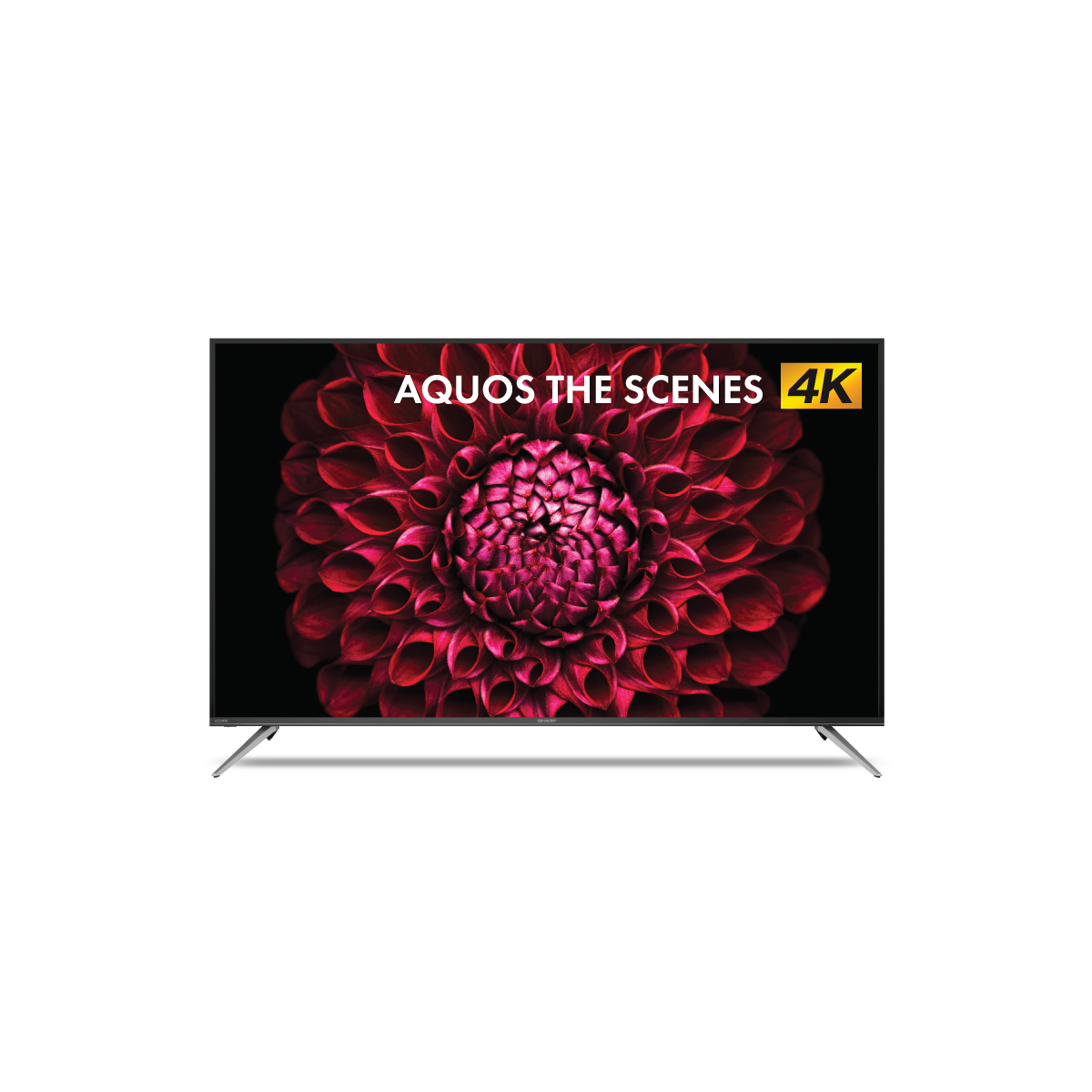 Why: It's got this fancy Deep Chroma Display thingy that makes the colours pop like never before, thanks to Sharp special technology called Deep Chroma Display which brings the highest level in colours with chroma enhanced backlight and UV2A panel. Plus, the X4 Revelation Processor makes everything look super smooth, so they can binge-watch their shows or kick some virtual but with minimal lag. And did we mention it's an Android TV? That means they'll have access to tons of apps, like videos, news, and even games with Google Assistant by their side.
Normal price: RM6,799
Now: RM4,299
Free gift: 32" HD Google TV (worth RM1,149)
KIL60LW 50m2 Air Purifier with Humidifying Function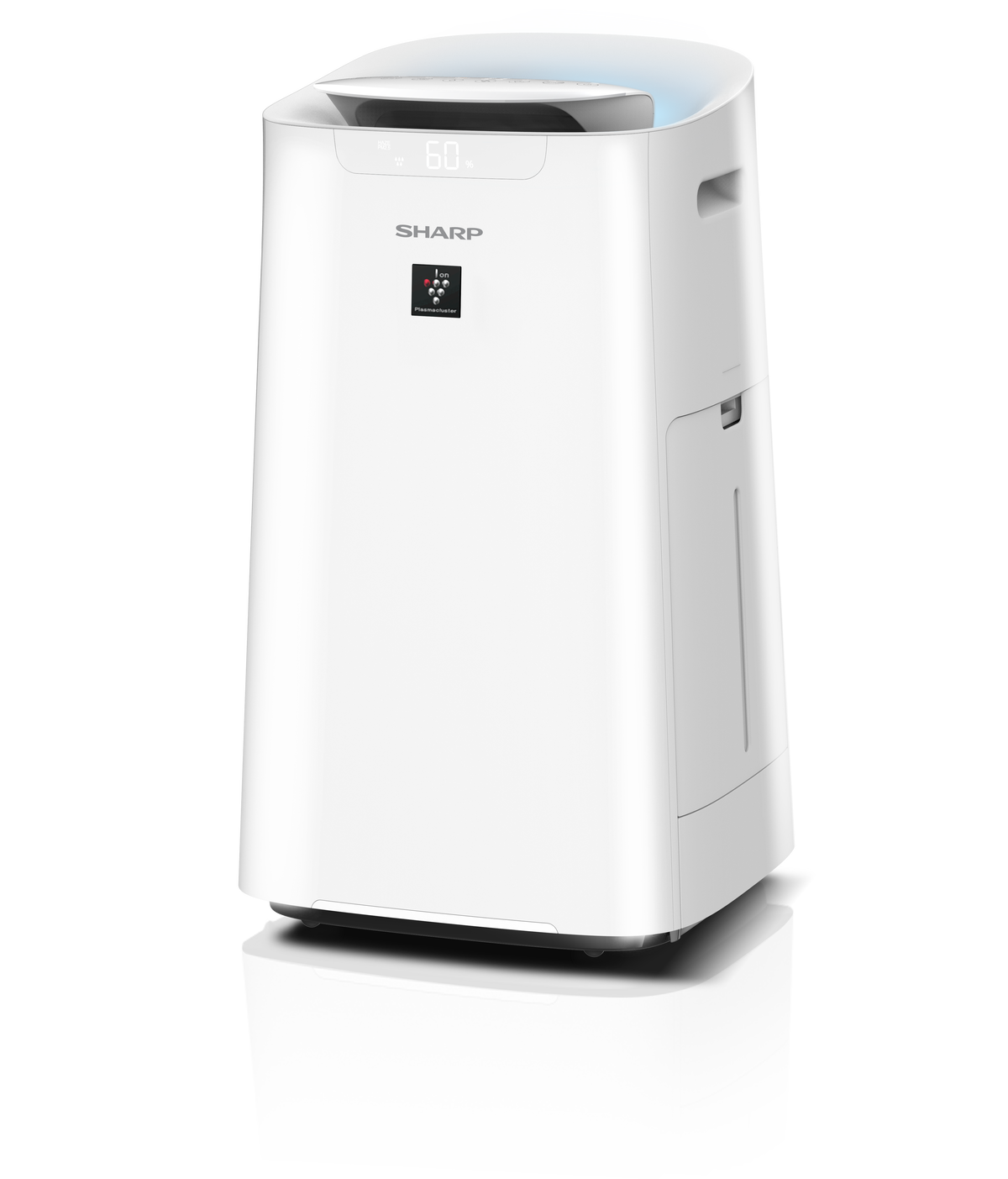 Why: With its Plasmacluster Ion Technology, it generates positive and negative ions that kick bacteria, viruses, allergens, and moulds to the curb. Sayonara, yucky stuff! It removes odours and static electricity too! But that's not all! This genius machine also improves skin moisture, so your parents can rock that healthy, hydrated look.
Normal price: RM3,499
Now: RM3,199
Free gift: 32" HD Google TV (worth RM1,149)
AHXP10YHD AloT J-Tech Inverter Plasmacluster Air Conditioner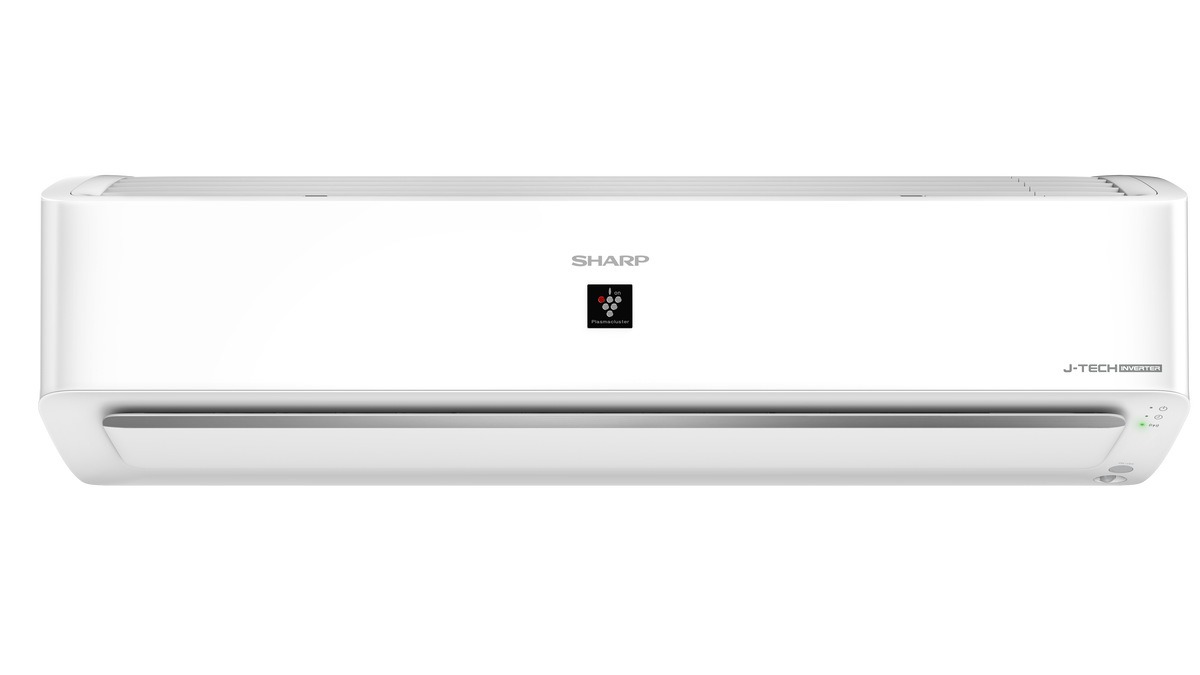 Why: With its stylish and simple design, it'll seamlessly blend into their space. But here's the best part: it's packed with amazing features! The Plasmacluster technology zaps away those pesky microbes, ensuring healthy cooling for your parents. Self clean mode with Plasmacluster Ions technology can even reduce the growth of mold fungus inside of the indoor unit.
And guess what? With the function of a motion sensor, the air conditioner can intelligently control the temperature and fan speed according to the presence/absence of person and amount of activity. User can get notification through the app as a reminder.
Also, with the upgraded AloT, they can check the room conditions anytime, and keep an eye on electrical expenses. Plus, the AI sleep function learns their favourite sleeping temperature for the cosiest slumber ever!
Normal price: RM2,649
Now:RM1,999
Free gift: 1200W Cyclone Vacuum Cleaner (worth RM409)
SHARP SJP882MFGM 720L Pelican Refrigerator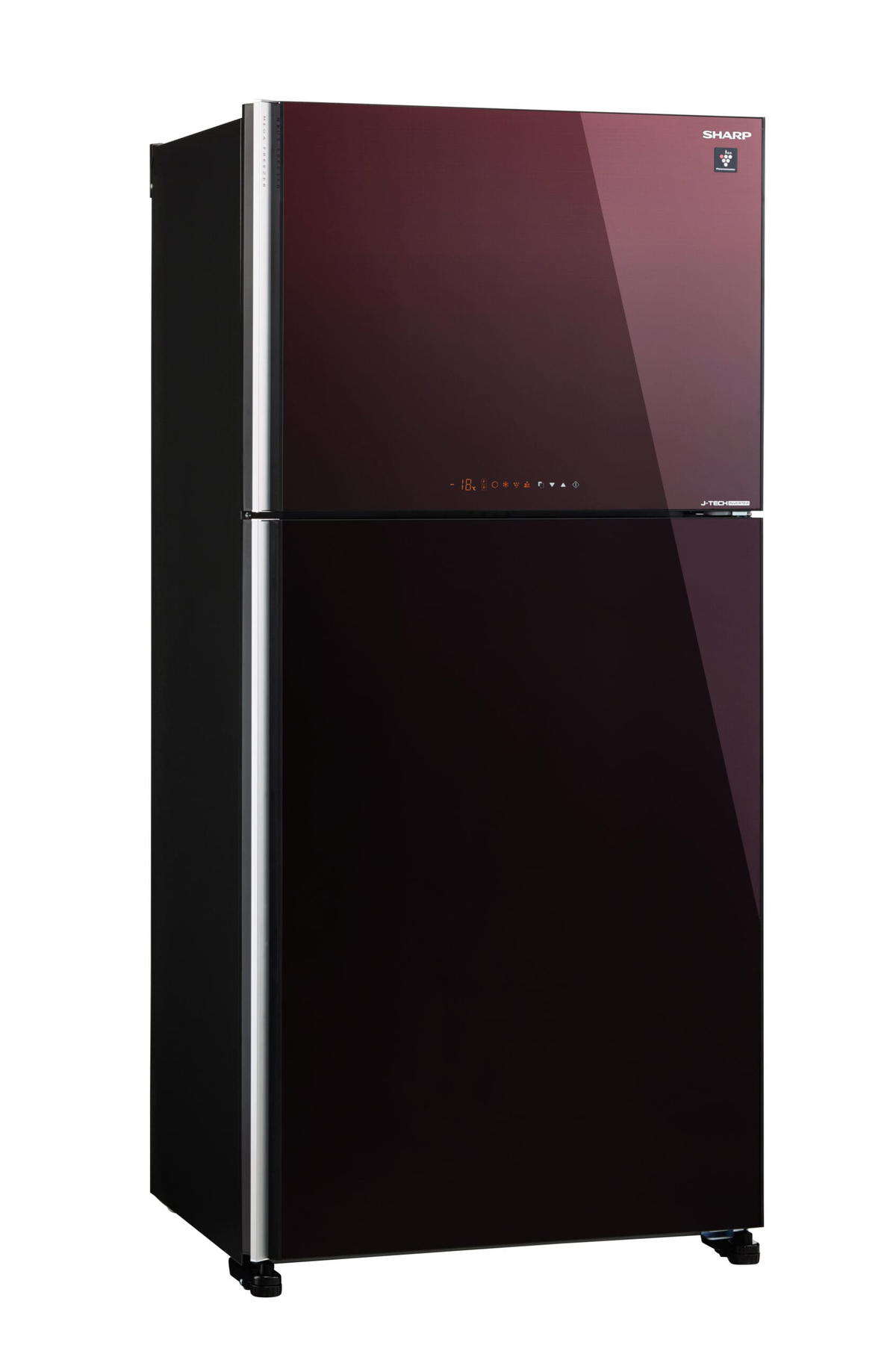 Why: With its Inverter Technology, it keeps things cool while saving energy. It's got Plasmacluster Ion Technology too, so it tackles those icky microbes and keeps everything fresh and clean. The Hybrid Cooling System ensures that your parents' favourite treats stay at just the right temperature, no more surprises when reaching for that midnight snack!
Oh, and let's not forget the Anti-Bacterial Deodorizer – your parents can say adios to stinky odours and hello to pure freshness! And when it's time to kick things up a notch, the Extra Cool and Express Freezing features have your parents covered.
Normal price: RM5,099
Now: RM4,105
Free gift: 1200W Cyclone Vacuum Cleaner (worth RM409)
SHARP ESDK1054PMS 10.5kg/7kg ProFlex J-Tech Inverter Front Load Washer Dryer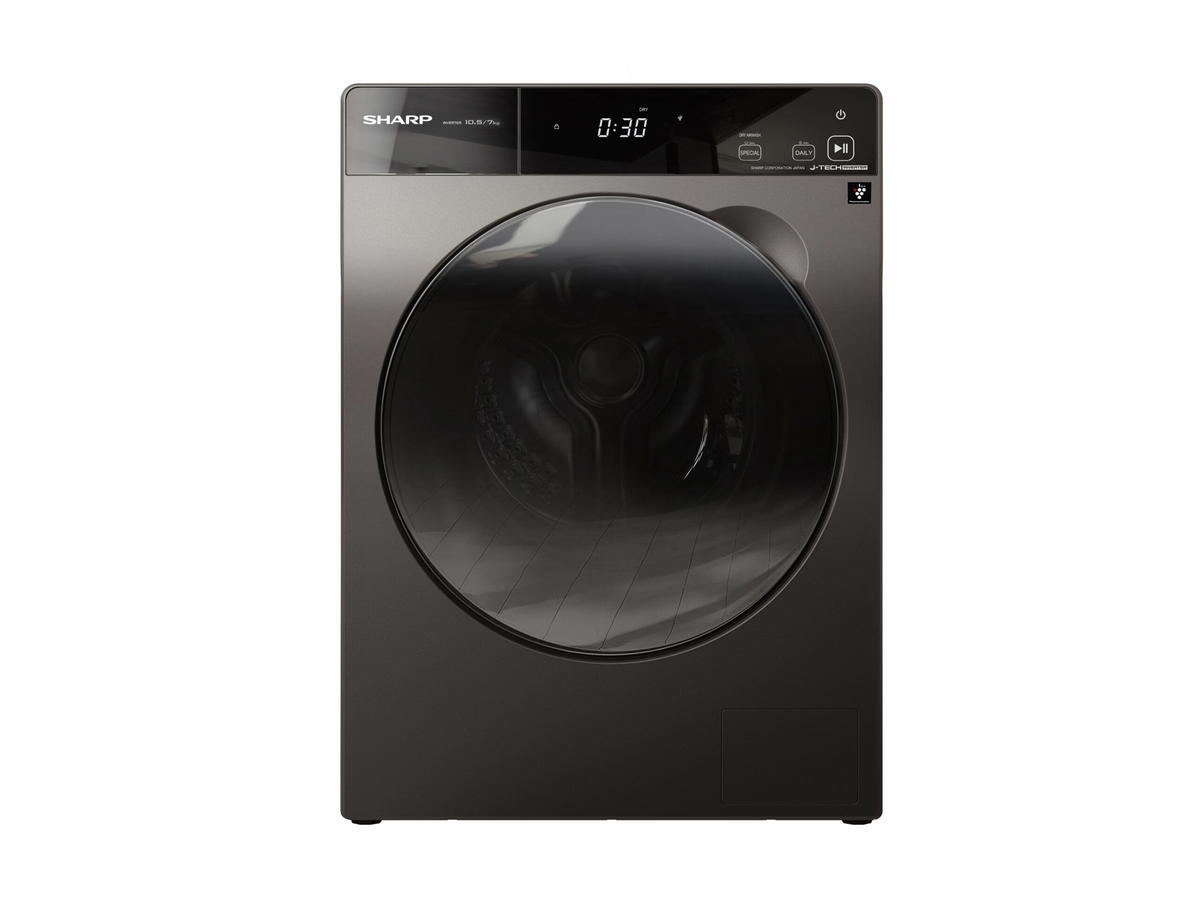 Why: First off, the Dry Airwash Mode with Plasmacluster Ion keeps things fresh and clean, no more funky smells lurking around!
It even has a Steam and Scent function! It's like a luxurious spa experience for your belongings, infusing them with a refreshing aroma and leaving them feeling revitalised. Plus, the large display with knobbles touch screen control panel and the ergonomically 18-degree tilt handle handle design is so easy to use, even your parents will feel like tech pros.
Normal price: RM4,599
Now: RM3,599
Free gift: 30m Plasmacluster Air Purifier (worth RM841)
SHARP AX1700VMR 31L, Inverter, Superheated™ Steam Oven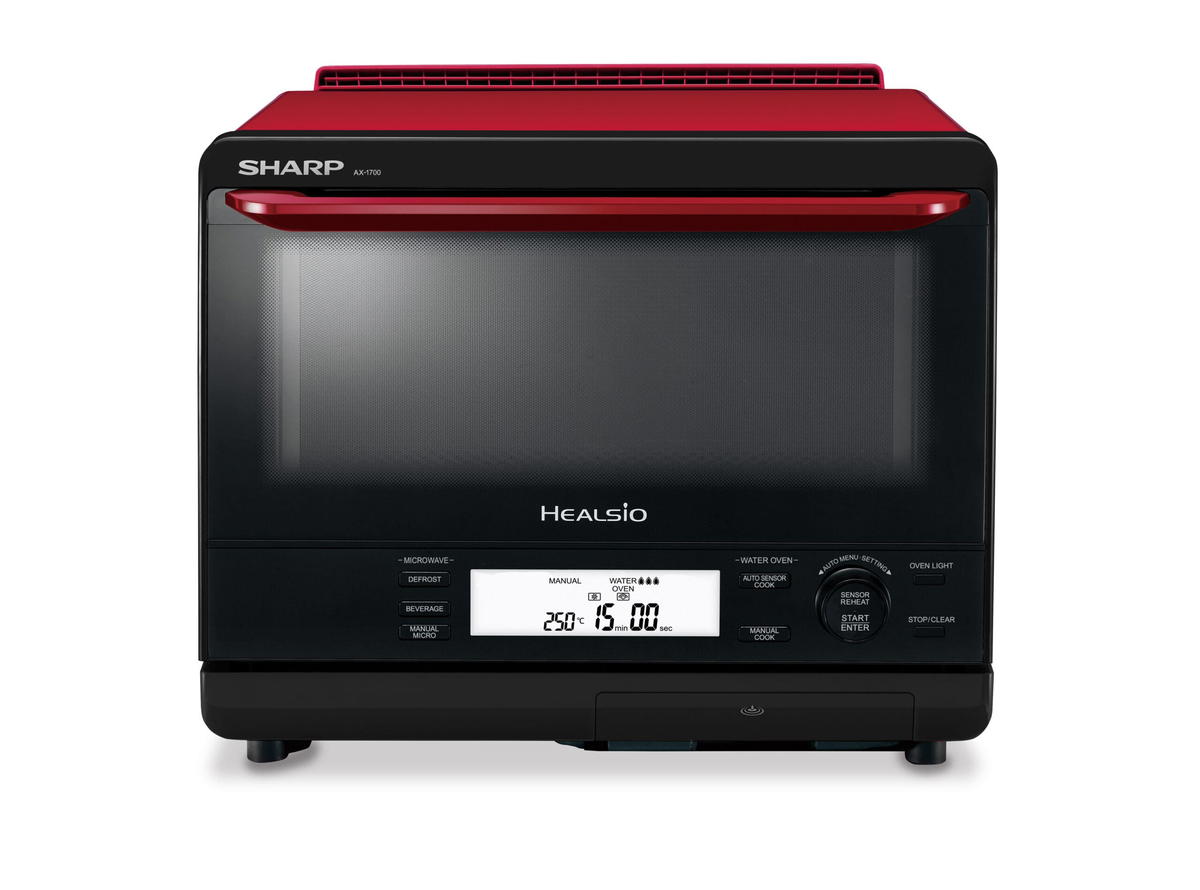 Why: Superheated steam oven provides you with a more healthy cooking way with unleashes 539 cal/g of heat energy to effectively cook food, removing fats and excess salt in the process.Plus, they get an additional Baking Tray and wire rack for all their culinary adventures. With 800W Microwave Output Power, it's speedy and efficient. And there are 34 Automatic Modes! No need to stress about cooking times and temperatures, this oven does all the thinking for them.
Normal price: RM4,599
Now: RM3,799
Free gift: 30m Plasmacluster Air Purifier (worth RM841)
SHARP KFAF70MST 7L Air Fryer with LED Touch Control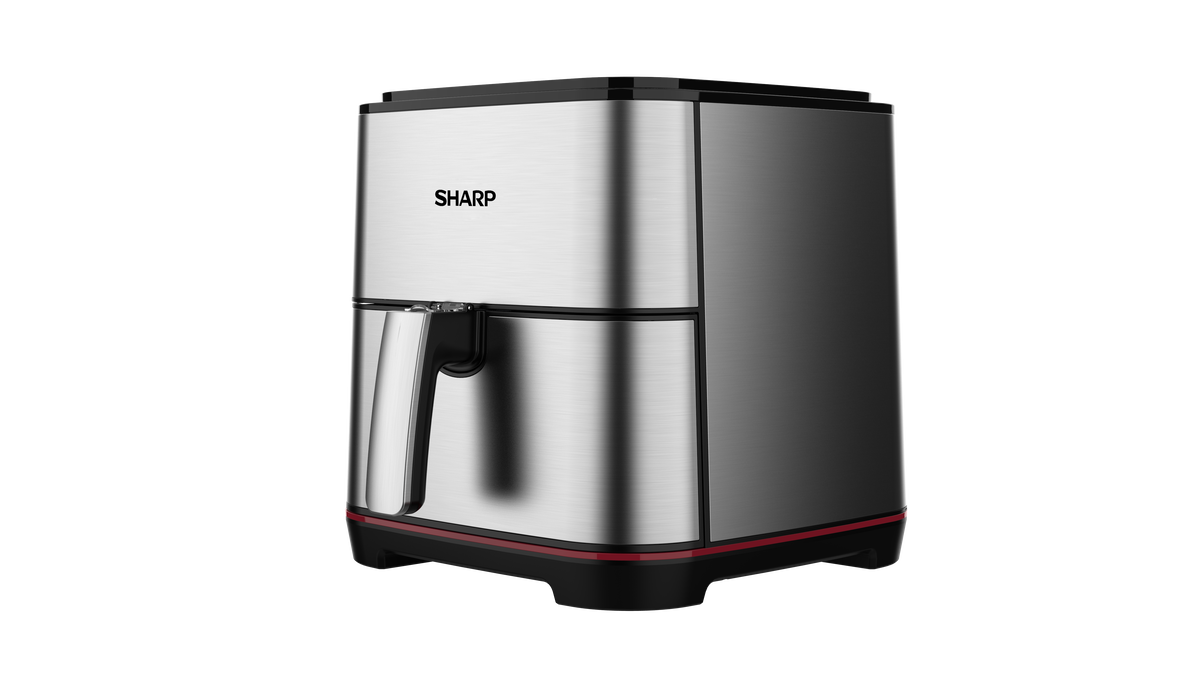 Why: Experience healthy and effortless cooking with our appliance, featuring 8 convenient auto menus and a focus on oil-free and fat reduction. Its innovative hyperboloid technology ensures even heat distribution by raising the structure at the bottom of the basket. This unique design allows hot air to penetrate from the bottom, resulting in perfectly cooked food with a consistent texture throughout.It's also got Auto pot detection, so no more worries about forgetting to put the pot in. And with Drop off protection, it's got your parents covered if the pot accidentally takes a tumble. Plus, it's super smart – it'll auto-re-operate when the pot is back within 3 minutes. Safety is a priority too, the fryer will auto-stop when it overheats (250 degree celsius), keeping everything nice and secure.
Normal price: RM769
Now: RM479
2. Scan the QR code to download the COCORO Life App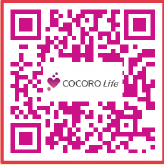 You have purchased one of these? Now it's time to bring in some tech magic. Whip out your phone and scan that QR code that comes with the SHARP goodies. It'll whisk you away to the COCORO Life App.
You can also download the app from the App Store and Google Play!
3. Fill in the relevant details and register for the E-Warranty
Don't stress, it's super easy peasy! Just fill in the deets in the app and register for the E-Warranty. This way, you can be sure that those SHARP products are covered, and your parents can enjoy them worry-free. Plus, it won't take you ages to finish up.
4. Get one entry to join the Parent's Day Lucky Draw Prizes
Here comes the exciting part! By simply going through the registration process, you're automatically in the running for the Parent's Day Lucky Draw Prizes. That means you might score some wicked goodies for yourself while making your parents feel like superstars!
SHARP Parent's Day Lucky Draw Prizes
So, you must be thinking " what am I getting for the lucky draw prize?" No worries, we've got you covered.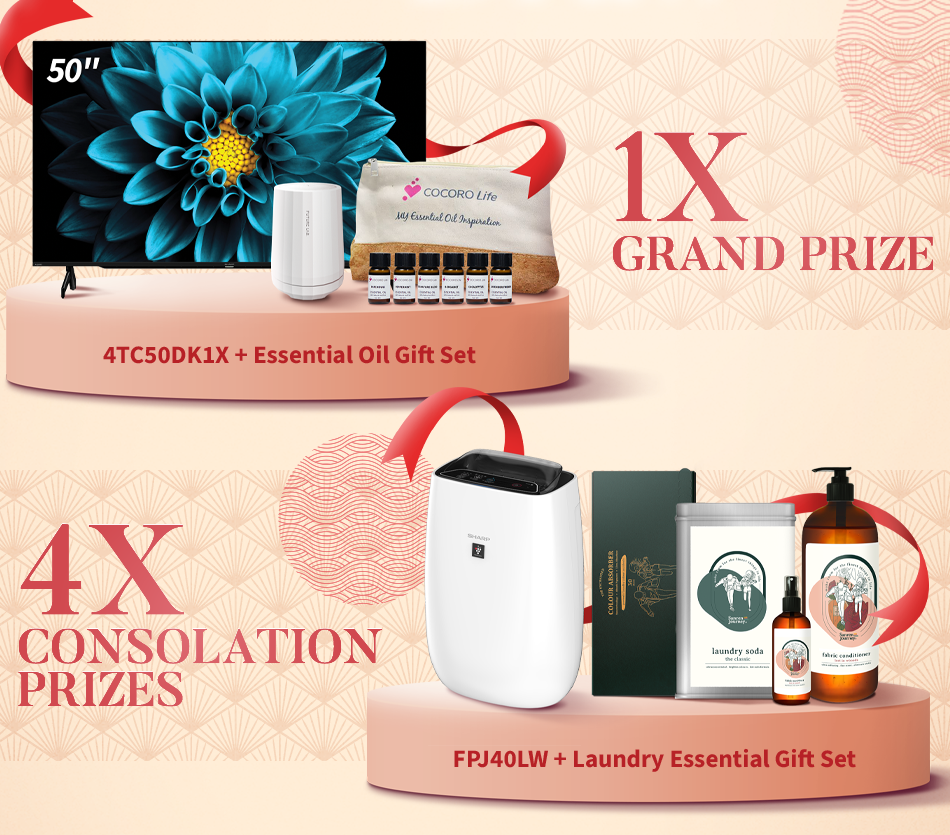 The grand prize is a Sharp AQUOS 50 Inch 4K UHD Android TV, complete with an essential oil gift set. This attractive gift is worth a whopping RM3,288! Imagine yourself enjoying the smoothest visuals and gameplay thanks to its X4 Revelation Processor, and on top of that, you get access to a whole world of apps, videos, and games with Google Assistant on the Android TV platform.
But hold on, that's not all! They've got 4 consolation prizes too. Each one includes a Sharp Air Purifier bundled with a laundry essential gift set, totalling up to RM1,278.90. These purifiers are top-notch, with a 3 layers filtration system and Plasmacluster Ions Technology to tackle allergens, odours, and even static electricity. Plus, they've got an auto mode and a special haze mode to keep your room fresh and clean.
Trust, you definitely don't want to pass up on this awesome chance to snag some incredible lucky draw prizes worth up to RM3,288!
OR if you might have other interest in their other goods and still want to get the free gift and a chance to win the lucky draw prizes, click this link for the full catalogue.
Another thing you should know is that SHARP is all about cherishing love and spreading the good vibes to your loved ones. So you can trust that you're giving your parents top-notch quality and showing them some major love.
Remember, the greatest gift you can give your parents is your company. So, sit back, relax, and share the joy of this extraordinary journey together.
You can also visit SHARP on Facebook, Instagram and their official website for more information.
---
It's unrelated to the article but here's our brand-new podcast – Talk Je Lah!
---
---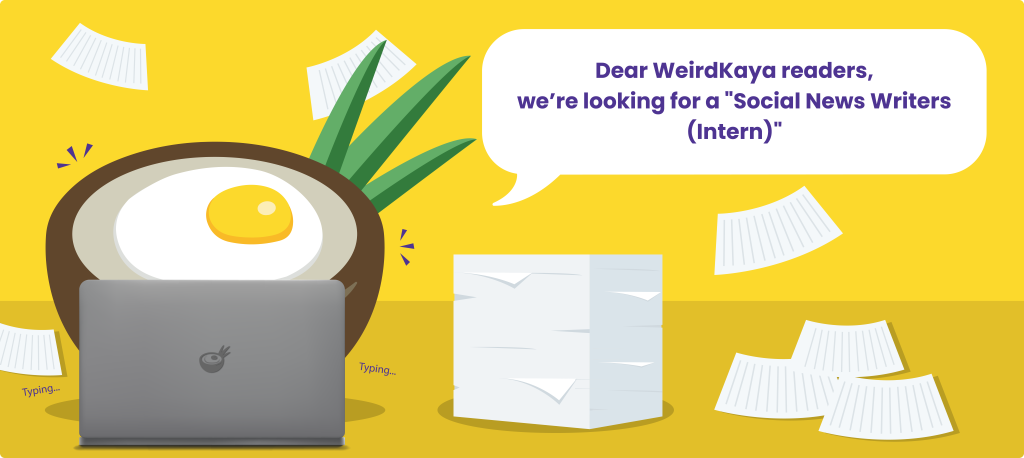 ---