ALOR SETAR – Police are looking into claims of fake digital vaccination certificates being sold for RM15 after recieving a report at 9.44 pm last night.
State police chief Datuk Kamarul Zaman Mamat said the case would be investigated under Section 22(d) of the Prevention and Control of Infectious Diseases Act 1988 or Act 342 and Section 233 of the Communications and Multimedia Act 1998.
Those found guilty can be fined not more than RM100,000 or maximum seven years' imprisonment or both upon conviction."
"We also urge those with information to call Kedah police at 04-7741275 or MERS 999 or senior investigating officer Assistant Superintendent Noorulazanni Muhammad Noor at 011-10318409," he said.
This comes after Sultanah Bahiyah Hospital Head of Department and Senior Consultant O&G, Consultant Gynae Oncologist Datuk Dr Mohd Rushdan Mohd Noor alleged that fake certificates were being sold in a Facebook post.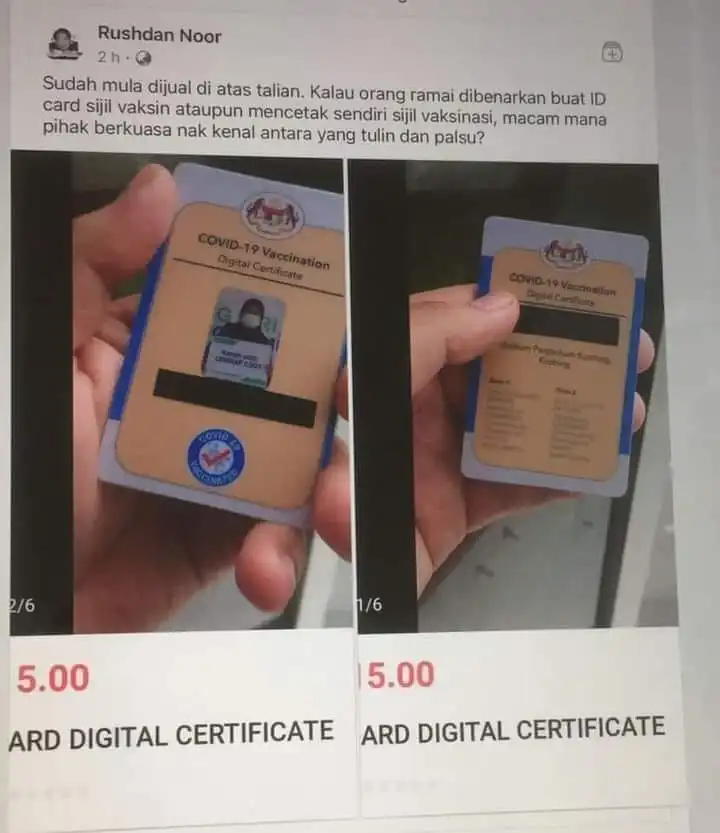 He also questioned the authorities' ability in differentiating between genuine and fraudulent certificates.
---

---
Cover via NST
Proofreader: Sarah Yeoh