Facebook and its family of applications (including WhatsApp and Instagram) were inaccessible for hours.
The outage reportedly occurred around 16:00 GMT on Monday (Tuesday midnight for Malaysia).
The world was taken aback by the 6-hour outage. Facebook's stock has plummeted over 5%, resulting in billion-dollar losses.
Internet users flocked to Twitter in an attempt to figure our what's going on. Hashtags like #Facebookdown and #Whatsappdown were trending all over.
So, what the heck happened?
There is an abundance of articles explaining the outage that shook Facebook.
Luckily for you, we did the reading and research to save you the hassle of Googling overcomplicated IT terminologies.
Shortly after the incident, the engineering team at Facebook released a statement:
Our engineering teams have learned that configuration changes on the backbone routers that coordinate network traffic between our data centres caused issues that interrupted this communication.

Facebook Engineering
To simplify the outage for the general public in easy English, it was due to a miscommunication between the Domain Name System (DNS) and Border Gateway Protocol (BGP).
Imagine DNS as your house addresses, and BGP as a map that shows all the roads between different houses.
However, the map changes every second because unlike houses, the internet is dealing with constant influx of new information and new 'residents'.
The outage was mostly due to failure on BGP's end.
You still have you friends' address, and your friends still live there but the map simply shows they don't exist because it can't locate the road that leads to the address.
In short, the failure on Facebook BGP was telling the search engines there is no road leading to Facebook.
Whistleblower on Questionable Practice
Frances Haugen is a data scientist who previously worked for Google, Pinterest and Facebook.
She was the whistleblower who released internal documents of the company to Wall Street Journal. She also lodged complaints to the Security Exchange Commission (SEC).
The allegations centred around Facebook's questionable business practises, which prioritise profit over public goods.
Among the accusations, Haugen cited practices such as promoting content that will generate the most amount of engagement but was in reality proven by their own research team to be "divisive" and "polarising."
Mark
Zuckerberg's Note
Earlier today (October 6) Facebook CEO and founder Mark Zuckerberg published a message that was sent to employees in the company.
In his statement, he denied the accusations raised by Haugen as well as circulating rumours.
At the heart of these accusations is this idea that we prioritize profit over safety and well-being. That's just not true.
Further more, he addressed issues regarding effects of social media for children, stating that his team is committed to conducting research and practices that would build a safe and secure online environment.
Despite Zuckerberg's attempt in reassuring the public, many are still cautious of his claims.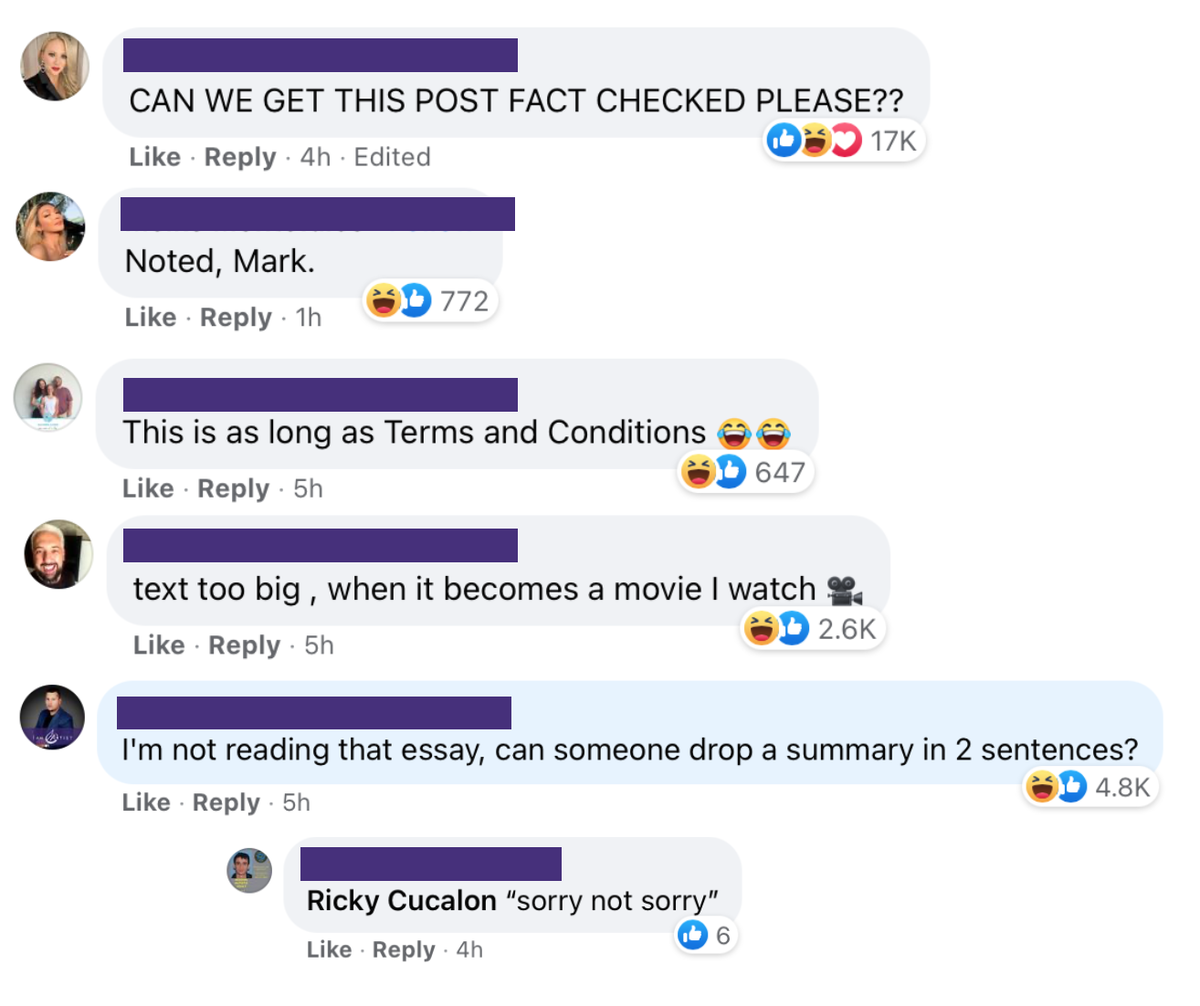 Several responses mocked his post, while others demanded fact checks on his assertions.
Facebook is a frequent attendee at the United States Congress, where they justify their innocence to the authorities.
The company have been accused of data privacy violations, interference in the 2016 presidential election, the Cambridge analytica scandal and many more.
Will the truth ever be revealed?
Cover Images via Facebook
Author: Anna Wong
Proofreader: Grace Choong
Sources:
Understanding How Facebook Disappeared from the Internet
Facebook Whistleblower Reveals Identity and Company Shortcomings on '60 Minutes'