KUALA LUMPUR – Local singer and actor Nabila Razali found herself in hot water over a recent Instagram post of her holding a plush toy while getting her jab at the University of Malaya (UM) vaccination center.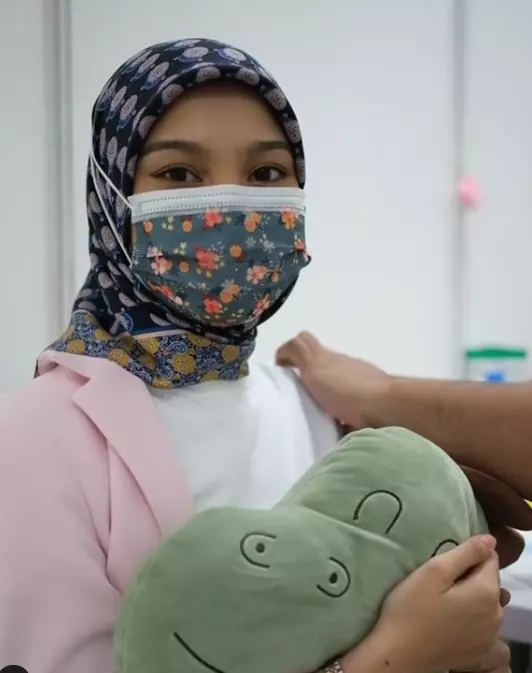 In the post, Razali wrote that she had received her first dose of the COVID-19 vaccine and was accompanied by her plush toy named 'baby Joong-Ki'.
"Bella and Baby Joong-Ki have finished receiving the first dose of the COVID-19 vaccine at Universiti Malaya just now.
"The process was quick and painless. All the frontline staff were very polite too. Thank you so much."
---

---
While some netizens believed that Razali was raising awareness about the vaccination programme, others claimed that it was another case of double standards, saying that celebrities were treated differently.
According to netizens, the UM vaccination center forbade them to take photos or videos while getting their shots.
One user @atiqah_husin commented that a frontliner reprimanded him for attempting to take photos and videos during his jab.
Another user @ax00019920 questioned why Razali's photographer was permitted into the vaccination centre as only person is allowed to enter at a time.
One disgruntled netizen wrote the following:
"Now can record, take photos, bring their smelly pillows, and let their husband/wife follow along.
"My cousin wanted to record my aunt getting vaccinated but it wasn't allowed. My sister couldn't accompany my mom too. It seems there's double standards while getting jabbed too."
The Special Committee on COVID-19 Vaccine Supply (JKJAV) also recieved much flak on Twitter for its decision to allow influencers and artist to record their vaccination process.
---
---
Source: IG/@nabila.razali

Editor: Raymond Chen
Proofreader: Sarah Yeoh