Malaysia has long been known for having the most affordable healthcare system in the world, where a simple visit to a public hospital only costs a mere RM1.
However, sometimes the experience can be less than desirable due to super long lines and inefficient service occasionally, thus leading many to believe that only private hospitals are the best in these aspects.
Only RM17 in total
For this netizen named Amirul Hanafy, he got to experience firsthand the benefits of Malaysia's public healthcare system which subsequently dispelled his misgivings towards it.
In a tweet which has since gone viral, he shared how he was shocked (in a pleasant way) over the amount he had to pay for his wife's hospital stay for 4 days and 3 nights.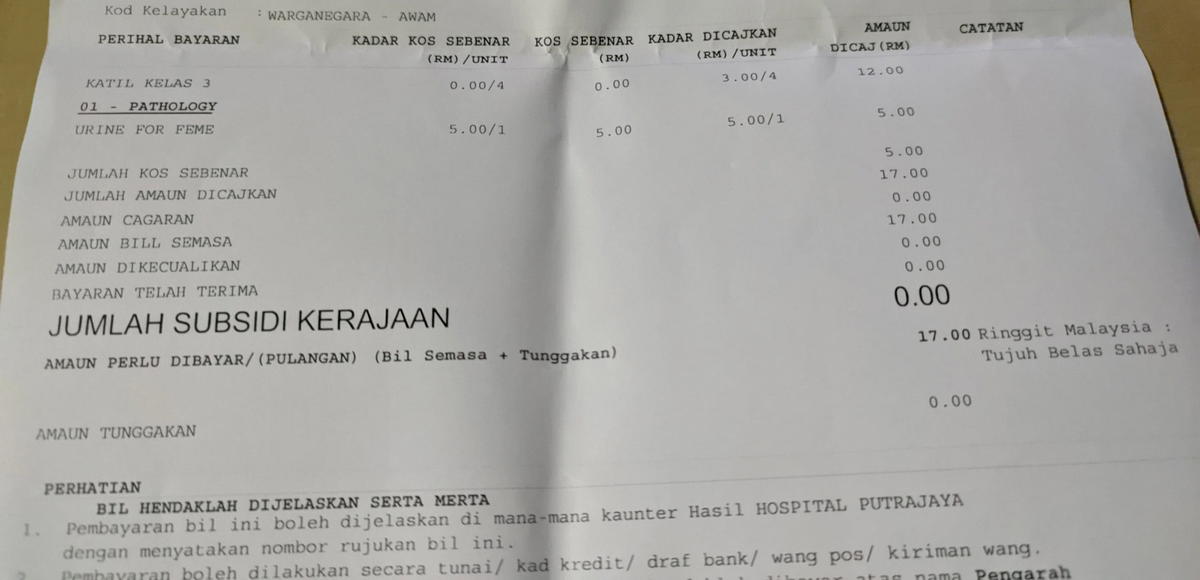 "Back in March, my wife was warded at Hospital Putrajaya. Before she was admitted, she told me to make payment at the counter beforehand.
Worried that the bill would cost me a fortune, I quickly went and withdrew RM400 from the ATM. To my surprise, the final bill was only RM17!
'You can't be serious…right?'
Upon receiving the bill, Amirul could hardly believe his eyes and decided to ask his wife how her stay at the ward was like as he still had doubts towards the hospital's services.
"I asked her about the food provided by the hospital, and she told me that she was given five meals a day. She even said that she had chicken kurma too."
Amirul's wife then went on to describe how the nurse would check on her every hour and made sure that she drank enough water and even frequently conducted urine tests.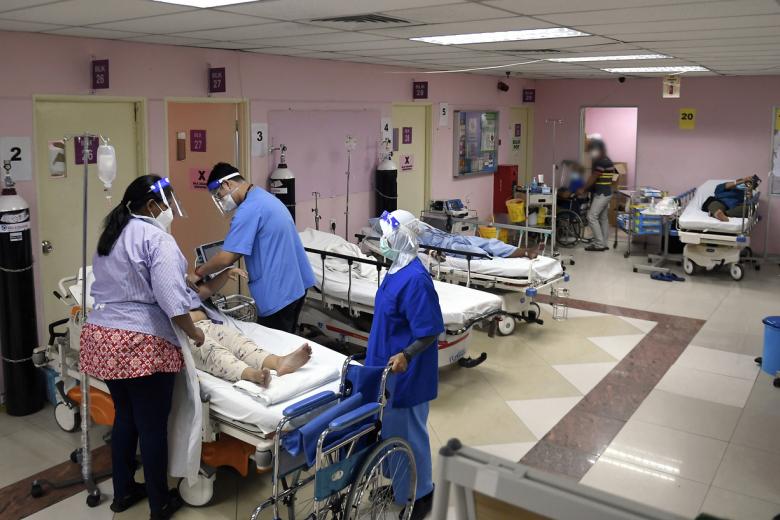 "I then asked her to guess how much the bill was. She said that it should be around RM300 but after I told her the real amount, she became equally shocked as I was," he wrote.
Still somewhat unconvinced, Amirul went to ask his colleagues how much it cost them whenever a family member was warded, and their answer was that though it depended on the type of treatment, the bill never surpassed RM10.
Newfound respect for healthcare system
After his experience at Hospital Putrajaya, Amirul says that his perspective towards the healthcare system has changed drastically.
From that moment, I have nothing but deep respect for our healthcare system. While it's true that sometimes we have wait for a long time to be served, but it's all worth it in the end as we're able to save a huge sum of money.
"If we're unwilling to wait or have the means to afford it, we can always feel free to go to a private hospital instead. But if not, our options are rather limited. So let's be thankful despite the shortcomings. At least our pockets aren't torn apart."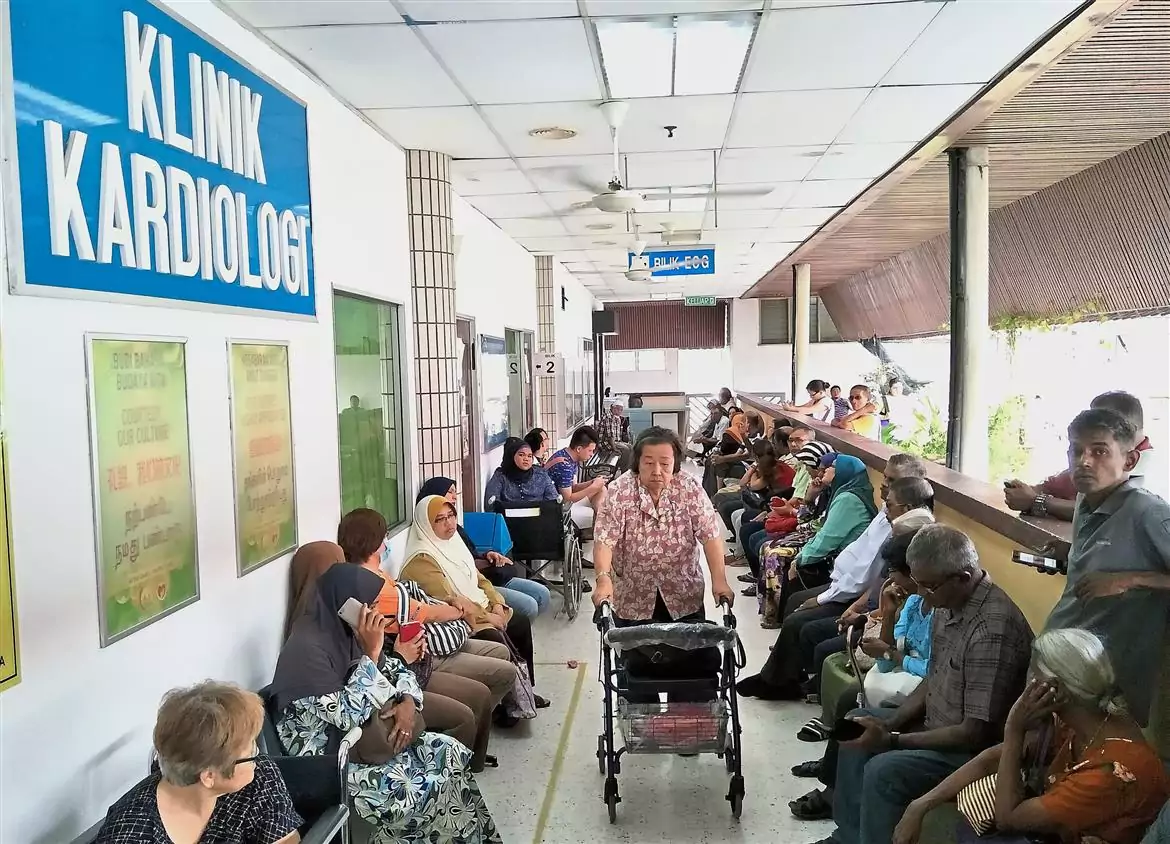 Amirul also added a disclaimer at the end of the thread, saying that the RM17 bill only covers his wife's stay at the ward and urine tests.
Read his story here:
Similar stories by netizens
Amirul's tweet has since garnered more than 8,300 likes and 3,818 retweets at the time of writing, where netizens expressed their gratefulness for being to enjoy affordable healthcare.
One commented that seeing a specialist at a public hospital only costs RM5, whereas stepping into the front entrance of a private hospital would be much pricier.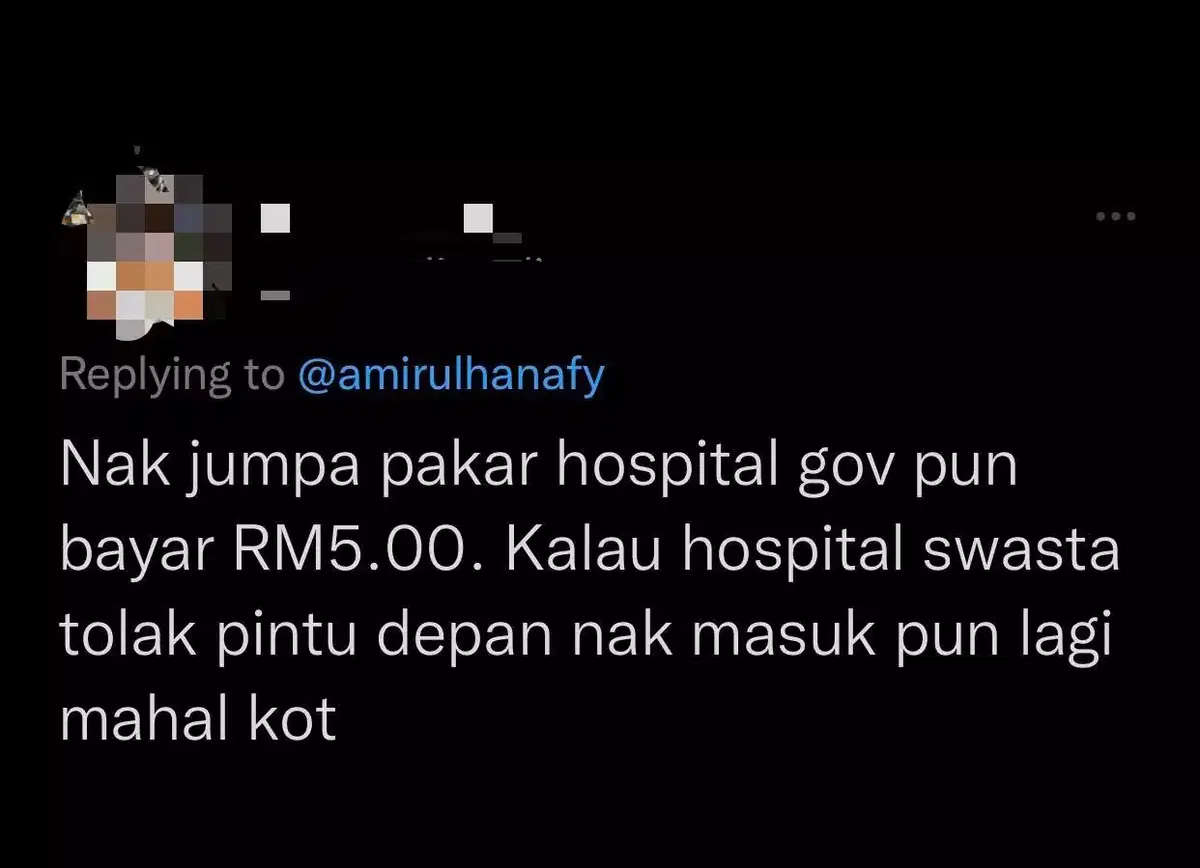 Another wrote, "My mom got Stage 5 Covid and stayed at Hospital Melaka for 29 days. I was supposed to pay RM450 in total but the nurse told me they had miscalculated. Turned out I only had to pay RM54."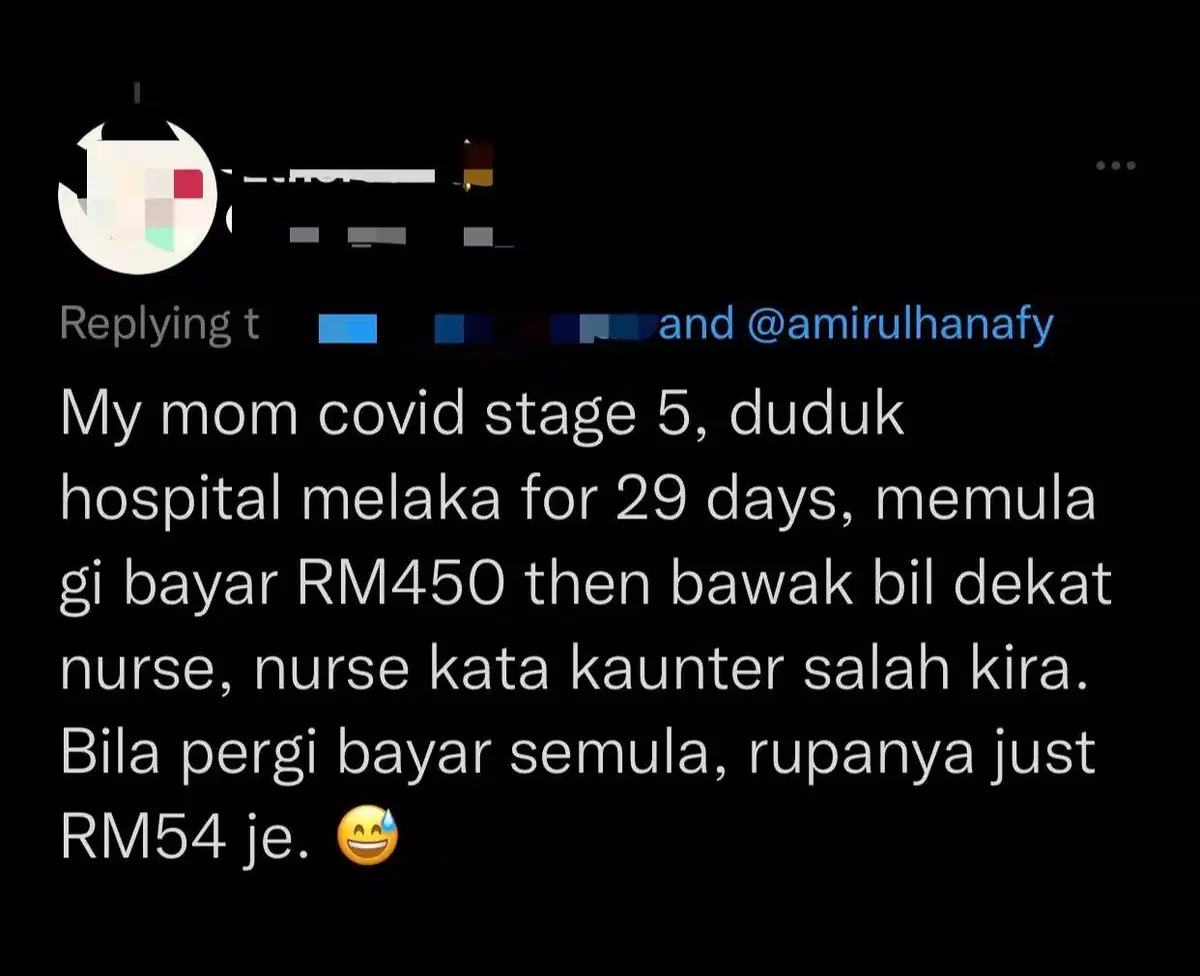 This netizen wrote how grateful she was for Malaysia's public healthcare system as she only had to pay RM5 for a medication which actually cost RM999 for a two-month supply. Best of all, she even got to enjoy free restocking too!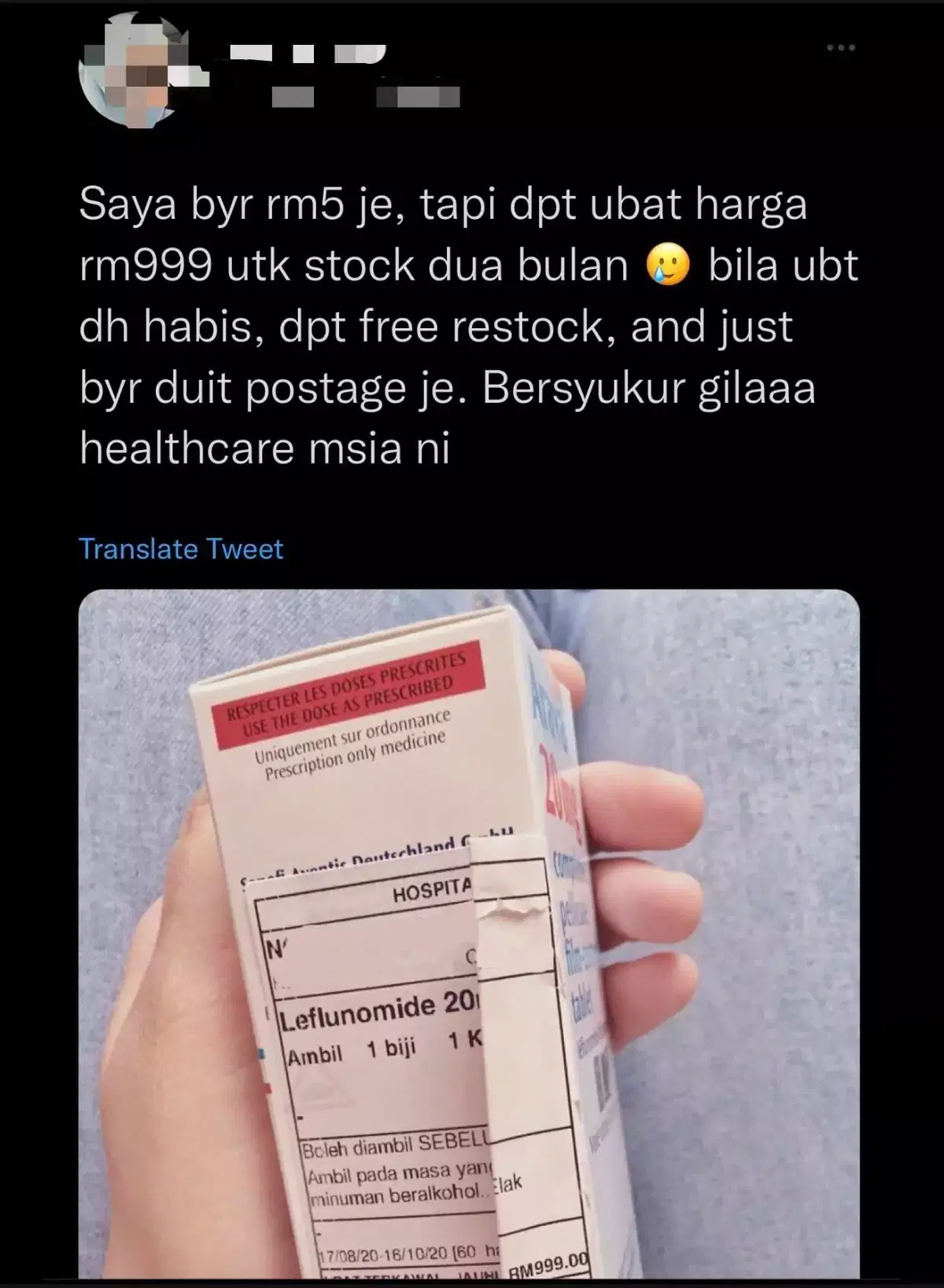 Let's all count our blessings and be thankful that we still can enjoy quality healthcare at such affordable rates!
Special thanks to Amirul for allowing us to share his story.
Read also:
---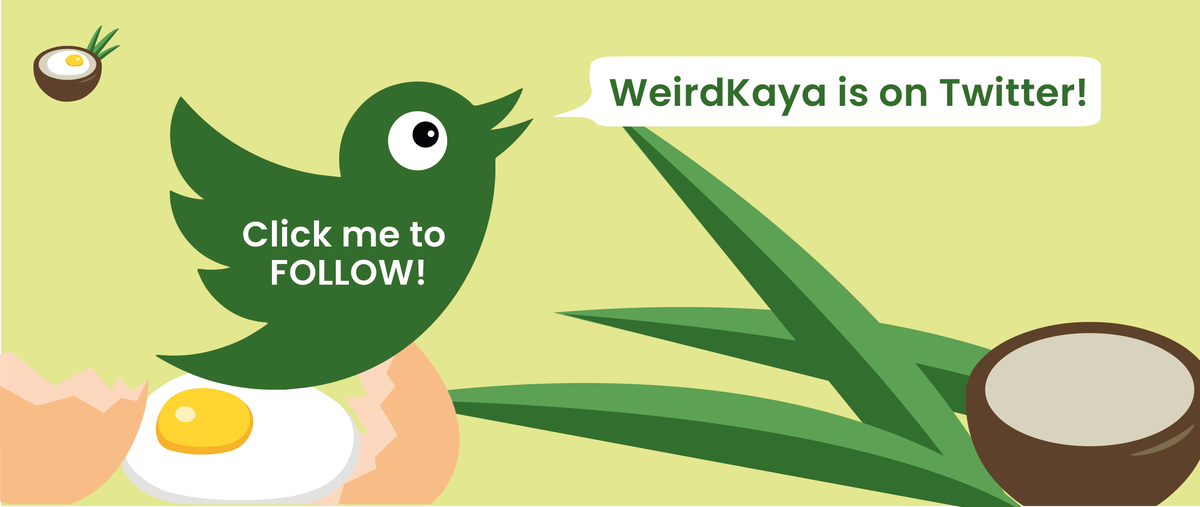 ---
Cover image: Twitter and The Star