On a hot day at a Ramadan bazaar, a Malaysian man simply wanted a refreshing drink with less ice. Little did he know that this small request would lead to an extra RM3 charge.
He shared the unexpected encounter in a TikTok video, sparking conversation among netizens.
User @eshamsoda posted a two-minute video recounting his experience at the bazaar, where he ordered a strawberry drink for RM5. But when he requested for less ice, he was told he'd have to fork out an additional RM3!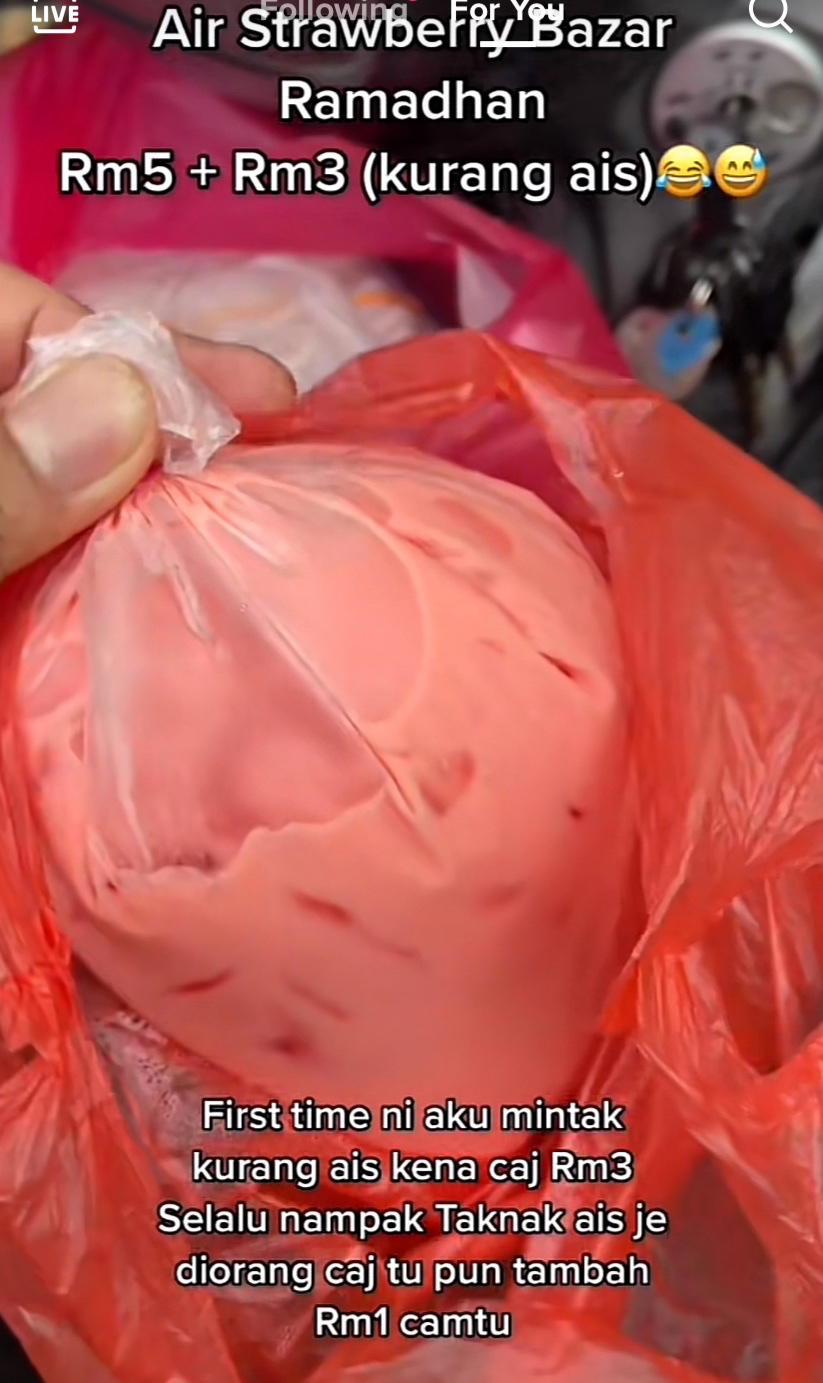 Less ice but pricier?
In his TikTok video, @eshamsoda said, "I told the kid selling at the booth, 'I want a strawberry drink with less ice,' and he prepared the drink.
I gave his father RM5, but he asked me if I bought it with less ice, so I said yes. He then told me to add RM3."
The man tried to reason with the vendor, arguing that a drink with less ice shouldn't cost more.
But the seller was unyielding, insisting on the extra RM3. Feeling bad for the vendor's son and noticing the lack of customers at the booth, @eshamsoda reluctantly paid the additional amount.
Small packet only
The drink, packed in a plastic bag, was only as big as his hands and didn't seem worth the RM8 he paid.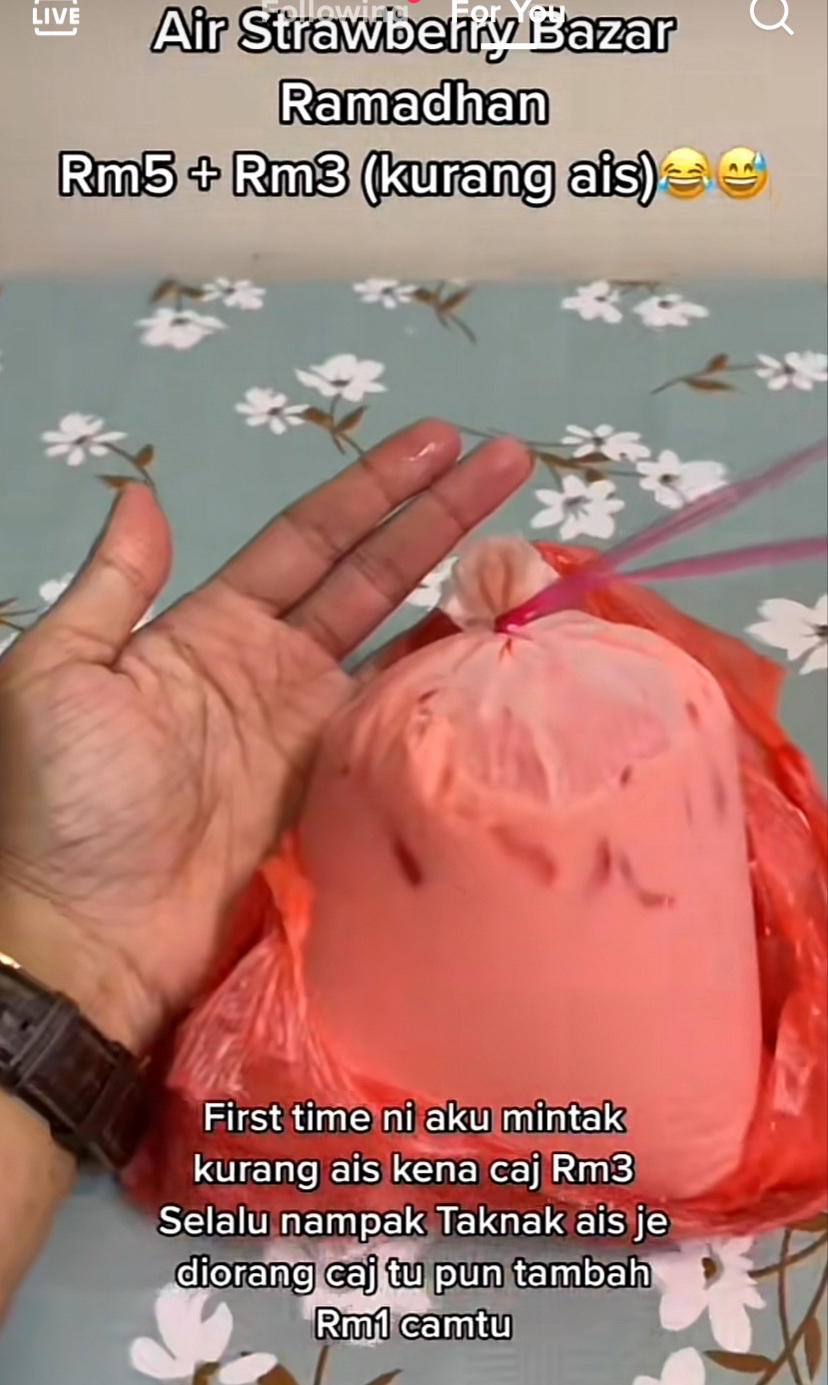 Netizens were outraged by the vendor's actions, sharing their thoughts in the comments section.
Netizens couldn't help but chime in on the TikTok video, with some expressing their frustration at the escalating prices. One user commented, "Haha, that's why I'm too lazy to go to bazaars now. The prices are getting out of hand."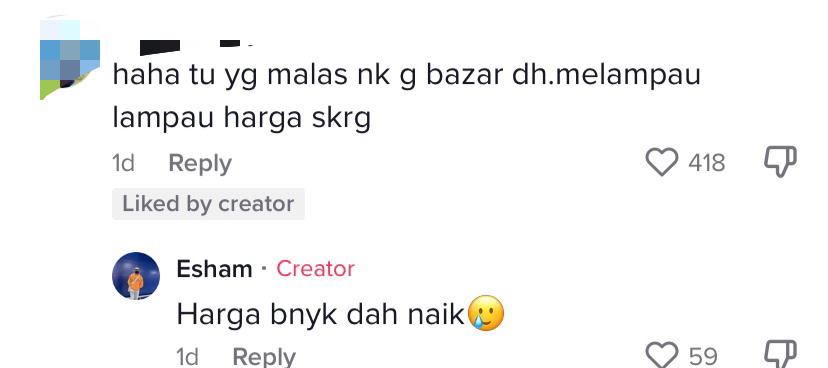 Another user suggested a clever response, saying, "You should've just told them you only had RM5 and asked why they didn't mention the extra RM3 earlier. Then ask them to add more ice until it's worth RM5. That would be satisfying."

One user pointed out that with RM8, they could make a protein shake blended with fruits at home instead.

Clearly, this incident has struck a chord with many, who are seeking a sense of fairness and transparency in such transactions.
Watch the video here: