Last Saturday (15 July), Datuk A.Aida had a dreamy plan to make her daughter's wedding an event to remember.
She decided to release doves after the ceremony, envisioning a fairy-tale send-off. But sometimes, reality can burst your bubble in the weirdest ways.
Expected a pretty flurry show
When the newlyweds opened the cage, expecting the doves to take to the sky in a glorious flurry, the flock had other ideas. Most of them just plopped down on the rooftop or didn't move at all.
To top it off, they had a field day leaving droppings all over her resort, transforming the wedding venue into a disaster zone!
A.Aida's daughter's wedding took place at her own resort in Janda Baik, Pahang. It was supposed to be a dreamy day, but it turned into A.Aida's worst nightmare.
In an interview with the web media 'mStar,' she shared how she'd hoped to create a moment of romance by purchasing 50 doves at 25 ringgit each for the post-wedding release.
"But instead of flying away, the doves just stuck around. We couldn't get them to leave. They left their droppings everywhere around the resort. "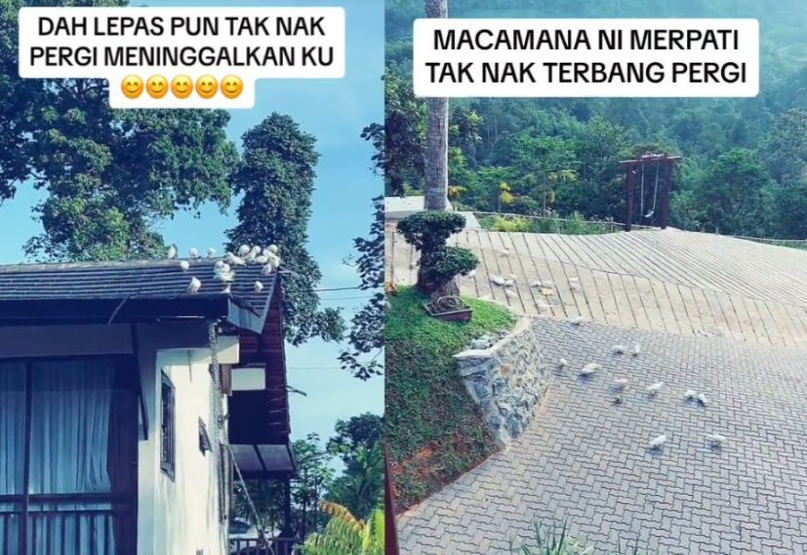 "I initially wanted to buy 100 doves, thank heavens the seller was out of stock! I can't imagine what it would've been like if there were 100 doves hanging out on my resort's rooftop."
Now, her resort has turned into a dovecote, and A.Aida's resort was quickly turned into a disaster area.
To solve this problem, A.Aida's gearing up for a dove-catching mission. She's planning to hire a professional to relocate these unwelcome guests.
"Right now, I'm racking my brains trying to find someone to catch these doves. Whoever manages to capture these birds can keep them!" All she wants now is to free her resort of these 'feathered squatters,' otherwise, their daily 'deposits' on her resort will keep giving her headaches!"
---
---