While it's usual for married couples to share the expenses together, one woman claimed that her husband refused to pay a single cent for the home.
In a tweet uploaded on @TwTWedding, the woman shared that she earns RM4000 a month while her husband earns RM3000.
With her salary, these are the expenses she has to pay for:
Housing loan (RM1,600)
Car loan (RM600)
Babysitter (RM400)
Pampers (RM200)
Milk powder (RM200)
Children's pocket money (RM200)
After paying these expenses, the woman is left with only RM800 for herself.
As for the husband, his sole responsibility is to pay for food.
Says husband is stingy
The woman said she tried discussing this discrepancy in financial responsibilities with her husband but they would always end up arguing.
She also said her husband used to pay RM400 monthly for rental fees while she paid the car loan even though the vehicle was under his name.
When she tried convincing him to pay for the car loan, he kept quiet and simply said, "We'll see how."
The woman later bought a house as she didn't want to rent a place forever and was nearing the age of 40.
To her shock, her husband demanded that his name be included into the property even though he never contributed anything for the house.
Thought of divorce
Tired of her husband's behaviour, the woman said that she considered divorcing her husband but is unable to do so.
He's a good husband and I still love him. Plus, we have three children together.
"His only problem is that he doesn't take the initiative when it comes to financial matters as he believes that since I earn more, I should pay more," she wrote.
Read the tweet here:
Apa nak buat ye?

Mungkin pasangan ni kne pergi kaunseling untuk refresh semula tentang bab nafkah. pic.twitter.com/O48r44Myi3

— TwtWedding (@twtmalaywedding) September 29, 2022
Netizens sympathize
The tweet has since garnered much attention from netizens, who gave their thoughts over the matter.
Many believed that it wasn't the woman's responsibility to pay a majority of the household expenses even though she earns more.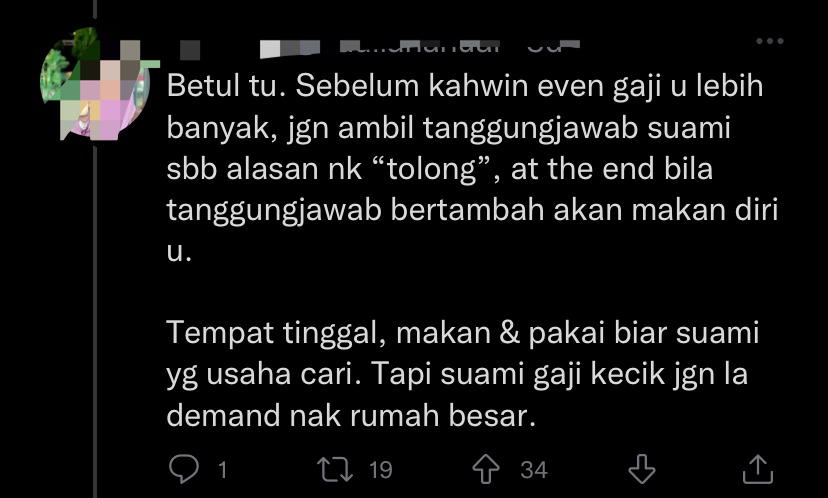 They also said that men often tend to avoid discussing about money matters whenever it was brought up.

Others criticised the woman's husband, saying that he should be doing more than just paying for the family's meals.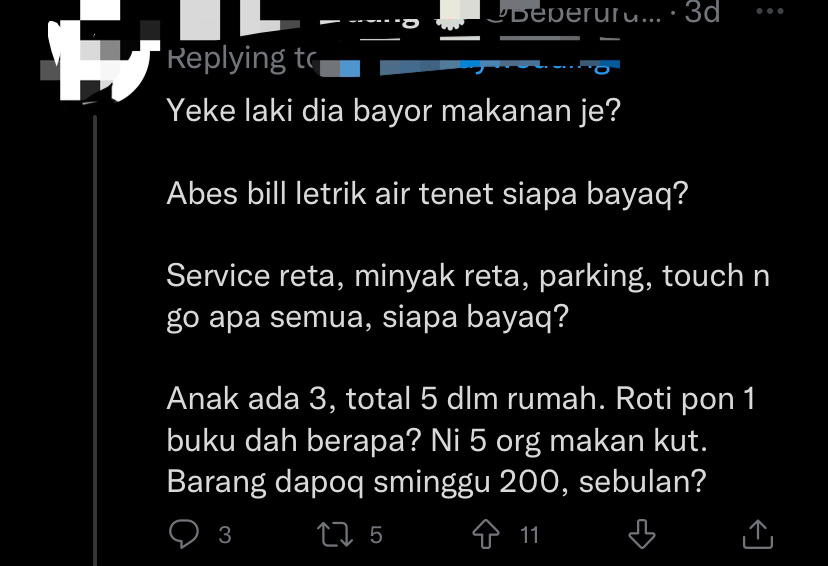 ---
---