Whether you admit it or not, you can't deny that you've probably been tempted to skip the toll fee at least once.
For this Mercedez driver, she could probably call herself as an expert toll evader as she managed to skip paying the fees for 45 times!
Caught trying to avoid paying toll fees
In a tweet by Projek Lintasan Kota Holdings Sdn Bhd (Prolintas), it seemed that the woman's luck finally ran dry after she was caught trying to skip on toll fees by tailgating another driver.
To add on to the irony, she was seen driving a Mercedes-Benz A-Class along the Ampang–Kuala Lumpur Elevated Highway (AKLEH).
According to Prolintas, the woman had an outstanding amount of RM275.65 in unpaid toll fees, which she agreed to settle on the spot.
It also urged all motorists not to imitate the woman's behaviour as not only was it illegal but dangerous as well.
45 kali terlepas bayar tol, jumlah tunggakan RM275.65 telah dilangsaikan serta-merta 👀 #kantoi pic.twitter.com/rk3SXrqHSE

— PROLINTAS AKLEH (@AKLEHtrafik) January 9, 2023
Under Section 8 of the Federal Roads (Private Management) Act 1984, those found trying to skip paying toll fees are liable to a fine between RM2,000 and RM5,000 if convicted. However, a toll concessionaire must file a civil claim against the violator.
Netizens call for heavier punishment
Needless to say, netizens were not pleased to see the woman getting a mere slap on the wrist and wondered why Prolintas did not issue a summons to her.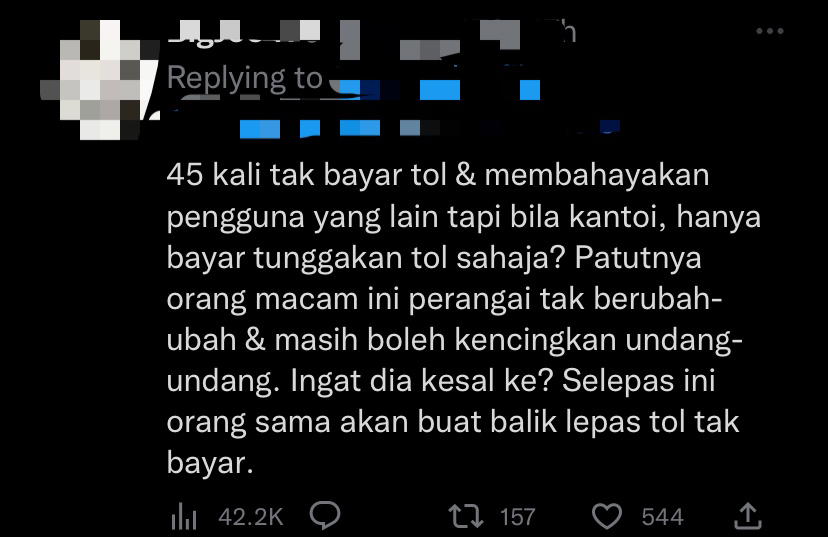 Some also called for a heavier penalty, with one suggesting that the woman be made to pay three times more than the amount she owed.

Others mocked the woman for being financially able to afford a Mercedes-Benz but not toll fares.