If you're currently in a relationship, you'd know that sometimes arguments may stem from both major and minor issues.
However, one couple took things to the next level after a girl confessed that she wanted to break up with her fiancé over his driving test.
Failed test twice
In a tweet by Shabina (@ketengahketepi), she shared a screenshot of a question that was asked by an anonymous person.
The screenshot showed the person complaining about her fiancé failing his driving test not once, but twice.
This undoubtedly left her upset and wondering whether he was serious about getting his driver's license.
She also admitted that she was torn over whether to stay mad at him or continue supporting him.
I was mad but at the same time I felt I should support and comfort him. However, I'm ready to tell him that I'm gonna break up with him if he fails again.
The girl added that her reason for doing so was because she felt that her fiancé was incapable of "solving small matters" such as passing his driving test.
Read the tweet here:
Penting cari pasangan yang supportive dan faham gemuruh kita. pic.twitter.com/X1SKzlt6nh

— Shabina🏴 (@ketengahketepi) September 29, 2022
'Just break up!'
The tweet has since garnered more than 2,000 likes at the time of writing, where most netizens were upset by the girl's lack of empathy towards her fiancé.
They also said that it was best for her to break up to avoid straining the relationship further.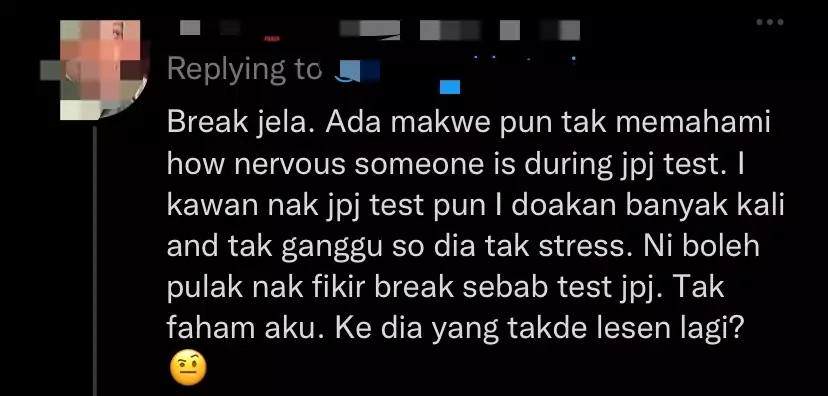 They also said that the girl was unfit for married life as it requires a strong mental resilience compared to passing a driving test.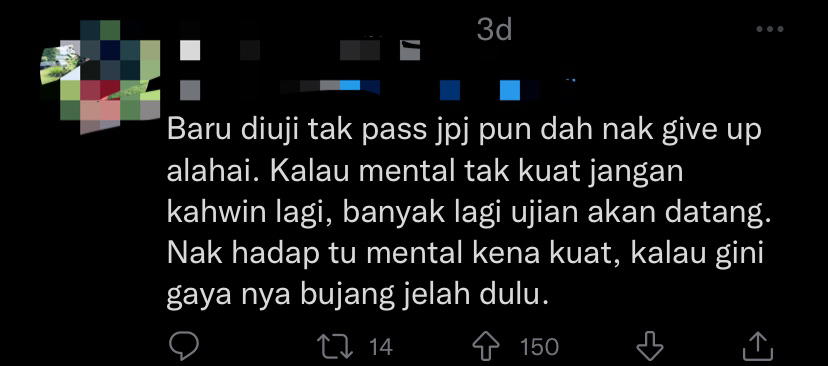 What other ridiculous couple squabbles have you heard before? Let us know in the comments!