There must be a moment where we were exhilarated upon coming across a birthday buddy in your own community, as it is fairly unlikely to stumble upon one who shares a birthday with you among billions of people.
Well, what if there are not only two, but three people who share the same birthday under the same roof?
A Malaysian mother uploaded a video on TikTok, where she showed identification cards (IC) of hers and two of her daughters', who shared the same birth month and day, while wishing themselves a happy birthday.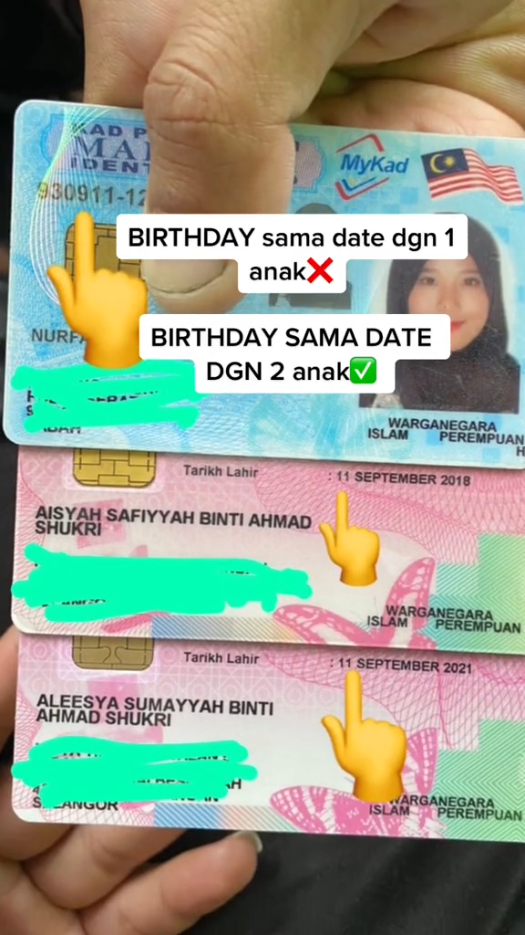 'One in a million'
In the video posted by @tialiew_, three ICs which belong to her and her two daughters were shown. The birth years were stated as 1993, 2018 and 2021 respectively, while the birth months and days of the trio were all on Sept 11.
Watch the video here:
The video, which has since garnered 716k views and 49.7k likes, saw netizens being amazed by the rareness of the situation, with one claiming that this was a "one in a million" case.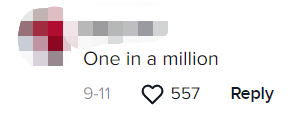 Another praised the children's father for being good at setting the timing of birth.

One of the netizens said that it must be very lively and exciting during the birthday celebration.
"Beautiful, getting the same birth date, must be lively if (you) celebrate birthday."

Thrilled to celebrate same birthday with two children
Speaking to MStar, Nurfahtiha Tahir, the mother of two said that she had not thought that two of her children would be born on her birthday, as well as expressing her gratitude and happiness of sharing the same birth date with her kids.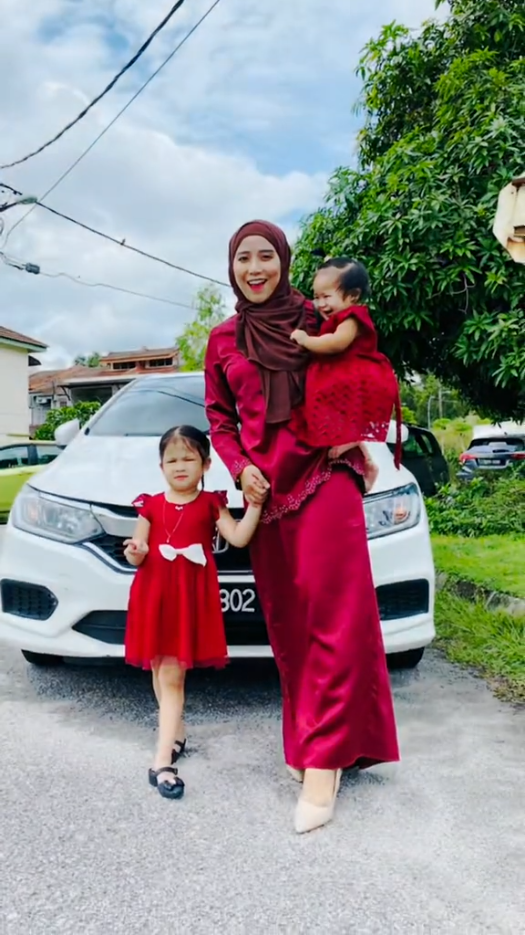 The 29-year-old said that her only two children, Aisyah Safiyyah Ahmad Syukri, 4, Alessya Sumayyah Ahamad Shukri, 1, were born at 10.45am and at 5.45pm respectively, while both were born on Sept 11 – the same as her birthday.
I was thrilled to be able to celebrate the same birthday with two of my children, and i found it special as not many in the world would have this moment of having two children sharing birthday with their mother.
Thanks to husband's careful planning
Better known as Tia, the mother born in Tawau, Sabah disclosed her story behind the sameness of the trio's birthdays.
"My husband and I have talked jokingly about wanting to have our children born on my birthday, as I previously wanted to hold our wedding on my birthday but did not manage to do so due to the conflict of dates with that of his brother-in-law's wedding.
She added the it was her husband who planned the approximate date of their children's birth as the date when the first child was "due" was on Sept 12, 2018, whereas the second child's was on Sept 9, 2021. She also shared his husband's "technique" and secret of making this happen.
Before their respective birth, it was my husband who talked with their children a lot who are still in my tummy to let them be born on Sept 11. He talked like this as well with his family. He is what people called the one who talks about things which would later become the truth.
Not believed by many until ICs were shown
Thus, Tia believed that her husband would always remember her birthday as having their children born on the same day as her birthday was what he wished for.
"God willing my husband won't forget my birthday as he was one of those who wanted their children sharing the same birthday with her," Tia said, adding that the similarities between she and her children also include their liking in chocolate, aside from the same birth date.
Tia, who had been married to his husband on Nov 11, 2017, said that many refuse to believe she and two of her children had the same birthday.
Many don't believe me until I showed the ICs as proof.
Planned to have a baby right after wedding
Among the netizen's comments on the video, the one that caught her attention the most was that saying that it was a "one of a million" case to have two children sharing the same birthday with her.
The one which she found funniest was that claiming that her husband is good at setting the time of birth.
She added that she planned to make baby right after wedding but failed to do so due to menstruation.
I really planned to have a baby right after wedding but I was yet to have that opportunity, as menstruation came a week after wedding.
"I cried and my husband just laughed, later saying that we would try after December so that my first child would have the same birthday as mine, while joking with me," Tia said, while being grateful and seeing this as a blessing from God.
READ ALSO: