We all probably have had our share of rude and inconsiderate drivers on the road, such as giving the finger to those who don't let them use the emergency lane or showing a pair of handcuffs to frighten others into submission.
This time around, a Honda driver took things to a bizarre level by waving his passport to cut into another driver's queue at Singapore's Tuas Second Link yesterday (Aug 6).
Stuck in jam for 4 hours
In a Facebook post by Joanna Loh, she wrote than she and her sister left for the Tuas Second Link at 7am and only got through customs at 8am.
After departing Tuas, they found themselves stuck in heavy traffic for 4 hours due to the long National Day weekend in Singapore.
That was when things began to take an interesting turn.
Tried to cut queue
While waiting patiently in the jam, a Honda driver suddenly tried to cut into Joanna's lane while dangling his arm out from the window, according to the first video.
However, she refused to let him do so and inched forward.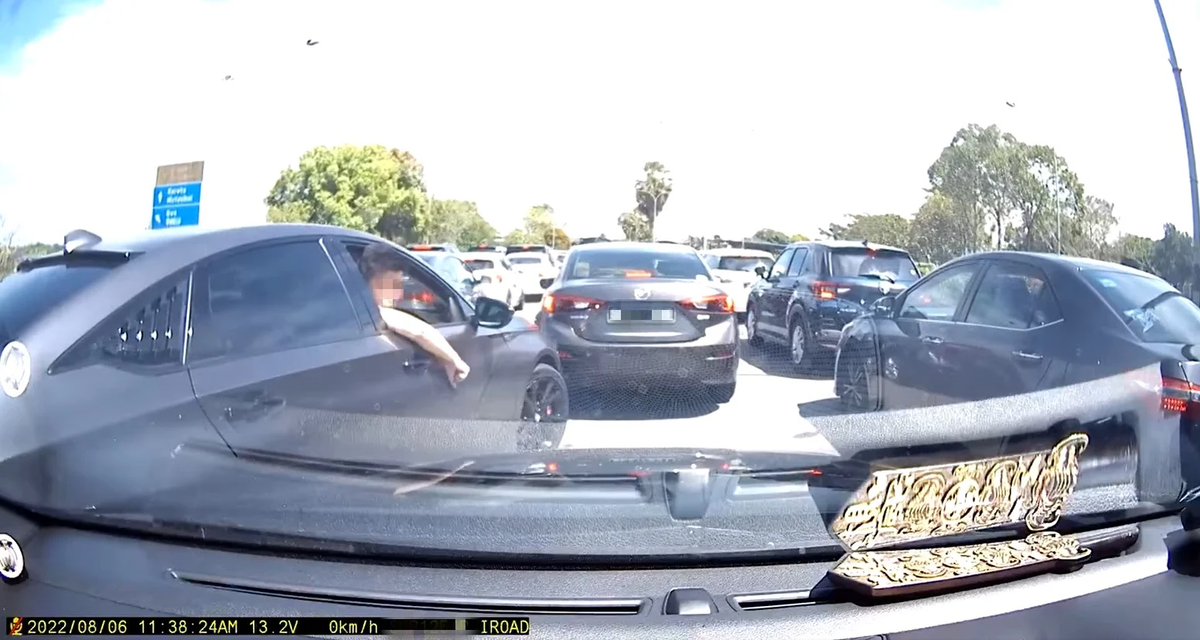 In the caption, Joanna wrote that she wasn't in the wrong to not let the Honda driver through as he didn't put on his signal lights beforehand.
She added that she would've been more than willing to give way if he had done so.
Watch the first video here:
Flashes M'sian passport
The Honda driver was then seen closing his car window to put on his mask and reopens it to gesture angrily at Joanna with his arm, presumably for not allowing him to cut queue.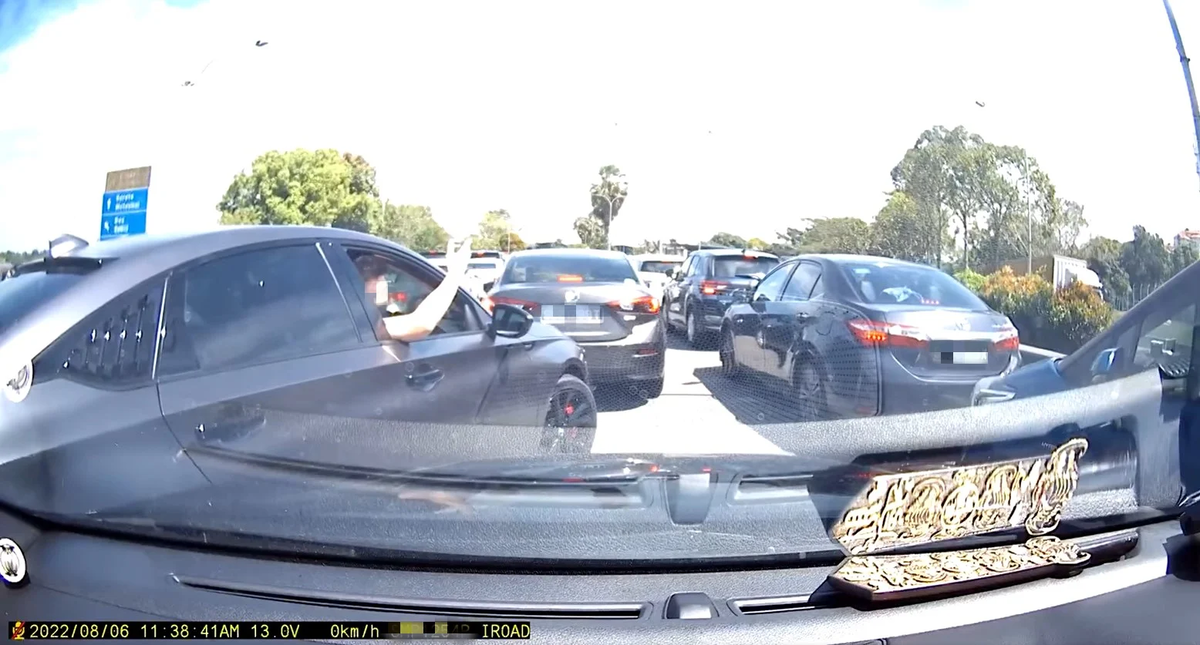 In an odd display of "flexing", the Honda driver reaches into his car and took out what seemed to be a passport and waved it at Joanna.
After waving the passport, he then points to the ground as if to tell her that he was sliding in and went on to squeeze in front of her car.
Although the image was blurry, Joanna identified it as a Malaysian passport.
She also wrote that she was unsure why the Honda driver felt the need to show his passport but speculated that it was probably due to the fact that she was driving a Singapore-registered car.
We are also Malaysians! Just because we drive a Singapore-registered car doesn't mean we are Singaporeans nor are we to be bullied by you.
"Is a Malaysian passport your trump card? As Malaysians, we are deeply ashamed by your behavior," she wrote.
Shows off his license plate
Seemingly not satisfied with his "victory" in cutting queue, the Honda driver got out from his car and pointed at his license plate, which showed that it was registered in Johor, according to the second video.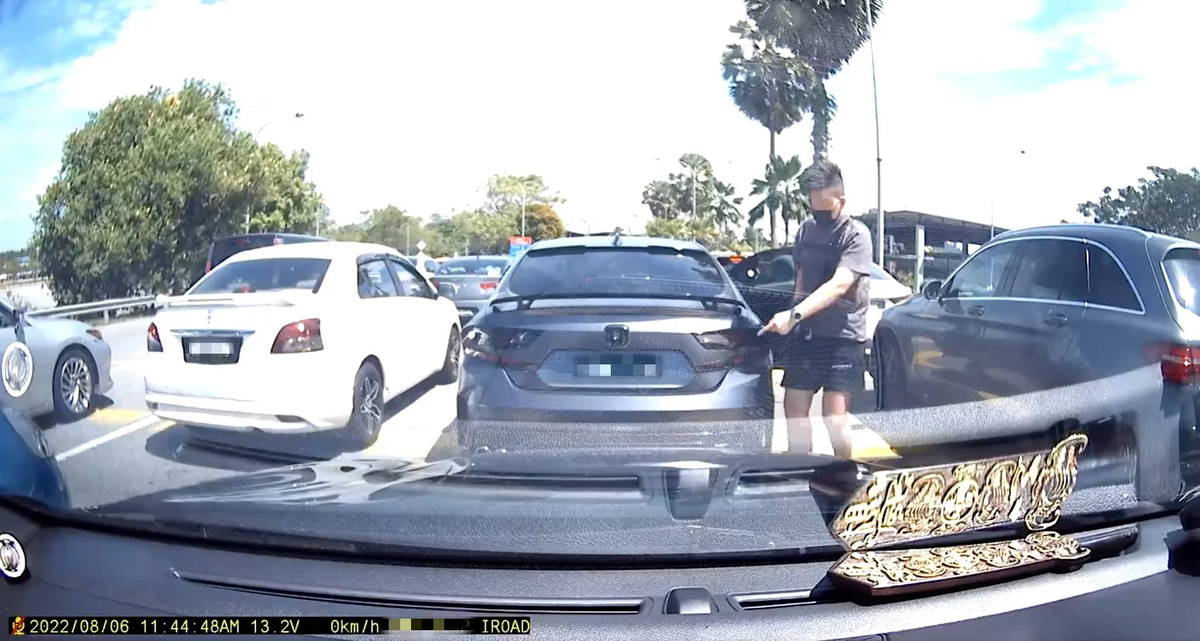 He then points at Joanna, then his phone, and gave a "thumb-up" sign before reentering into his car.
Watch the second video here:
Netizens infuriated & amused
Joanna's post has since garnered 1.4k likes and 2.5k shares at the time of writing, where netizens condemned the Honda driver for acting like a road bully.
On the other hand, some were tickled by his use of the Malaysian passport to cut queue.
"Next time I cut queue I'm gonna show passport."

"Who said Singapore's passport is the best? Malaysia's is more powerful, can use to cut queue anywhere."

One even joked about placing a bet on the Honda driver's license plate.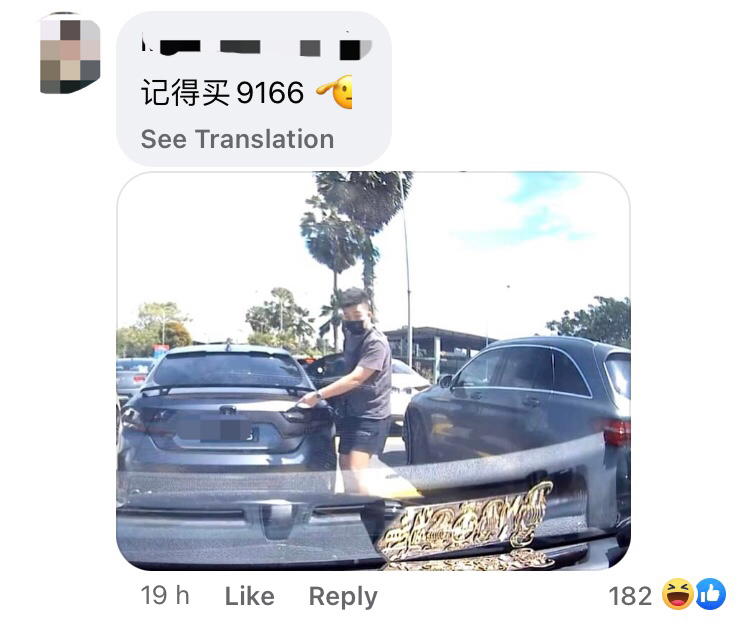 To all the drivers out there, let's all be a little considerate to others and not resort to such tactics to act unruly!
---
It's unrelated to the article but here's our brand-new podcast – Talk Je Lah!
---
Cover image via Facebook/Joanna Loh
---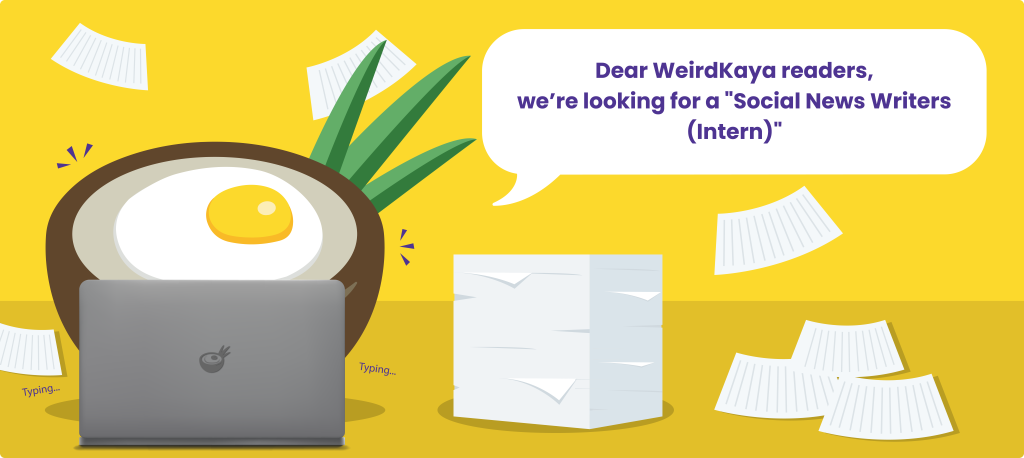 ---