LONDON – Whoever said there's no free dinner in this world? At the cost of a breakup and a restaurant "hunting" you down, that is.
A man became the subject of online scorn after he was caught leaving the bill unpaid after dining at a high scale restaurant named The Mill for Valentine's Day with his girlfriend.
And it didn't come cheap either. The meal, which consisted of lobsters, steaks, mussels, and four bottles of wine, amounted to a total sum of £179.20 (RM1,019.42)!
Upon noticing the unpaid bill, The Mill took to Facebook to urge the couple to come forward and were even kind enough to give them 24 hours to pay it by 4pm on Feb 15 as they believed the couple did not leave without paying on purpose.
The issue has since triggered a storm of comments from netizens, who condemned the couple for taking advantage of the restaurant.


The story then took an unexpected twist when The Mill posted an update saying that they had contacted the man and confronted him over the unpaid bill.
The reason? Turned out that he had no intentions of paying it and he even claimed that he didn't have enough money at the time, However, he promised to pay it once he got his paycheck.
As expected, this didn't sit well with netizens and they demanded that The Mill "name and shame" the man for his despicable actions.


The chase finally came to an end when The Mill wrote on Feb 16 that an "anonymous female customer" had paid the bill and it's strongly implied that it was the man's girlfriend.
Bless, who said romance is dead," it added cheekily in the caption.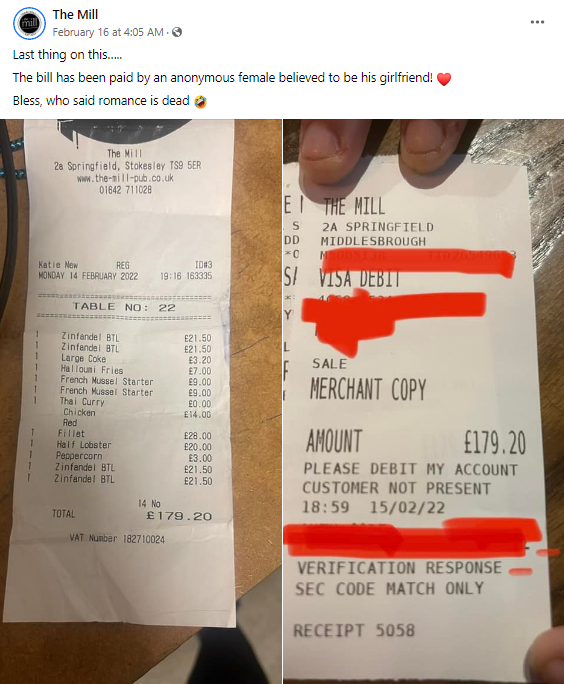 Girls, have you ever dated such guys before? Share with us in the comment section!