Whenever someone experiences the loss of someone special, he/she would pay tribute to the departed in the form of photos, memorabilia, and even tattoos.
But as for this lonely man, he decided to cope with the loss of those close to his heart in the most unexpected yet heartbreaking manner.
Who are the orders for?
In an emotional Facebook post by an employee of the Malay radio station Zayan, he wrote how he and family crossed paths with the man while having supper at a mamak stall at 10.30pm.
While we were waiting for our order, I noticed how this uncle had arranged the drinks, food, and chairs in such an orderly manner that you'd think he was in the midst of preparing a feast or had obsessive-compulsive disorder (OCD).
---

---
As the OP (original poster) was preparing to enjoy his meal, he saw that the man was still alone and thought that he was probably waiting for friends or family members to come.
To the OP's amazement, no one else turned up at the lonely man's table, causing him to ask a waiter why he was still by himself with a table laden with food enough for eight people.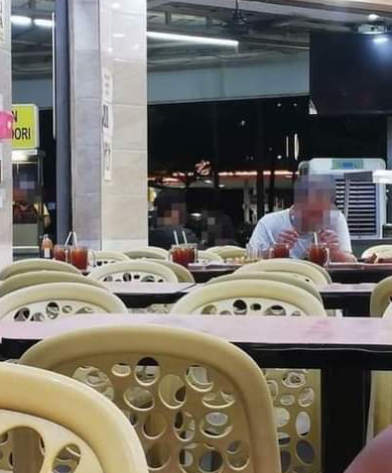 A sorrowful ritual
According to the waiter, the man would come to the mamak stall at least 2-3 times a week, order eight sets of food and teh ais (iced tea), and ensure that everything was arranged in an orderly manner.
He added that the man was having a meal with his family, but he doesn't know whether they're still alive or not.
"The waiter also told me that he never fails to pay in full even when it's clear that he can't finish everything by himself," the OP wrote.
Throughout the entire meal, the lonely man simply ate his portion while talking to an empty seat beside him, as if someone was conversing with him.
Upon seeing the tragic sight, the OP's wife began to cry and his children also felt very sorry for the man.
Despite the man's odd mannerisms, the OP doesn't think that he suffers from any mental illnesses.
He dresses well, wears a mask, pays for the food, and arranges everything neatly. But I don't know what he's been through prior to this.
Read the post here: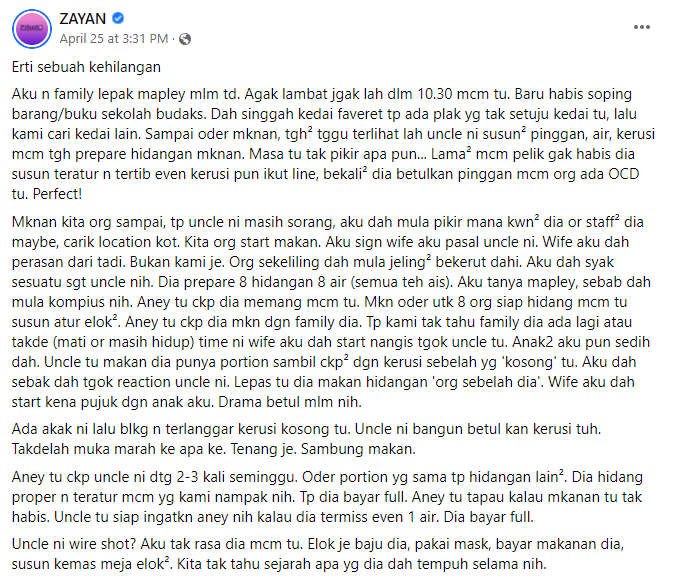 Netizens were also sympathetic
The post has since gone viral, garnering 3.4K likes and more than 900 shares at the time of writing.
Netizens were also filled with pity for the lonely man and couldn't imagine the immense pain he was going through.
"I feel so sorry for him. I can't imagine the pain of missing someone that he has kept in his heart."

"Although we don't know the problems faced by him, the feeling of missing someone is hard to bear all on your own. I hope and wish that he can be at peace and stay happy this way."

"Maybe he lost his family all at once and misses them too much. Only God knows."

Know of someone who's trying to cope with a personal loss? Why not drop them a text or call to let them know they're not alone?
Read also:
Cover image via Facebook.