In less than 24 hours from now, Sekretariat Solidariti Rakyat (SSR) will be holding a street protest tomorrow (July 31) at Dataran Merdeka, 11 am.
The protest primarily aims at demanding the resignation of Prime Minister Muhyiddin Yassin and the entire cabinet for their failures in controlling the pandemic.
Last night, SSR's co-founder Sarah Irdina was arrested by the police under the Sedition Act, a move decried by SSR and several Opposition MPs as a clear act of intimidation.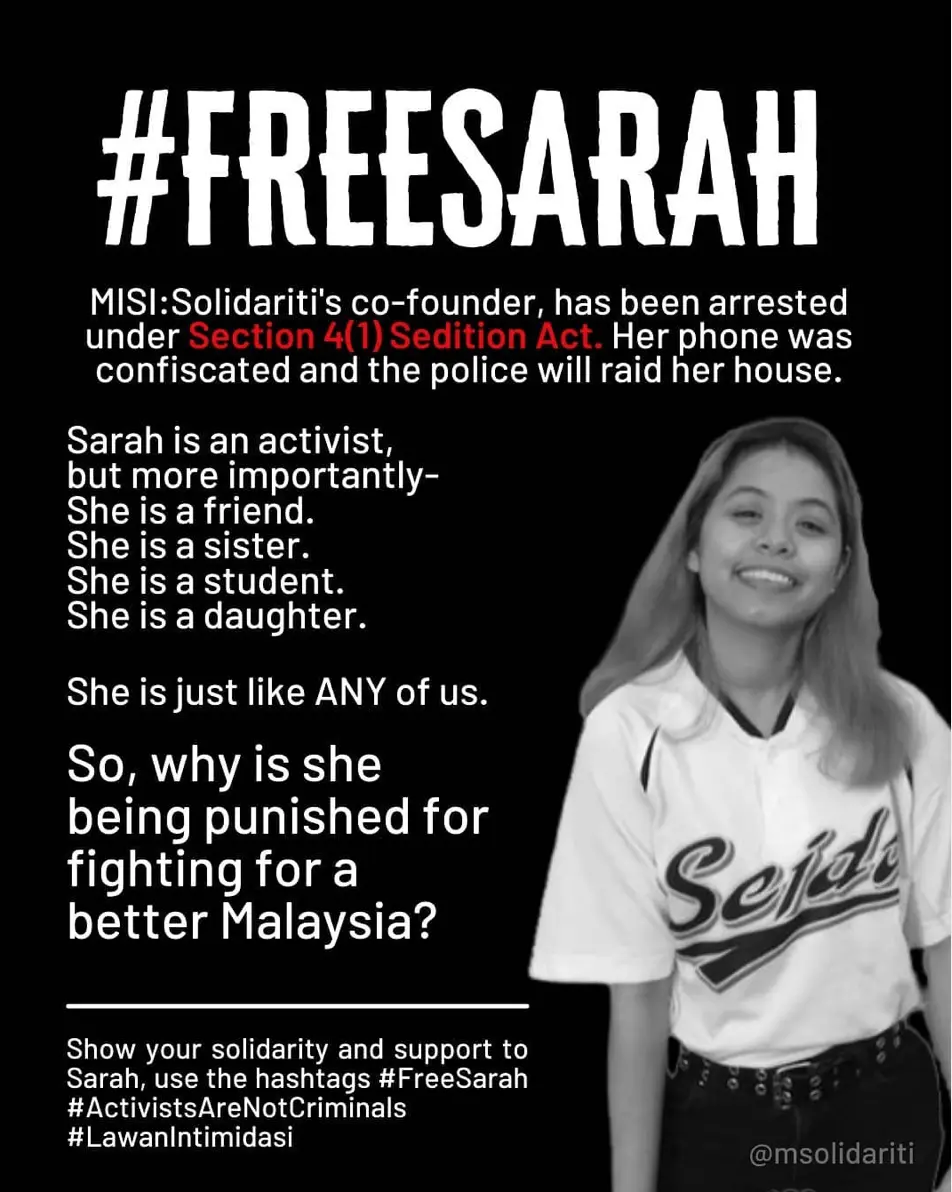 Sarah was later released after 10 hours of interrogation and her arrest seemed to have hardened the resolve of SSR to go on with the protest.
"Nothing is getting fixed"
In an Instagram livestream session, SSR, while acknowledging the rising number of COVID cases, argued that staying cooped up at home wasn't the solution to the nation's woes.
Staying at home, not being on the ground and demanding certain rights, nothing is actually getting fixed."
However, they added that those who are unable to participate physically are encouraged to support the movement online.
SSR also posted a series of infographics to inform participants of the safety precautions to take during the protest.
SSR's demands
Among the three main demands outlined by SSR, the additional eight demands include:
Mental health: Increased suicide cases without adequate psychiatrist support.
COVID deaths: Ineffective counter-pandemic measures.
Censorship and freedom of expression: Threats and intimidation from authorities towards activists
Contract doctors: Government's inaction regarding contract doctors' job security
Economy: Unemployment and underemployment
Education: Unfulfilled promise to support B40 communities
Mistreatment of migrants: Undocumented migrants arrested and being sprayed with disinfectants
Politicians: Irresponsible officials that were not held accountable for SOP violations
How to help
Due to the numerous personal and environmental factors, many may be unable to participate physically, but fret not. There are other ways in which you can show your support.
If you're active on social media, you are encouraged to upload posts using the relevant hashtags, which will help create greater awareness.
In addition, you can also stay updated on what's happening on the ground by following SSR's Telegram account.
If you're planning to head over to Dataran Merdeka, be sure to check out the pre-protest kits, along with the do's and don'ts list that's available at the Lawan Malaysia website.
Time for a change
Our country has been stuck in a vicious cycle of endless lockdowns since January. Now, seven months into the state of emergency, it is painfully clear that it's not working.
Many, including myself, have lost hope in our country. Countless memes of our ministers breaking the rules that they have written have been created and shared, but no one has been held accountable thus far.
The government constantly belittles the people's suffering with their gross incompetency while undermining the voice of dissent.
Their values boil down to nothing but this – memes and comedic headlines.
Activists and artists such as Fahmi Reza, Anna Har, Amin Landak are now paying the price of speaking out against a government that has clearly lost the plot in leading the nation out of an unprecedented crisis.
This is a sign, a slow burn of the government eating into our rights and I think we should not let them. As SSR summed it succintly:
"Malaysia tak salah, government yang salah."
It is important for Malaysian youths to determine the future the this beautiful country by steering it away from the prejudices and quarrels of the previous generation that has rooted itself deeply into the national psyche.
It is also time for the government to realise that their time is up and that the nation is in desperate need of change.
LAWAN is a movement of hope and solidarity in demand of a government that Malaysia truly deserves.
Disclaimer: The views expressed in this article are the author's own. They do not purport to reflect the opinions or views of WeirdKaya.
Cover Images via MISI: Solidariti

Proofreader: Sarah Yeoh