With Sam Ke Ting's case grabbing national headlines in recent days, the level of road safety in the country is now in the spotlight and raised questions of who's at fault when such tragedies occur.
An video that was first posted online in 2019 has resurfaced on Twitter, where it showed a group of kids playing their version of Russian roulette by lying and rolling in the middle of the road as a car zooms by.
HOLY 💩..After the Lajat Bicycle Gang, a new Hobby is rolling on the road. Malaysia is blessed with so much innovative youths ! I wonder how many years of jail time for the drivers who dare to run over these brave warriors ! 😱 pic.twitter.com/oSbcSC3Kve

— Jacky Gee (@JackyGee10) April 17, 2022
Although some believe the entire clip was staged, it nonetheless shocked netizens deeply and garnered over 2,300 retweets at the time of writing.
So dangerous!
The video has since triggered a wave of condemnation from netizens, who denounced the kids' dangerous antics.
Many were annoyed by the lack of supervision by the kids' parents, saying that they'd pin the blame on others if their children were to be mowed down by a vehicle.
"When something happens, the parents will start making noise and blame the driver when their kid dies. Not attentive when they [the children] are alive, only cause a ruckus when they're dead."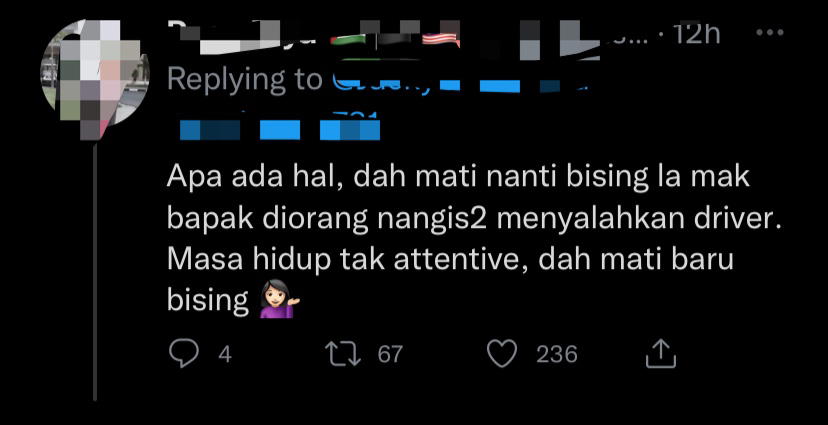 One netizen wrote that she used to be on the lookout for drunk drivers while driving late at night but now has to be wary of children sleeping in the middle of the road instead.

Staged or not, please do not endanger your safety and others' by playing such dangerous tricks on the road!
Cover images via Twitter
Editor: Sarah Yeoh