MIRI – A KFC outlet in Emart Tudan was recently praised by a netizen for showing kindness to a man by allowing him to "tabao" leftover food from the restaurant.
In an emotional post by William Chin, the incident occurred at around 7pm on Monday (Jan 10).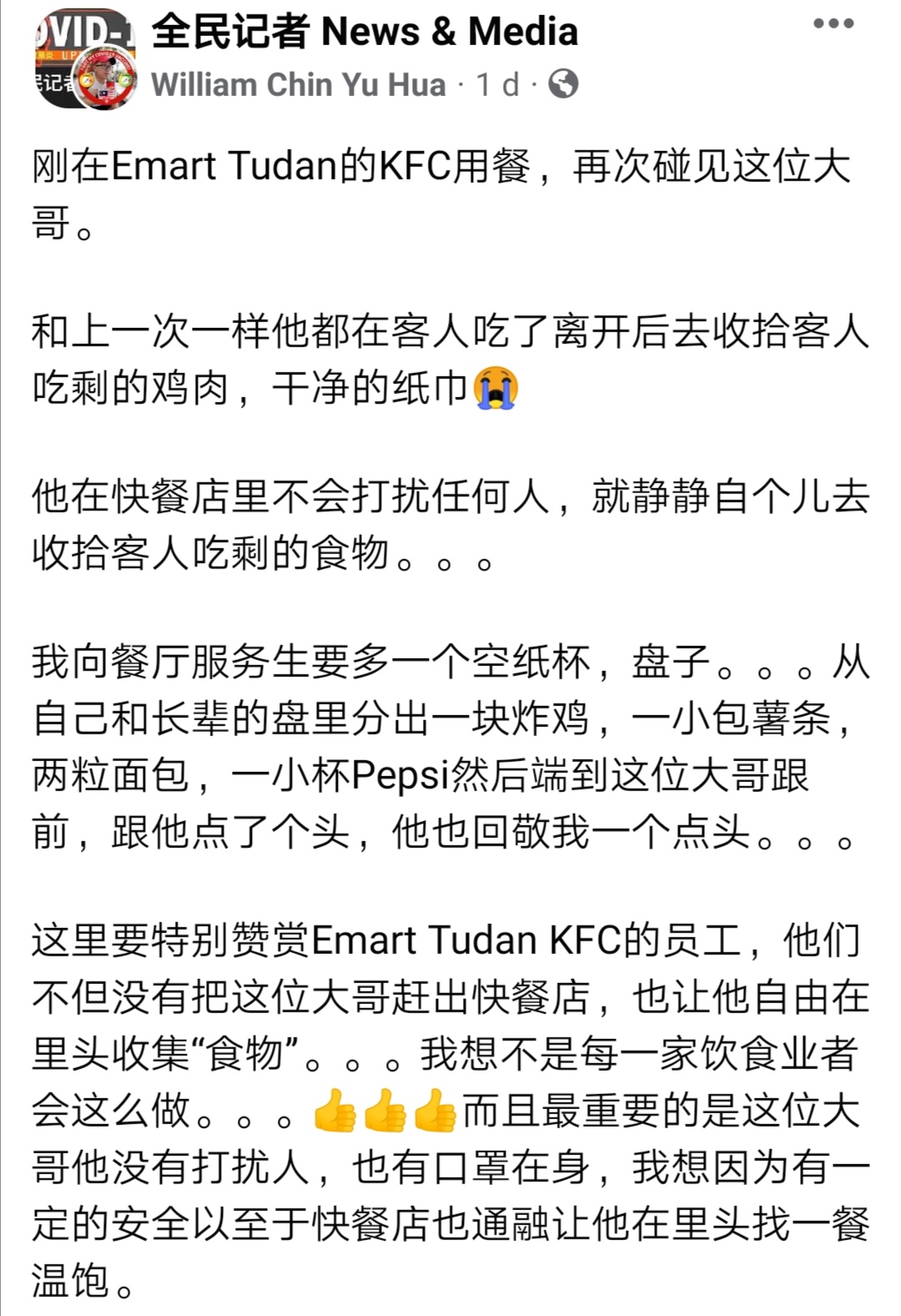 "This is my second time crossing paths with this man today. Just like the previous encounter, he quietly went to a table and began packing up the unfinished food and unused tissue left behind by the customer.
When I saw this, my heart went out to him and I requested for an empty plate and cup from the restaurant staff. I then gave him a piece of chicken, a small pack of fries, two pieces of bread, and a small cup of Pepsi – where he gave me a small nod in response.
'What's important to note was that he never disturbed anyone and wore a mask throughout the entire time," he wrote.
Thank you, KFC Emart Tudan
In the post, William was full of praise for the fast-food outlet, commending the staff for their compassion in allowing the man to find a meal within their premises – an act that's often disallowed in most restaurants.
Speaking to WeirdKaya, he reiterated how thoughtful the restaurant was in doing so.
They had every right to drive him away, but they didn't. I also offered him food rather than money as food is more practical whereas money may be misused.
He also shared the reason for the lengthy post.
"I hope to tell the public through this story that there will always be people who need our care and assistance. A small act of kindness really means a lot to them."
Cover images via OpenRice and Facebook/ William Chin Yu Hua
Editor: Sarah Yeoh