YAN – An unemployed man brutally kicked his stepfather in front of their home at Kampung Ruat at 7 am yesterday (Feb 15), much to the shock of neighbours.
The viral 30-second video began with the man stomping angrily into the house while his stepfather and mother sat at the door crying and pleading for mercy.
After emerging from the house, he suddenly delivered a curb stomp to the back of his stepfather's neck before walking away.
The clip has since garnered 5.9k reactions, 9.1k comments and 8.7k shares as of writing.
Watch it here. (WARINING: Depicts violence)
A separate video later showed the man cowering in fear from a group of villagers who beat him up for assaulting his stepfather.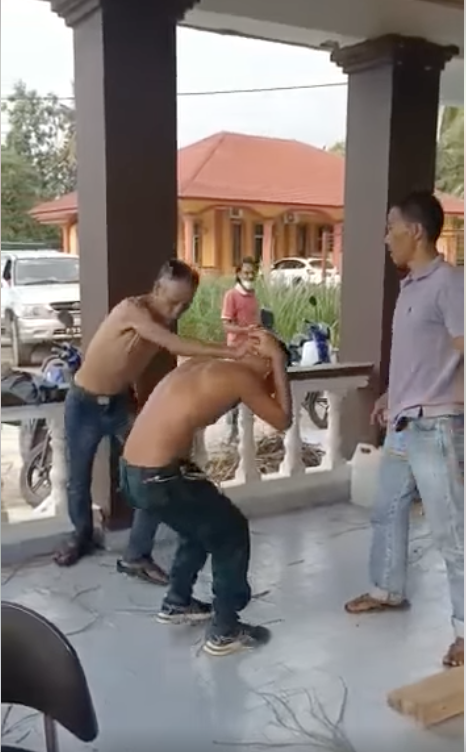 Yan police chief Deputy Superintendent Shahnaz Akhtar Haji told New Straits Times that the 29-year-old suspect, who is mentally ill, went on a rampage after failing to get money to buy drugs.
"He is also a hardcore addict who has assaulted his stepfather in the past whenever he couldn't get money to purchase drugs.
Shahnaz added that the victim lodged a report at 8.30 am and sought treatment at the Yan Hospital for injuries to his back, chest and face.
"We also detained the suspect at Lubuk Boi, at 6.45 in the afternoon," he said.
The case will be investigated under Section 323 of the Penal Code and Section 18A of the Domestic Violence Act 2012.
Read also:
---

---
Cover image via FB/ Taa Qyum
Editor: Sarah Yeoh