KLUANG – Whenever we were done with a major exam, we would celebrate by throwing a party or going for a road trip with friends.
This group of students however, decided to take it one step further by hitting the streets with a motorcycle convoy, only to find themselves being tailgated by local authorities.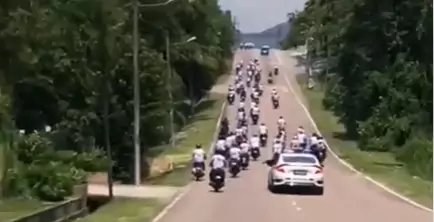 In a 40-second video posted to the Facebook group Aku Budak Kluang, approximately 40 students were seen hogging the entire road in their celebratory motorcycle convoy while still dressed in their uniforms.
This quickly caught the attention of the police, who got into a patrol car and began to follow the convoy closely from behind.
While some scattered at the sight of the police car, others remained undeterred and continued to speed down the road with little regard.
Watch the video here:
---

---
Netizens found this entertaining
Netizens who saw the video were amused by it as it reminded them of the wild days of their youth.
"Such memories… Wishing you all the success in the world."

"While it looked like a game of running away from the police, it's funny to see the police following them at every turn. Hopefully they would become useful people for their family, society and country."

Some were also tickled by the fact that the patrol car continued to chase the students down even when it was obvious that they didn't care.
"These kids really know how to enjoy life. Thank you PDRM for loving the youngsters of this country."

"The police looked like they were in the same gang with the kids. If they really wanted to chase them down, they would have called for backup. What they were doing was just following them around."

However, Kluang District police chief Deputy Superintendent Abdul Razak Abdullah Sani has dismissed the claims and said the incident is now being investigated under Section 42 (1) of the Road Transport Act 1987, reported Kosmo!.
He added that police have also identified several students involved in the video.
Stern action will be taken to ensure that the law is complied with and we will take action against those who violate it without compromise.
Please celebrate the end of your SPM responsibly and don't put others in danger while doing so!
Read also:
Cover image via Facebook Aku Budak Kluang