Indonesian badminton coach Eng Hian has apologised to national shuttlers Pearly Tan and M Thinaah for calling them "black" and "white" during the French Open tournament.
Called the pair 'black' & 'white'
During the round 16 match between Pearly-Thinaah and their opponents Febriana Dwipuji Kusuma-Amalia Cahaya Pratiwi, the 45-year-old coach was caught making the remarks during a break.
Watch the clip here:
Apologises for remarks
Following the clip, Malaysians have since bashed Eng Hian for his derogatory remarks and demanded an apology.
One wrote: "For Malaysians, colours are very sensitive. We should not have to ask for an apology, if they are willing, they would do it without us having to ask."
Had to post this since I guess everyone wonder what is hitam putih right? For Malaysian, colors are very sensitive yaaaa tetangga. We demand apologies from coach? Naahhh benda tu x payah mintak, if they willing dorang boleh je buat without us asking. #FrenchOpen2022 pic.twitter.com/cf4Mc7SvyT

— Official Shah (@shahaidin) October 28, 2022
Another was less kinder with his words, where he criticised Eng Hian and called him "uncivilised".
This coach has simply objectify their skin colour to recognize them. This is misbehaved. Colours are sensitive and you are uncivilised!

— Sam Yong (@SamFrazad) October 28, 2022
In response to the backlash, Eng Hian released a video where he issued a public apology to the national pair in Bahasa Indonesia, emphasising that he had no intentions of insulting them.
With all humility, I apologise to Pearly Tan and M Thinaah. I had no intention at all to upset the Malaysian players. Once again, I apologise for my words from the bottom of my heart.
Permintaan maaf Coach Eng Hian terkait penggunaan sebutan 'hitam' dan 'putih' saat Ana/Tiwi melawan Pearly/Thinaah di R16 #FrenchOpen2022 kemarin. pic.twitter.com/cepEkwbkci

— Rubber Game Indonesia (@rubbergameid) October 28, 2022
Netizens' response to Eng Hian's apology have since been a mixed bag.
On one hand, some believed that he didn't do anything wrong and merely used the terms to give quick instructions to the players.
They also claimed that it was acceptable in Indonesia.
there's nothing rude from the start here. Calling black and white is rude in your country, but not here. speaking the local language is common here, but it becomes a problem in your head. He is an apology, what do you want by commenting like this?

— Mrs.dama (@mrs_dama) October 28, 2022
On the other hand, others felt that Eng Hian was still at fault but were willing to give him a second chance following his apology.
Better sebut nama la, bkn susah pun nak sebut Tina & pearly . Sebab warna kulit ni sensitif sikit. 😅 apa2 pun respek dgn coach eng hian, dia sedar kesilapan dia, dan minta maaf, good attitude 👍

— Shida (@heynakapaaaa) October 28, 2022
Made badminton history
On a lighter note, Pearly-Thinaah were crowned champions after defeating two-time champions Mayu Matsumoto-Wakana Nagahara 21-19, 18-21, 21-15 in a nail-biting 72 minutes match.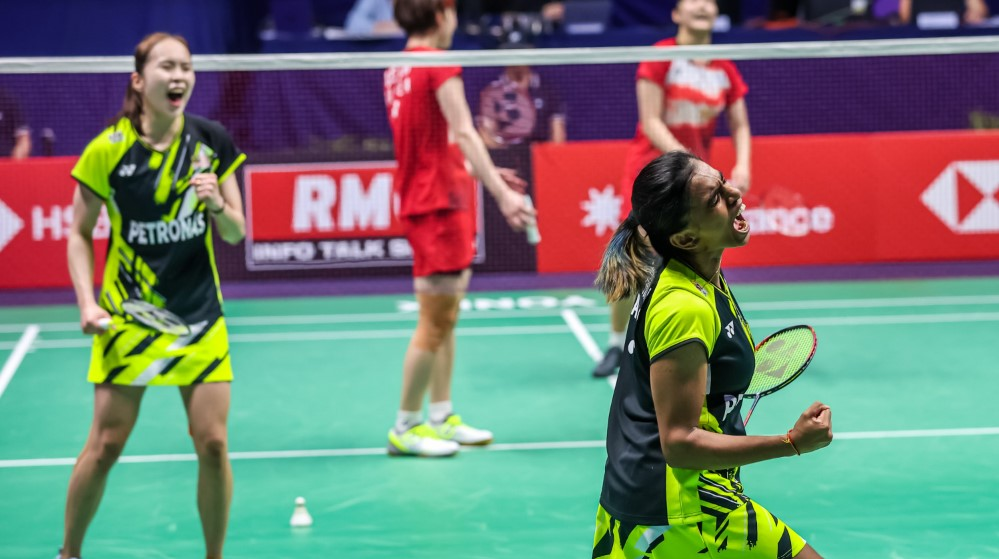 Their victory also makes them the first women's doubles team to win a French Open title since the tournament's inception in 1908.
Congratulations to the duo!
READ ALSO:
---
---