Malaysian politicians often active on social media platforms like Facebook and Twitter to engage with their followers.
Our prime minister with the username @anwaribrahim, with over 1.7 million followers on Twitter has always been actively tweeting status and posting photo.
Yesterday, he joked about being more active in replying to his followers' tweets after receiving complaints that he rarely replies to netizens.
He said after being the prime minister of the country, his responsibilities have increased but it doesn't stop him from checking those comments left on his Tweets.
"Many complain that I rarely reply to tweets. My tasks and responsibilities are increasing – but I still follow my fellow followers' comments on "Twitterjaya". InshaAllah, I will try to find time and reply to all of your tweets."
Ramai mengadu saya jarang jawab tweet. Tanggungjawab kian bertambah – tapi saya masih ikuti komen teman-teman di Twitterjaya. InshaAllah, saya akan cuba cari ruang dan balas tweet kawan-kawan semua.

— Anwar Ibrahim (@anwaribrahim) December 3, 2022
The 75-year-old said he will try his best to reply to comments when he have time.
Right immediately after he posted the status, many netizens commented on the Tweet below seeking for his attention by asking him to reply their comment.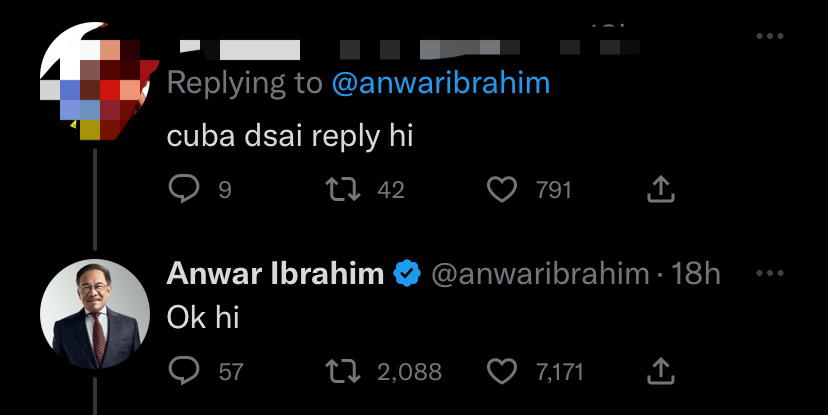 One netizen even asked whether Datuk Seri has time to watch World Cup tonight.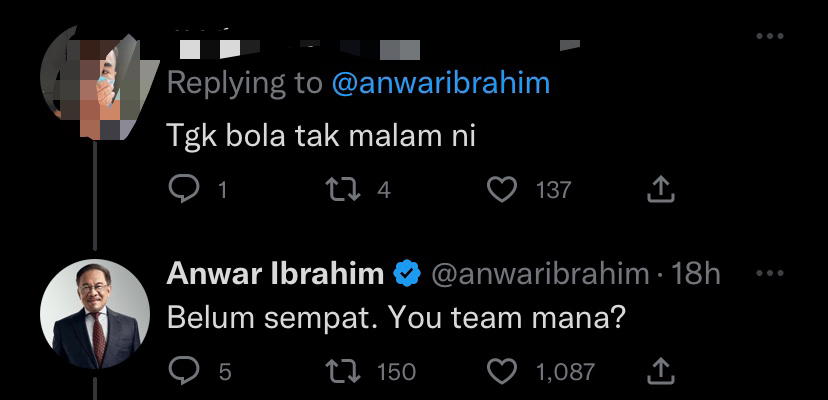 ---
---